'Something had to be done': Marine honored for lifesaving swim on Okinawa
by
Jonathan Snyder
Stars and Stripes
August 12, 2021
The Marine Corps has recognized a sergeant major who rescued a woman and her child when a flash flood struck a hiking trail to a scenic waterfall on Okinawa last year.
Sgt. Maj. David Potter, 42, of Medina, Ohio, was awarded the Navy and Marine Corps Medal on August 4 at Camp Hansen by Brig. Gen. Brian Wolford, commander of 3rd Marine Logistics Group. Potter is assigned to the 9th Engineers Support Battalion, 3rd MLG on Okinawa.
The medal is the second highest awarded by the Navy and Marines for noncombat heroism. Typically, it recognizes actions involving the risk of one's own life.
"I saw out the corner of my eye these two objects floating down the river; it was a woman and her young son," he told Stars and Stripes by phone on Wednesday. "I locked eyes with her for just a moment and I saw just fear and panic. In that moment, I just jumped in because I knew something had to be done."
Potter's recognition came about two months after Master Gunnery Sgt. Ronald Thomas, 42, and Master Sgt. Sara Thomas, 44, were awarded the Navy and Marine Corps Commendation Medal at Camp Courtney for helping more than a dozen people to safety that day.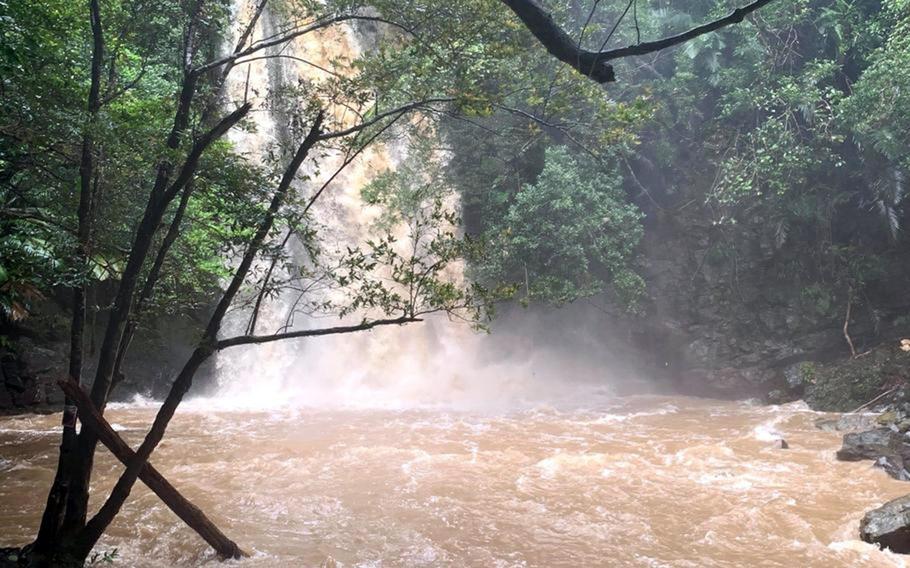 Potter originally didn't plan on accompanying his wife, Danielle, two children and family friends to Ta-Taki Falls on Sept. 13, 2020, but he changed his mind at the last minute.
He recalled starting their hike to the waterfall around noon. The trail runs alongside the Henan River and includes rope climbs and paths that wind in and around the water.
"When we arrived there, it was a little overcast, but nothing crazy, so we started hiking," he told Stars and Stripes by phone on Wednesday. "It started to drizzle about an hour into our hike, and when we almost got to the falls it started downpouring."
When the river started to rise rapidly, Potter and his group decided to get away from the water and wait for rescue.
"There were people stranded all over the banks," he said. "The water was just too high and too treacherous to get back, so we sat and waited for a few hours until the Japanese fire department came."
The water was dark brown, almost like chocolate milk, he said. "I noticed at that point things are starting to get very dangerous."
It was then that Potter noticed the woman and her son. After pulling them from the water, Potter checked them over for injuries. Finding none, he made sure they were safe on the rocks and returned to his group.
Potter credits the rescue to his Marine Corps training.
"I was an aviation crew chief," he said. "In order to be a crew chief you have to go through an extensive swim qualification, about a monthlong swim lessons."
"I'm very confident in my comfort level in the water and the additional training to be able to rescue myself from a sinking helicopter," Potter told Stars and Stripes. "That definitely helped my ability to navigate through the water to save that woman."