Services work together to get critically injured soldier off Army ship near Palau
by
Alex Wilson
Stars and Stripes
August 5, 2021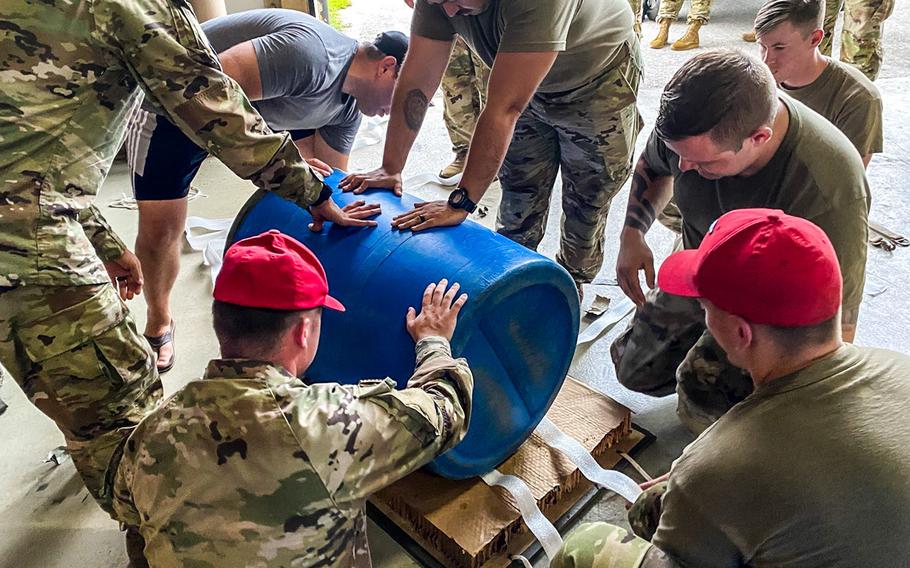 A joint effort by four service branches ended with a critically injured U.S. soldier successfully retrieved from an Army vessel in the Pacific on July 26, according to the Air Force.
The unidentified soldier was injured aboard the vessel off the coast of Angaur, Palau, during the Forager exercise. With severe weather conditions and significant distances involved, members of the Navy, Air Force, Coast Guard and Army organized an emergency medical evacuation for the soldier, according to an Air Force news release on Aug. 2.
The Air Force did not identify the soldier, the nature of the injuries or the vessel involved. An Army spokesperson did not respond to emails or phone calls from Stars and Stripes on Thursday.
Facing uncertain conditions, the rescue team made two plans. The first was to deploy a helicopter from Sea Combat Squadron 25 on Guam to land on the ship and evacuate the soldier.
If that proved unworkable, the next plan was to airdrop medical supplies to the ship, according to the Air Force.
"We had a critically injured Soldier being cared for by an Army Combat Medic," said Col. Joseph Hudak, command surgeon for I Corps, in the news release. "That highly capable medic could keep the Soldier alive while rescue efforts continued, but he needed additional supplies."
Hudak coordinated with Air Force Lt. Col. Steven Massie, commander of the 36th Airlift Squadron at Yokota Air Base in western Tokyo, to organize airdrops from a C-130J Super Hercules.
The Navy and Air Force teams worked with soldiers from the 1st Special Forces Group and 82nd Airborne Division, and sailors from the Navy Special Warfare Command, to organize the drops, according to the Air Force. Plans were in place and ready to go within 90 minutes.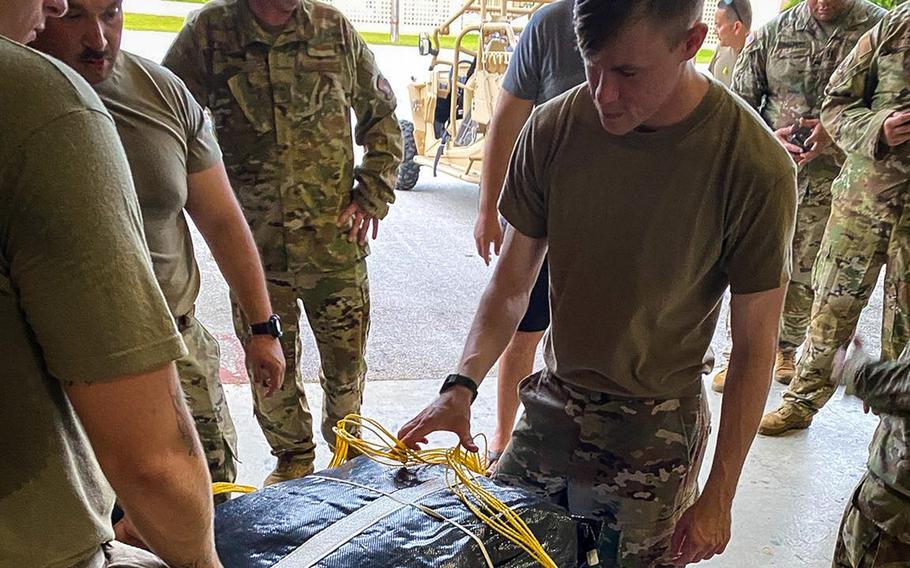 "I've been in the Air Force for 17 years, and I don't know of anybody that has [made an airdrop] to a ship," Massie told Stars and Stripes by phone on Wednesday.
The airlift squadron is also responsible for Operation Christmas Drop, a long-standing training mission that doubles as a humanitarian airlift that delivers essential supplies to Micronesia.
"The tactics, techniques and procedures that we use for Operation Christmas Drop are the same ones that we were going to perform to put that [medical supply] bundle where it needed to be," Massie said.
Just as two C-130s were prepared to take off, the Navy MH-60S Seahawk helicopter found a break in the weather and managed to land on the vessel.
The soldier was taken aboard and flown to Naval Hospital Guam, according to the news release.
"The first thing you walk away thinking is just 'Wow,'" Massie said. "It really shows our ability as a complete component of the Department of Defense to be able to uphold our vow that we will bring everybody home."
---
---
---