'Just keep on living': Okinawa Marine receives high praise for daring rip-current rescue
by
Matthew M. Burke
Stars and Stripes
September 1, 2021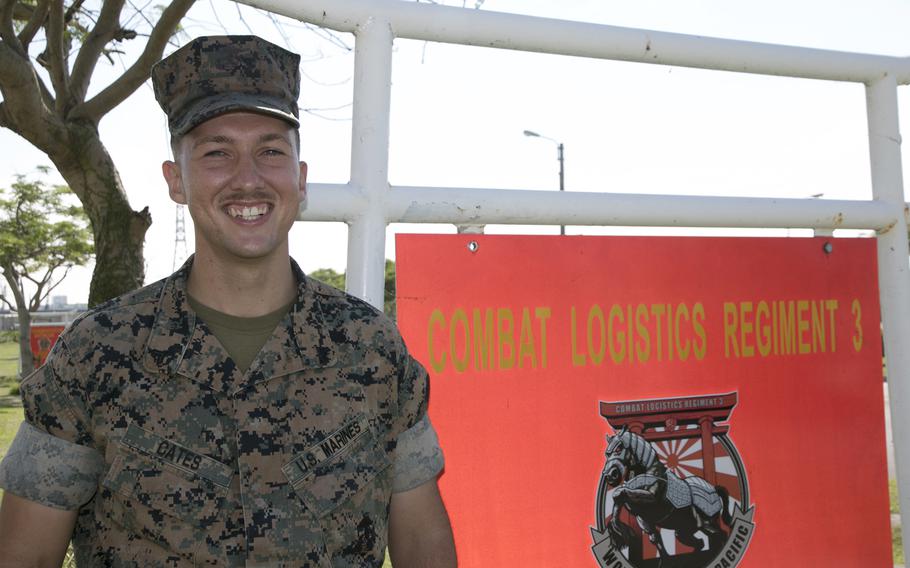 CAMP FOSTER, Okinawa — Cpl. James Cates said he didn't have time to think once he heard a fellow Marine's cries for help while in the water this spring off Oku Beach on the northern tip of Okinawa.
Cates, 24, of Combat Logistics Regiment 3, had extricated himself from a strong rip current while free diving with friends around 9:45 a.m. on April 17. He said he turned to see Sgt. John Carrillo flailing in the surf behind him.
Cates jumped back into the powerful water surge and rode it out to his friend, who was spiraling farther and farther out to sea. He dragged Carrillo inch by inch back to shore in a 50-minute lifesaving rescue.
"I just wanted to get my buddy out of there," Cates said Tuesday in his office on Camp Foster "Instinctually, you just know, 'This is something I have to do.' It's about doing the right thing."
Cates' command recently found out about the rescue and is considering a non-combat valor award; however, no decision has been made, according to 3rd Marine Logistics Group spokesman 1st Lt. Jonathan Coronel.
Cates' commander called him an "excellent Marine" and a "role model" in an email to Stars and Stripes on Monday.
"Cpl. Cates courageously reentered the water at great personal risk to prevent a fellow Marine from being swept out into the ocean," wrote regimental commander Col. Chris Haar. "His selfless commitment to a fellow Marine were largely unreported, because he is a humble Marine that performed the life-saving action because it was the right thing to do."
The morning of April 17 dawned to clear skies and blue seas, Carrillo wrote in a Facebook message to Stars and Stripes on Tuesday morning.
Cates and six friends made their way up north to free dive. As soon as they got into the water, Cates and some of the others felt the familiar pull of the rip current, Carrillo said. They began to turn around or swim out of the surging water. Carrillo said he didn't know any better, so kept swimming out.
"Bam, that's when it hit me," he recalled. "I noticed the extreme force of water pulling me out, so I decided to turn around and fight the current."
Carrillo wore himself out after about five minutes fighting the current, he said.
"I prayed to God to help me, and boy, somehow Cates … heard," Carrillo said. "That man was my guardian angel that day. God sent me Cates."
Cates reached Carrillo and immediately took charge of the situation, both men recalled. First, he unclipped Carillo's weight belt, letting it sink to the bottom. Then he began barking orders to his exhausted friend.
"I grabbed the back of his wetsuit and I said, 'You're going to swim as a I swim,'" Cates said.
Carrillo looked terrified and was hyperventilating, Cates recalled. As a result, he was having trouble keeping his snorkel in his mouth.
"I had a death grip on him," Cates said. "I knew if I let him go, that's going to be the end of John Carrillo."
Carrillo was exhausted, dead weight, he said.
Soon, they made it back to the reef. This time, Cates was able to hold on. He worked his way up inch by inch, pulling his friend alongside him. The current remained strong and stripped off one of his fins.
"I was kicking like my life depended on it, because it did," Cates said.
On shore, Carrillo said, he collapsed in a heap, pale white, unable to support his own weight with his exhausted limbs. Cates said he continued to move as if he was still flailing about in the water.
"I owe that man my life," Carrillo said, remembering what Cates said in the immediate aftermath of the rescue.
"He said, 'Never be scared of anything, man. God's got a plan for you. If you're going to take anything from this day, just keep on living, man; just keep on living.'"