Beijing's new law for foreign vessels won't impact US Navy in South China Sea, Pentagon says
by
Alex Wilson
Stars and Stripes
September 2, 2021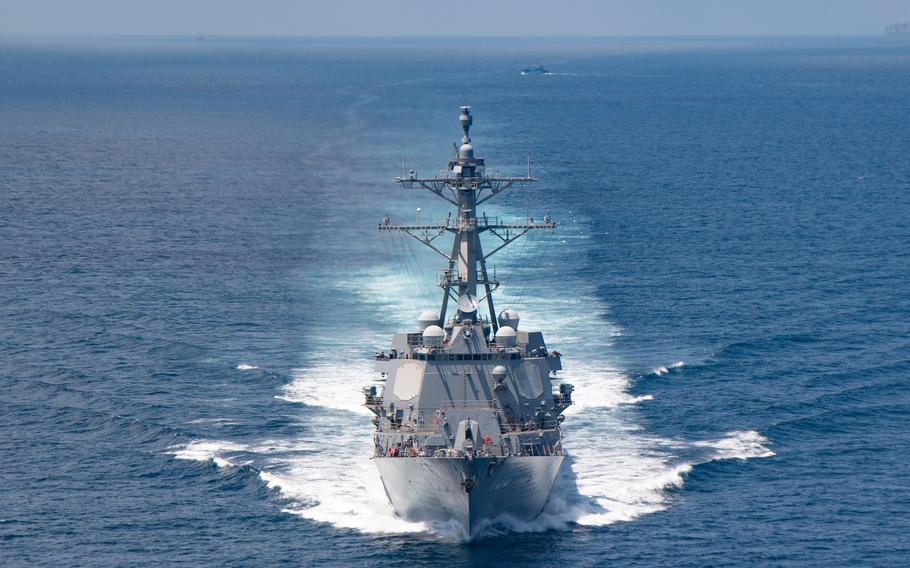 U.S. Navy operations in the South China Sea won't be affected by a new Chinese law requiring foreign vessels to give notice before entering waters claimed by Beijing, according to the Defense Department.
An amendment to China's 1983 Maritime Traffic Safety Law that took effect Wednesday requires certain vessels to provide a checklist of information, including call signs, positions, estimated time of arrival and the next port of call, the Chinese state-run Global Times reported Sunday.
The amendment specifies that submersibles, nuclear-powered vessels and ships carrying dangerous substances, such as oil or chemicals, must notify Chinese officials before entering areas China claims as territorial waters, according to the Naval War College's Stockton Center for International Law.
The amendment was approved in April by China's Standing Committee of the National People's Congress.
However, U.S. forces, under international law, will continue to transit those areas or operate in them, according to a Defense Department spokesman.
"The United States will continue to fly, sail and operate wherever international law allows," Lt. Col. Martin Meiners told Stars and Stripes in an email Wednesday.
The Navy's 7th Fleet routinely conducts freedom-of-navigation operations and transits through areas China has claimed as its territorial waters, including the Taiwan Strait and island chains in the South China Sea.
Most recently, the guided-missile destroyer USS Kidd steamed through the Taiwan Strait on Aug. 27, the Navy's eighth trip through the waterway this year. 
The U.S. has long maintained that one nation's law "must not infringe" the rights of other nations under international law, Pentagon spokesman John Supple told Stars and Stripes in an email Wednesday.
"Unlawful and sweeping maritime claims, including in the South China Sea, pose a serious threat to the freedom of the seas, including the freedoms of navigation and overflight, free trade and unimpeded lawful commerce, and the rights and interests of South China Sea and other littoral nations," he said.
Beijing regularly criticizes U.S. Navy activity in areas it claims in the South China Sea, along with the U.S. position rejecting those claims.
"China's sovereignty, rights and interests in the South China Sea have been formed in the course of a long history," Zhao Lijian, a Chinese Foreign Ministry spokesman, said at a July 12 news conference. "They are supported by abundant historical and legal basis and upheld by the Chinese government all along."
No country objected to this position until the 1970s, Zhao added.
"The U.S. accusation that our maritime rights and interests in the South China Sea have no basis in international law totally runs counter to facts," he said.
Beijing's asserted claim over vast swaths of the South China Sea largely stem from the "nine-dash line," a demarcation adopted from a 1947 Chinese map. In 2016, a United Nations tribunal declared some of China's claims in the South China Sea unlawful under the Convention on the Law of the Sea.