Navy, Coast Guard send ships through Taiwan Strait in wake of assault drills by China
by
Wyatt Olson
Stars and Stripes
August 28, 2021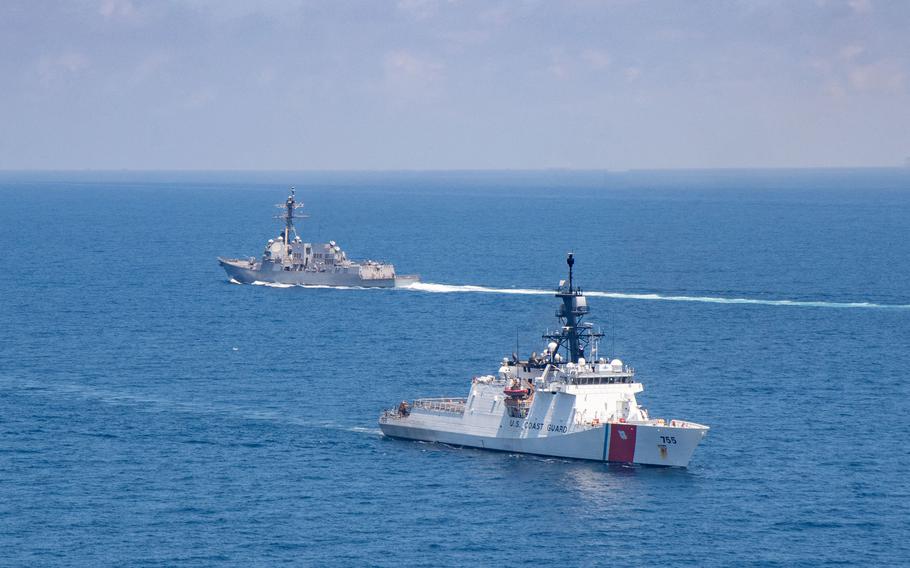 A U.S. Navy guided-missile destroyer and Coast Guard cutter steamed through the Taiwan Strait on Friday, continuing monthly transits of warships through sensitive waters off China's mainland, the Navy said in a news release.
The transit by the USS Kidd marks the eighth time this year the Navy has sent a warship through those waters.
The Coast Guard's Legend-class cutter Munro also made the transit, the Navy said. The ship, also called a national security cutter, is the Coast Guard's largest type of patrol cutter.
The news release described the transit as "routine" and through international waters.
"The ships' lawful transit through the Taiwan Strait demonstrates the U.S. commitment to a free and open Indo-Pacific," the release said.
The passage follows a series of assault drills conducted last week by China in waters to the southeast and southwest of Taiwan.
Beijing held the drills in response to what it described as "provocations" by the United States and Taiwan, according to an Associated Press report last week.
Earlier this month, coast guard officers from the U.S. and Taiwan met to discuss increasing cooperation, the AP reported. The U.S. State Department also early this month approved the sale of 40 self-propelled howitzers to Taiwan.
The Communist Party of China considers Taiwan a renegade province that must ultimately be unified politically with the mainland.
Taiwan, a functioning democracy, has garnered greater international attention in the past year as Beijing has squelched Hong Kong's semi-autonomy by imposing a national security law last summer that has been used to silence and imprison dissenters.
Beijing had maintained for years that unification with Taiwan would be peaceful and mutual, but the turnabout in Hong Kong has led many international observers to ponder whether China is preparing for forcible reunification.
During a virtual appearance at the Aspen Security Forum in Colorado on Aug. 5, Indo-Pacific Command leader Adm. John Aquilino said the U.S. was capable of defending Taiwan.
"We are here to continue to operate to ensure peace and prosperity through the region, and we have to be in a position to ensure that status quo remains as it applies to Taiwan," he said.