US Navy sends warship through the Taiwan Strait for seventh time this year
by
Alex Wilson 
Stars and Stripes
July 29, 2021
Another U.S. Navy destroyer steamed through the Taiwan Strait on Wednesday amid increasing attention on the contentious waterway.
The guided-missile destroyer USS Benfold passed through the strait in a "routine" transit that "demonstrates the U.S. commitment to a free and open Indo-Pacific," the U.S. Navy said in a news release Wednesday.
The Benfold's passage marks the seventh Taiwan Strait transit this year by a Navy vessel, 7th Fleet spokesman Lt. Mark Langford told Stars and Stripes in an email Wednesday. The guided-missile destroyer USS Curtis Wilbur made the Navy's past two trips through the strait on June 22 and May 18.
The Navy routinely steams through the approximately 110-mile waterway that separates China and Taiwan. Its warships made 13 transits throughout 2020, Langford said.
The Chinese government routinely condemns as provocative the presence of Navy destroyers in the strait.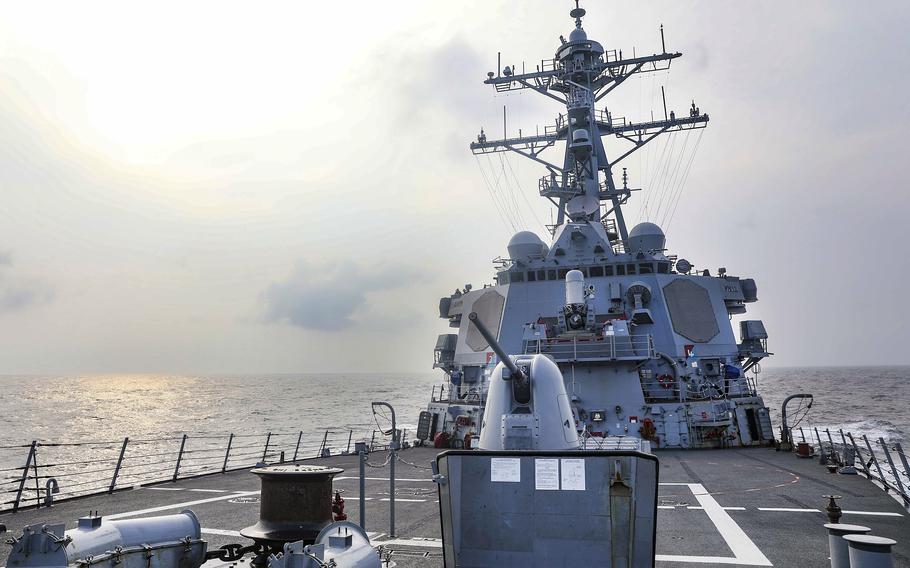 Wednesday's trip was the first through the strait by the Benfold since July 2018.
Its passage comes just after U.S. Deputy Secretary of State Wendy Sherman's visit to China this week. Chinese Foreign Ministry Spokesperson Zhao Lijian, during a press conference Monday, said Beijing had "expressed strong dissatisfaction" with the U.S. over issues such as Taiwan and the South China Sea.
Beijing considers Taiwan a breakaway province and has consistently maintained that the island should be reunited with the mainland, possibly by force.
Meanwhile, the U.S. and Japan are monitoring China's stance on Taiwan. A Japanese Ministry of Defense report released July 13 said the country is focused on the island with "a sense of crisis."
"Stabilizing the Taiwan situation is important for Japan's national security and stability of the international community," the report said.