US military ran Taliban interference to get Afghan evacuees on South Korean aircraft
by
David Choi and Yoo Kyong Chang
Stars and Stripes
August 26, 2021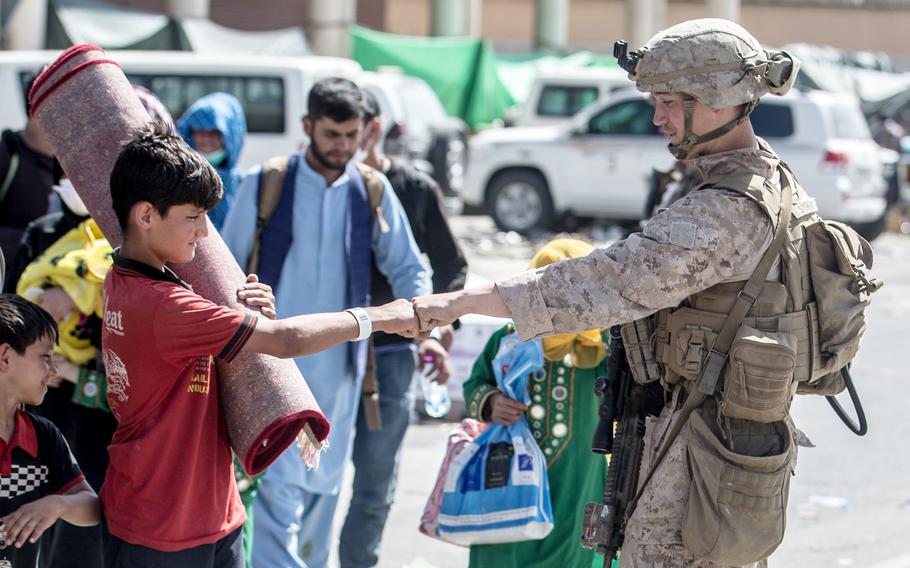 CAMP HUMPHREYS, South Korea — South Korean military forces received "much help" from U.S. troops to get nearly 400 Afghans out of Kabul as nearby Taliban forces tightened their control of Afghanistan, government officials told Stars and Stripes on Thursday.
Nearly 380 Afghan evacuees arrived on a South Korean military aircraft at an airport outside of Seoul on Thursday afternoon. Thirteen others are expected to arrive on another aircraft at a later date, a defense ministry official said on a customary condition of anonymity.
Following the Taliban's rapid advance into Kabul, the capital of Afghanistan, South Korea's government moved to evacuate Afghans who worked at its embassy, hospitals, vocational training centers and provincial reconstruction teams. The evacuees included over 70 families with more than 100 infants and 80 children between ages 5 and 10, according to South Korea's Ministry of Defense.
Park Min Ho, the director of the ministry's Multilateral Security Policy Division, said the Afghans were told to meet at a pre-determined location, and six buses carried them to Hamid Karzai International Airport in Kabul.
Meanwhile, Taliban forces were "inspecting people on the way" to the airport, Park said Thursday, adding that U.S. forces deployed to Afghanistan "persuaded the Taliban through negotiations … so we could pass through [their] security inspection" at the airport.
"We got much help from U.S. troops and realized the importance of the [South Korea]-US alliance this time," Park told Stars and Stripes.
The first group of Afghan evacuees arrived at Incheon International Airport at around 4:30 p.m. Thursday. They immediately received health checks and were tested for COVID-19, the coronavirus respiratory disease.
The South Korean-led mission was dubbed Operation Miracle because "we need to give hope to our facilitators in a crisis called 'escape from Afghanistan," Park said.
Over 3,900 South Korean troops had served in Afghanistan since 2002, a Defense Ministry official said Wednesday. One South Korean soldier died after a bomb attack in 2007.
Roughly 6,000 U.S. troops are deployed to Afghanistan to assist in the evacuation, which President Joe Biden's administration expects to end by Aug. 31.
Biden said the evacuation is "currently on pace" to meet the deadline, White House press secretary Jen Psaki said Tuesday, despite some concerns that the U.S. may leave some Americans and Afghan allies behind.