Royal Navy sailors freed on bond after fracas at Guam nightclub
by
Matthew M. Burke 
Stars and Stripes
August 13, 2021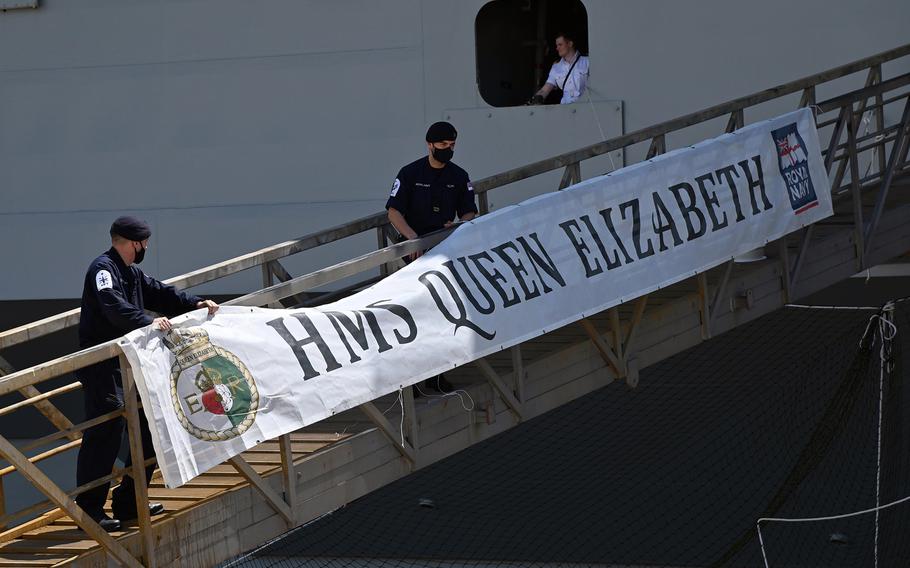 A Royal Navy sailor charged with misdemeanor sexual assault during a Guam port call was freed Thursday on bond over prosecutors' objections that the man is a flight risk.
Royal Navy representative Lt. Cmdr. Oliver Clark appeared in Guam Superior Court seeking the release of Ashley James Mansell, 31, assigned to U.K. Carrier Strike Group 21, the Guam Daily Post reported Friday. Mansell has an "essential role" in the strike group's mission, the representative told the court.
The group, led by the aircraft carrier HMS Queen Elizabeth, arrived in Guam on Aug. 6. It was scheduled to leave Friday morning, Clark said in court.
Mansell, 31, was arrested Wednesday and charged in a criminal complaint with misdemeanor criminal sexual conduct, public drunkenness and felony aggravated assault. A friend, Fraser Malek, 28, was charged with two counts of misdemeanor assault.
The complaint alleges Mansell, dancing with a woman Wednesday night at Club Icon in Tumon, "bent over in front of the victim, reached under the victim's dress," and grabbed her between the legs.
Afterward, Mansell and Malek fought with the woman's friends outside the club, the complaint states. It alleges Mansell "suddenly" punched one man in the jaw, causing two fractures that required surgery.
Malek punched another man in the head, causing him to lose consciousness "for a couple of minutes," and shoved a woman into the roadway, causing numerous bruises and abrasions, the complaint alleges.
Guam Superior Court Judge Jonathan Quan released the pair on bond Thursday despite objections by prosecutors, who described Mansell as a potential flight risk, according to a statement from Guam Attorney General Leevin Camacho's office.
Quan released Mansell on $10,000 bond and Malek on $2,500 and ordered them not to leave their ship, the Post said. They are required to check in with the probation department three times a week, even at sea. A virtual arraignment for both sailors is scheduled Oct. 7, according to the Post.
The court may issue arrest warrants if the two fail to appear for scheduled hearings, Camacho spokeswoman Carlina Charfauros wrote Friday in an email to Stars and Stripes. Quan said in court the men could face extradition should they fail to appear, according to the Post.
The Royal Navy may seek to have the case transferred to a court in the U.K., the Post said.