Recent Patriot Express delays don't dent contractors' reliability record
by
Jonathan Snyder
Stars and Stripes
August 12, 2021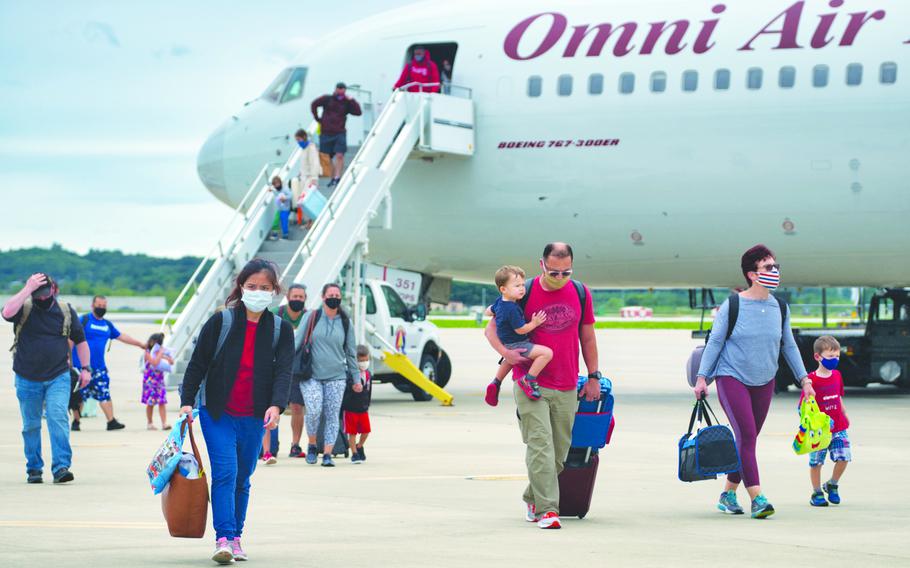 MARINE CORPS AIR STATION IWAKUNI, Japan — Three times in July, maintenance issues delayed Patriot Express flights bound for or already in Japan, setbacks that had little impact on the reliability record of the contractors who fly them.
The Patriot Express is the government-contracted air service that flies service members and their families between the United States and its overseas bases in Europe and Asia. Omni Air International, based in Tulsa, Okla., and Atlas Air, of Purchase, N.Y., operate the Pacific routes. Omni primarily flies the Boeing 767 and 777; Atlas flies the 767 and 747 models.
Over the past 1 ½ years, the air service has a better than 90% on-time flight reliability, when issues only controlled by the contractor, such as maintenance problems, are considered, according to a spokesman for U.S. Transportation Command.
Ninety percent of all contracted air carriers, including the Patriot Express flights, were on-time in 2020, and 92% so far in 2021, command spokesman Scott Ross told Stars and Stripes in an email July 30.
"Commercial passenger carriers are required to maintain a minimum of 80% on-time reliability," he said. "We do not track delays that are uncontrollable, or of no fault of the carrier, such as weather delays or delays caused by the government."
The Patriot Express mission for this fiscal year costs $160 million, part of the International Airlift Contract, Ross wrote. "The contract covers passenger and cargo airlift for special assignment airlift missions, exercises and contingencies," he said.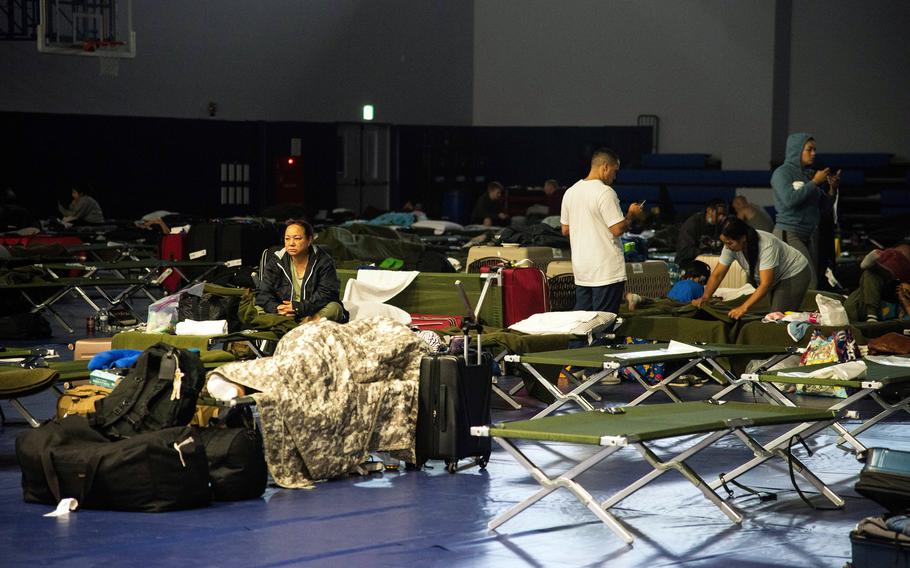 On July 13, a Patriot Express flight experienced a hard landing at MCAS Iwakuni, causing the aircraft to return to Yokota Air Base for repairs and stranding passengers at the air station for 48 hours.
A separate flight the next day from Seattle-Tacoma International Airport to Yokota turned back to Sea-Tac after two or three hours in the air due to a maintenance issue.
The Patriot Express was delayed again for 48 hours on July 23 at Yokota because of a mechanical issue, Mika Kamura, a customer service agent for Air Mobility Command at Yokota, told Stars and Stripes by phone Tuesday.
In each case, the contract airline was responsible for providing meals, lodging and transportation for those passengers. In the event of a delay due to weather or other causes beyond the carrier's control — a non-controllable delay — the government assumes that burden.
The flight delay at MCAS Iwakuni coincided with the presence on base of the U.S. women's Olympic softball team, and the need to set aside lodging to accommodate personnel on restricted movement due to coronavirus travel restrictions.
The delay stranded 165 passengers, most of whom slept on cots in the North Ironworks gym. Only 41 passengers with small children were placed in available lodging.
"Under normal circumstances, passengers with extended delays are lodged in either on- or off-base hotels, paid for by the air carrier," base spokesman Maj. Joshua Diddams told Stars and Stripes in an email Aug. 4. "The current requirement is to lodge all travelers on a military installation."
The base has two lodging facilities: the Kintai Inn with 112 rooms and the Inn of the Corps with 78, according to the MCAS Iwakuni website.
Space in both was limited, and families with children got priority, Diddams said. The remainder made do in the gym.
"The complexities of operating during a global pandemic have required MCAS Iwakuni to work much more closely with air carriers to ensure both on- and off-base populations are protected," he said.