Hard landing strands Patriot Express passengers at Marine air station in Japan
by
Jonathan Snyder
Stars and Stripes
July 15, 2021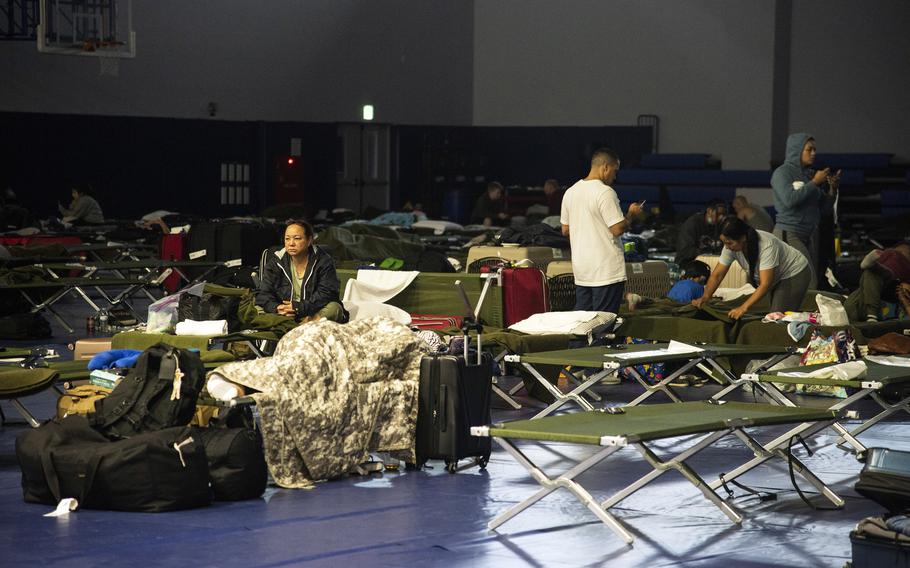 MARINE CORPS AIR STATION IWAKUNI, Japan — The air station's North Gym basketball court was temporary home for 165 passengers bound for Okinawa after a hard landing Tuesday sent their Patriot Express flight back to Yokota Air Base for repairs.
Most of the delayed passengers slept on cots and dined on Burger King, teriyaki chicken and sandwiches. Forty-one passengers, parents with infant children, were afforded rooms at a hotel on the air station, MCAS Iwakuni spokesman Maj. Joshua Diddams told Stars and Stripes on Wednesday.
The Patriot Express, commonly called the Rotator, is a government-contracted flight that ferries service members, their families and other Defense Department personnel between the United States and overseas bases. The Patriot Express also allows space-available travel for eligible passengers.
Marine Capt. Antonio Marrero, a passenger heading to Camp Schwab on Okinawa, told Stars and Stripes on Wednesday that he and the others arrived at the base gym around 9:30 p.m. Tuesday.
"The Patriot Express flight had a rough landing and damaged something in the nose of the aircraft," he said.
The plane and its crew returned to Yokota for maintenance, Staff Sgt. David Grigg, a terminal agent at Yokota, told Stars and Stripes by phone Wednesday.
"Once the aircraft is fixed, it will complete the rest of its journey as normal," he said.
He said the flight is expected to depart Iwakuni at 10 p.m. Thursday.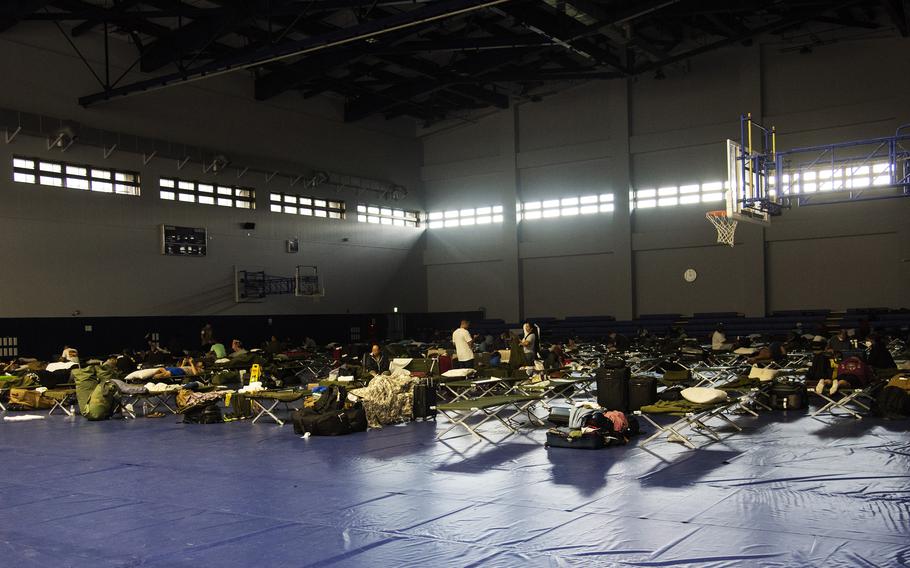 The Patriot Express from Iwakuni wasn't the only one delayed Wednesday. Another flight from Seattle-Tacoma International Airport to Yokota turned back to Sea-Tac after two or three hours, a customer service agent for Air Mobility Command in Seattle told Stars and Stripes by phone Wednesday. The cause was a maintenance issue, said the agent, who declined to give his name.
At Iwakuni, the stranded passengers settled in for their overnight stay.
Antonio, traveling with his wife, three kids and two dogs, said they were well-provided for.
"The staff here has taken very good care of us, they gotten us everything we've needed and even things we've wanted," Antonio said. "They've went far and beyond to get us creature comforts and taking care of the families."
"My kids are having a blast; they love it, and they think it's awesome."