Coronavirus numbers drop again in Tokyo; US military in Japan reports 13 new cases
by
Joseph Ditzler
Stars and Stripes
August 10, 2021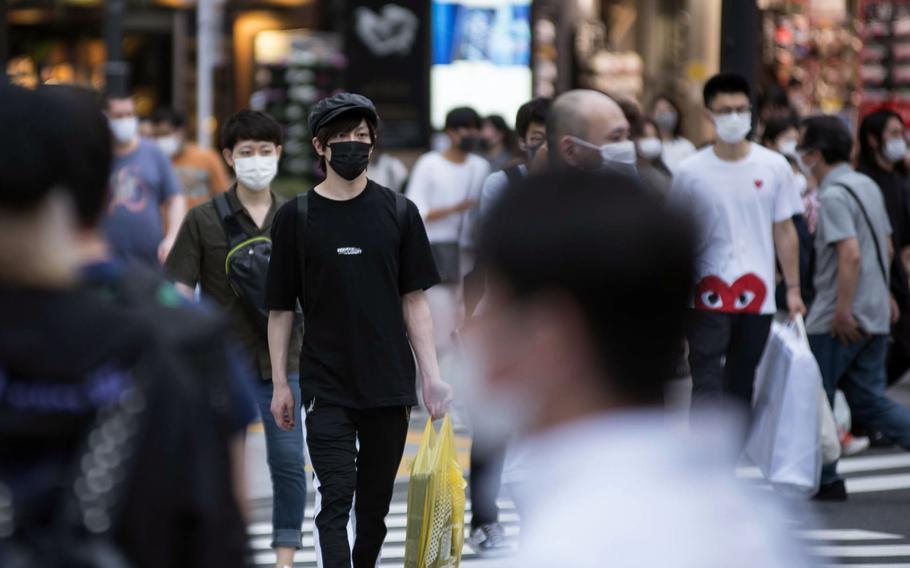 TOKYO – The capital city of Japan recorded another day of falling coronavirus case numbers Tuesday, and its second consecutive day below 3,000.
The Tokyo Metropolitan Government reported 2,612 people newly infected with the coronavirus, according to public broadcaster NHK. That's 1,097 fewer cases than a week prior. On Monday, the city reported 2,884 new cases.
However, the number of seriously ill rose Tuesday by 19 to 176, NHK reported.
Japan on Tuesday had 1.04 million reported cases of COVID-19 so far during the pandemic and 15,308 deaths, according to the Johns Hopkins Coronavirus Resource Center. The nation has fully vaccinated nearly 33% of its population.
Tokyo 2020, the Olympics organizing committee, added 26 people Tuesday to its list of positive tests for the coronavirus, for 484 since July 1. The newly infected are 14 people associated with the Olympic committees and their affiliates, four members of the media and eight Olympics employees, according to the Tokyo2020.org daily update.
One U.S. military installation, Yokosuka Naval Base, south of Tokyo, reported 13 new cases of COVID-19, the coronavirus respiratory disease, since Friday, according to a news release from the base.
Four immunized individuals fell ill with COVID-19 symptoms, and one immunized individual tested positive during contact tracing. Four immunized cases were discovered during medical screenings, according to the base.
One unimmunized person fell ill with COVID-19 symptoms and three unimmunized base employees tested positive after showing COVID-19 symptoms.
The naval base has 35 active coronavirus cases under observation.
On Monday in Washington, D.C., Defense Secretary Lloyd Austin said he would seek a waiver from President Joe Biden by mid-September mandating coronavirus vaccinations for all service members. The presidential waiver is required unless the Food and Drug Administration grants full approval to a vaccine, all of which are, so far, authorized for emergency use only.
The two-shot Pfizer-BioNTech may be approved by the end of August, the Pentagon's chief spokesman, John Kirby, said at a press briefing Tuesday morning.
Austin's message also serves as a "warning order" to the unvaccinated within the ranks that encourages them to get vaccinated, Kirby said. "This is coming, and we want you to be ready as well," he said.
About 62% of active-duty service members are fully vaccinated, and 73% have at least one shot of a two-shot series, Kirby said.
Ultimately, implementing a mandatory vaccine policy falls to commanders, whom Austin expects to act with "professionalism, skill and compassion," Kirby said.
As for uniformed members who do not comply with a vaccine order, Kirby said he "would not speculate and get into hypotheticals." Service members sign on expecting to comply with any number of expectations, including keeping fit and being ready to serve, he said.
The U.S. military already requires service personnel get 17 different vaccinations, eight during in basic training, he said.
Kirby sidestepped reporters' questions on specifics, including how Defense Department plans would impact troops about to deploy. He said the month between Austin's message and the requested waiver will provide time for the service branches to make plans.
"Adding a vaccine to the mandatory list doesn't happen every day," he said. "It's a big-muscle movement."
Okinawa prefecture, where most U.S. troops in Japan are stationed, on Tuesday reported 334 new cases of COVID-19 and two deaths.
The island is filling its hospital beds. Of the 30 set aside for severe cases, 18, or 60%, are occupied. Eighty percent of the remaining 794 beds, or 638, are also occupied, according to the prefecture's public health department.
Stars and Stripes reporter Mari Higa contributed to this report.