Guam exercises provide 'at-scale' test of new Army, Air Force operating concepts
by
Wyatt Olson
Stars and Stripes
August 1, 2021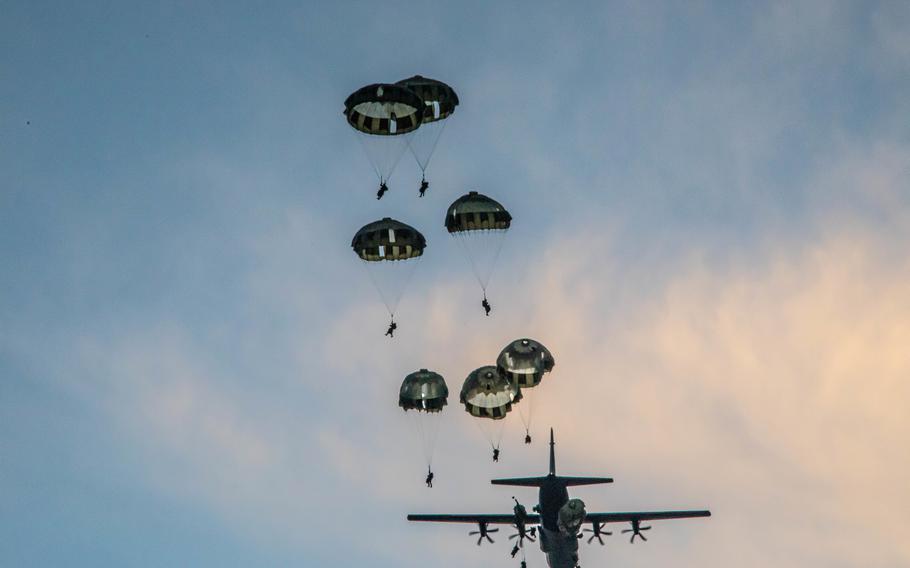 Joint U.S. Army and Air Force exercises centered on Guam are intended to keep adversaries guessing about how America's armed forces would defend and attack during a conflict, a top Pacific Air Forces official said Sunday.
"We know one thing for sure is that they've studied the way that the U.S., our allies and partners have employed force when it's been necessary," Lt. Gen. Jon Thomas, deputy commander of Pacific Air Forces, told reporters during a conference call that also included Gen. Charles Flynn, commander of U.S. Army Pacific.
"[Adversaries] believe that we'll concentrate and will build large mountains of sustainment and supply, and then we'll wait to go forward," Thomas said. "We know that we can't wait to do that, nor can we give them that opportunity, and so thus we're preparing to operate in a different way."
This summer's exercises are doing just that.
The Army is now in the midst of the Guam-based Pacific Forager 21 exercise, which involves about 4,000 U.S. personnel who rapidly deployed to the theater.
Training scenarios include an 82nd Airborne operation; a bilateral airborne operation with the Japan Ground Self-Defense Force and 1st Special Forces Group; a live-fire exercise with Apache attack helicopters; and multidomain operations involving the transport over land, air and sea of Strykers, the Avengers surface-to-air missile system and High Mobility Artillery Rocket Systems, the Army said.
The Air Force is wrapping up the Pacific Iron exercise, during which aircraft and about 800 airmen from Pacific Air Forces and the Air Combat Command deployed quickly into the Indo-Pacific region under the Air Force's new operational concept called agile combat employment.
The concept employs a "hub-and-spoke" system of established and remote air bases and prepositioned equipment that allows quick and unpredictable deployment of air assets.
Thomas described Pacific Iron as "our largest and our most comprehensive exercise to date to exercise" agile combat employment.
"We've demonstrated the ability to move forward to the second island chain 26 F-22s, 12 F-15Es and four C-130s here … on Guam or nearby," Thomas said.
Meanwhile, the Army is honing its own operational concept, multidomain warfare, during Forager, Flynn said. Under the concept, the Army is part of a joint force with the Air Force, Marines and Navy that is capable of engaging and defeating adversaries in all domains — air, land, sea, space and cyberspace — in both "gray area" competition and armed conflict.
Both generals emphasized that the exercises taking place demonstrate the services' concepts "at scale."
"There's a whole host of work that gets done as concepts are being developed," Flynn said. "But when you actually bring real forces together in real time, and they really have to sustain and they really have the command and control and they really have to conduct operational maneuvers at distance and at scale —I think that's where their greatest incremental learning goes on."
One reporter pointedly asked Flynn whether the U.S. Army could rapidly deploy "in case Taiwan is invaded by China."
"The Army is always able to rapidly deploy," Flynn said. "And we have a range of forces out here in the Pacific —from forcible entry forces, to motorized forces to sustainment, communications, cyber, electronic warfare, intelligence, security-force assistance — all ranges of capabilities within the Army, that can move at speed and at scale, to conduct operations across the region."