US military flexes its strategic muscles during summer of Pacific exercises
by
Matthew M. Burke 
Stars and Stripes
July 19, 2021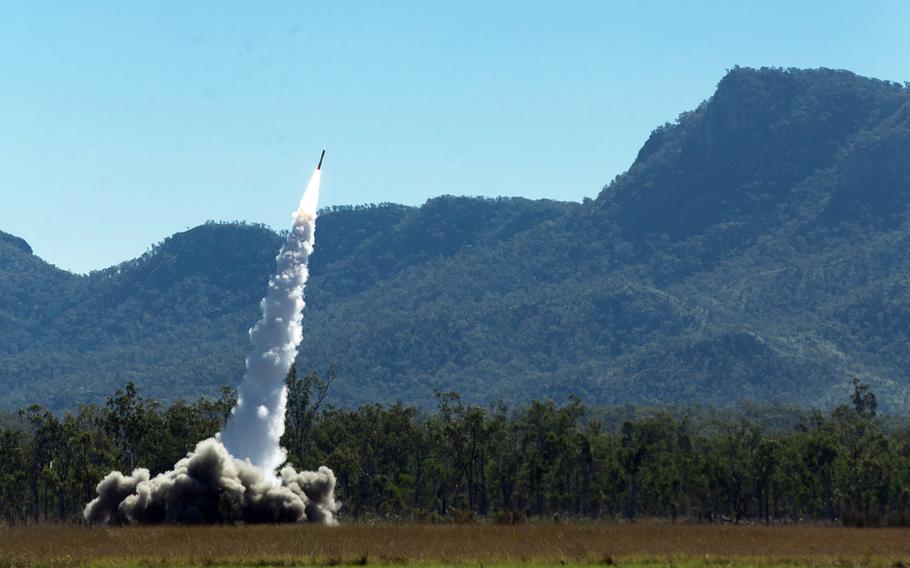 The U.S. military with its allies is producing twin displays of air, land and sea power in Guam, the Northern Marianas and Australia this month in a demonstration for potential adversaries of its ability to move and fight.
Air Force commands in Alaska, Idaho, Hawaii and Japan are fielding more than 35 aircraft, many of them fifth-generation stealth fighters, to Guam and Tinian for Pacific Iron 2021, according to a Pacific Air Forces news release from July 12. That exercise, scheduled through the remainder of this month, will test the Air Force's ability to disperse its aircraft and fight them effectively, according to PACAF.
"Pacific Iron 2021 is a PACAF dynamic force employment operation to project forces" into the Indo-Pacific Command area of responsibility as part of the 2018 National Defense Strategy, according to the release. The exercise will entail simulated combat flight operations from local airports on Guam, a U.S. territory, and Tinian, 106 nautical miles to the northeast in the Northern Marianas.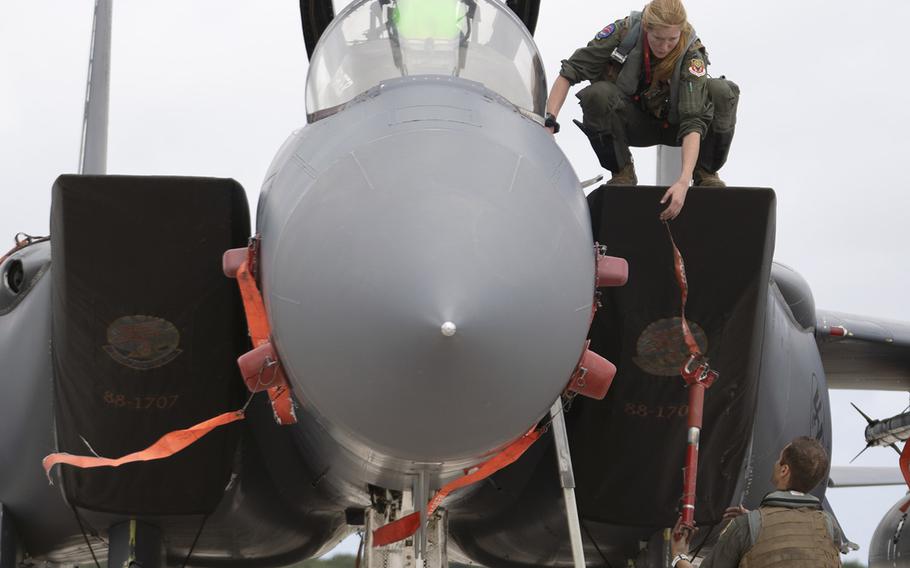 Meanwhile, a biennial exercise in Australia involving 17,000 U.S., Australian, New Zealand, Japanese, South Korean and British troops got underway Wednesday. Talisman Sabre hones the military and humanitarian capabilities of the participating nations. The exercise ends in August.
At Talisman Sabre this year, U.S. troops for the first time fired a live Patriot air-defense missile in Australia. Soldiers of the Army's 1st Battalion, 1st Air Defense Artillery Regiment, deployed from Okinawa, hit a drone target with a missile Friday at Shoalwater Bay Training Area in Queensland, according to video of the shot posted online by the Marine Corps.
The exercise demonstrated the Army's ability to quickly move and bring to bear its missile defense units, demonstrations the Marine Corps has made recently, too.
For Pacific Iron, PACAF dispatched approximately 10 F-15E Strike Eagles from the 389th Fighter Squadron out of Mountain Home Air Force Base, Idaho; 25 F-22 Raptors from the 525th Fighter Squadron, Joint Base Elmendorf-Richardson, Alaska, and the 199th Fighter Squadron, Hawaii Air National Guard at Joint Base Pearl Harbor Hickam, Hawaii; and two C-130J Super Hercules from the 374th Airlift Wing from Yokota Air Base, Japan, according to the statement.
Anderson Air Force Base posted photos of F-22s arriving Sunday and F-15Es arriving Thursday for Pacific Iron on its website.
They will operate from Anderson and its Northwest Airfield and A.B. Won Pat International Airport, both on Guam, and Tinian International Airport, according to PACAF. They aim to practice "agile combat employment," or the ability to create robust airpower in a contested environment.
The 2018 National Defense Strategy calls on military commanders to use ready forces to "proactively shape the strategic environment" while also standing ready to respond quickly to contingencies and maintaining long-term combat readiness, PACAF said.
Speaking Friday during the 18th Wing change-of-command ceremony at Kadena Air Base Okinawa, 5th Air Force deputy commander Maj. Gen. Leonard Kosinski directly called out INDOPACOM's potential adversaries.
"As the U.S. National Security Guidance highlights, China has become rapidly more assertive," he said. "Russia continues to play a disruptive role on the world stage and North Korea pursues game-changing technologies, threatening U.S. allies and partners and challenging regional stability."