B-52 bombers, Army I Corps on Guam to support dual training exercises
by
Wyatt Olson
Stars and Stripes
July 16, 2021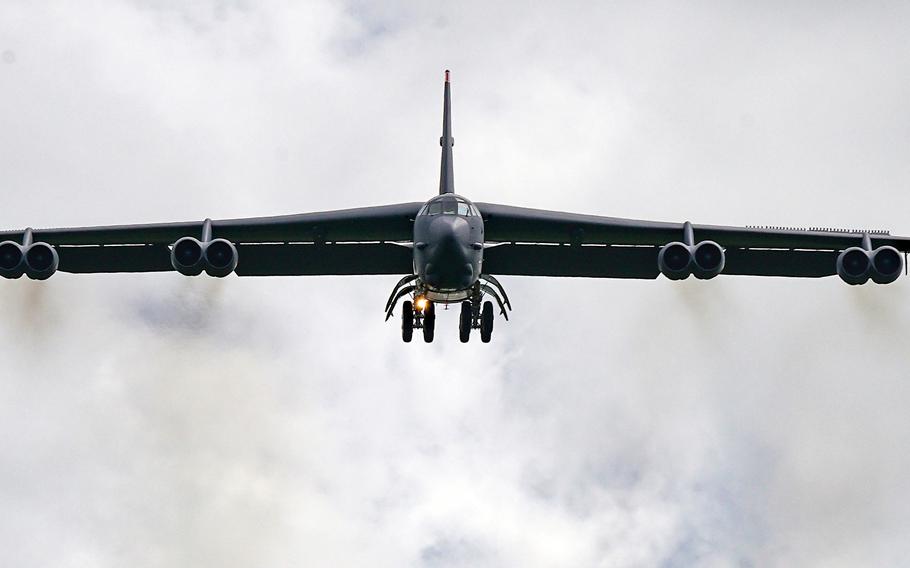 Guam is supporting two simultaneous U.S. military exercises by hosting Air Force bombers and Army soldiers, vehicles and weapons over the coming weeks.
A group of B-52 bombers arrived Wednesday on Guam from Minot Air Force Base, N.D., to support Pacific Air Force's Bomber Task Force, according to an Air Force news release.
The bombers will also take part in the Talisman Saber exercise, which runs through the end of the month, with the Australian Defense Force.
The Air Force did not disclose the number of B-52s sent to Guam. Four B-52 Stratofortress bombers deployed there in April from Barksdale Air Force Base, La.
Meanwhile, I Corps, based at Joint Base Lewis-McChord in Washington state, is leading the Army's Pacific Forager 21 exercise from Guam.
The exercise, which runs through Aug. 6, is designed "to test and refine the Theater Army and the Corps' ability to deploy landpower forces to the Pacific, execute command and control, and effectively conduct multi-domain operations throughout Oceania," according to an Army news release.
About 4,000 U.S. personnel are directly participating in Forager, the Army said.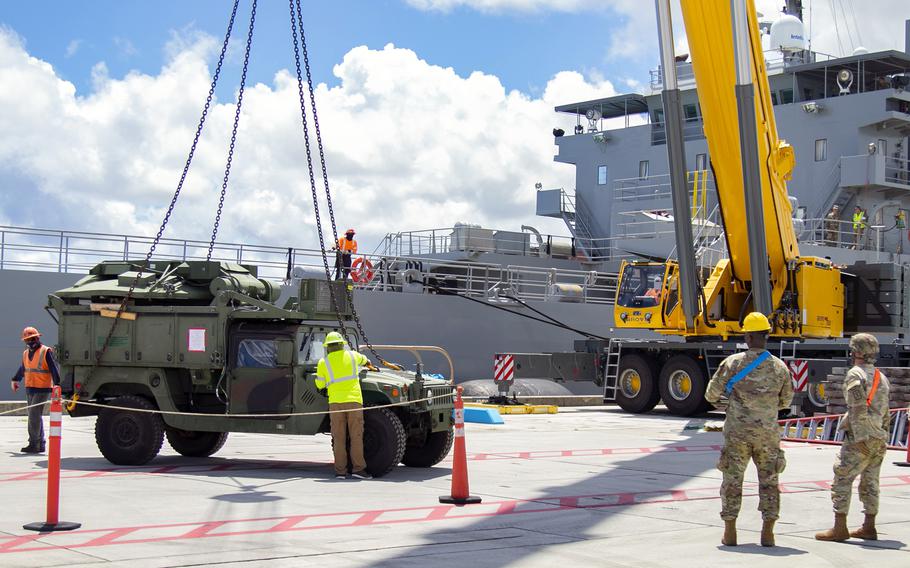 Training scenarios include an 82nd Airborne operation; a bilateral airborne operation with the Japan Ground Self-Defense Force and 1st Special Forces Group; a live-fire exercise with Apache attack helicopters; and multi-domain operations involving the transport over land, air and sea of Strykers, the Avengers surface-to-air missile system and High Mobility Artillery Rocket Systems, the Army said.
"Forager 21 allows us to dynamically employ forces to the Pacific to practice our response to a full range of security concerns in support of our regional alliances and international agreements across all domains, land, air, sea, space and cyber," Maj. Gen. Xavier Brunson, commander of I Corps, said in the news release.
The tiny U.S. territory of Guam, which lies 4,000 miles west of Hawaii and 2,500 miles east of the Philippines, is of growing strategic importance to the American military as it grapples with China's expansion in the region.
The island's Andersen Air Force Base routinely hosts deploying bombers, which are used to project U.S. air power throughout the Indo-Pacific with an eye toward China, Russia and North Korea.
Naval Base Guam is the homeport for four Navy submarines, and the Coast Guard operates a trio of the service's new 154-foot Sentinel-class fast-response cutters from the island.