Tokyo posts pandemic record of 2,848 COVID-19 cases; US military infections on the rise
by
Joseph Ditzler 
Stars and Stripes
July 27, 2021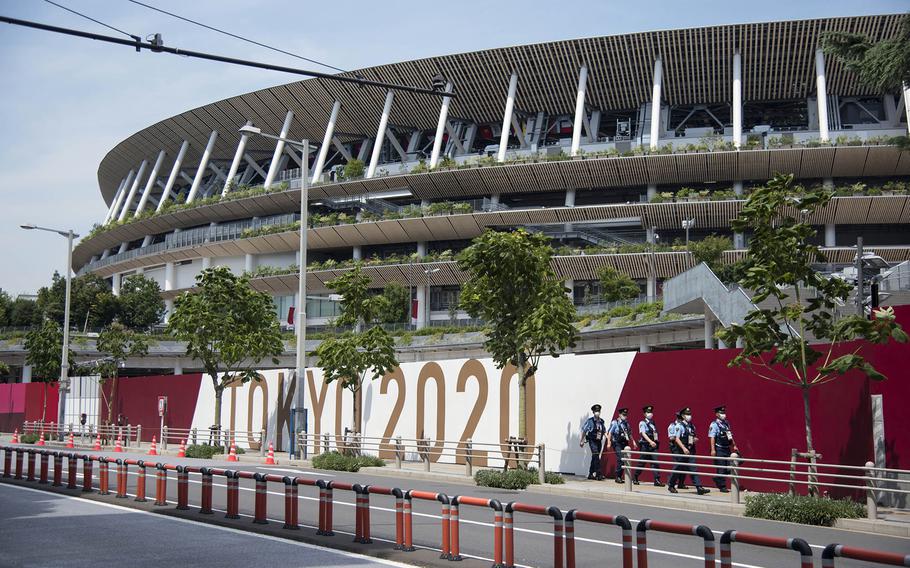 TOKYO — The Japanese capital, five days into hosting the Olympic Games, reached a new, one-day peak for new coronavirus cases.
The Tokyo Metropolitan Government reported 2,848 newly infected people on Tuesday, 328 more than the previous one-day peak, 2,520, on Jan. 7, according to public broadcaster NHK and metro government data.
The new record makes the coronavirus' fifth wave the most extreme in Tokyo since the pandemic began in March 2020. The city of 13.5 million in that time has recorded more than 200,720 cases of COVID-19, the coronavirus respiratory disease, and more than 2,725 deaths, according to metro data.
Meanwhile, U.S. military bases across Japan reported 21 new COVID-19 patients on Tuesday. Commands in South Korea reported a dozen.
The city is in a state of emergency until Aug. 22 in which restaurants and bars are expected to close early and refrain from selling alcohol and residents are urged to avoid unnecessary travel.
At the Olympics, 155 people associated with the event have tested positive since July 1, Kyodo News, citing games organizers, reported Tuesday.
Spectators are banned from most Olympic venues. Athletes are discouraged from interacting with anyone outside their bubbles and pandemic restrictions have waylaid the usual international celebration that's a hallmark of the event.
The record high number of new patients Tuesday follows a week of daily case numbers above 1,000 in Tokyo.
As for the U.S. military, Yokosuka Naval Base, homeport of the U.S. 7th Fleet 34 miles from central Tokyo, reported nine new patients since Friday, according to a base news release.
One immunized person and one unimmunized person tested positive during medical screenings, and three unimmunized people tested positive after becoming ill with COVID-19 symptoms, according to the release.
Four base employees became ill with COVID-19 symptoms; one was immunized and three were not, according to base. All four tested positive afterward.
Marine Corps Air Station Iwakuni, near Hiroshima, and Sasebo Naval Base, on Kyushu island, each reported one new coronavirus case. MCAS Iwakuni's new patient is a recent arrival to Japan, according to a base news release. The individual at Sasebo fell ill with COVID-19 symptoms before testing positive, the base announced on Facebook.
On Okinawa, the Marines reported another 10 people had tested positive, according to a Facebook post Tuesday by Marine Corps Installations Pacific, which did not specify where those cases arose.
Okinawa prefecture is also under a state of emergency until Aug. 22. Okinawa Gov. Denny Tamaki on Monday said people ages 20 to 40 are spreading the coronavirus from restaurants and bars to their homes and work.
The prefecture counted 99 new COVID-19 patients on Saturday, and 209 on Sunday, according to its online tracking site.
Tamaki during a press conference said another major cause of the rapid increase in new cases is the delta variant, mostly seen in central Okinawa and spread among teens and younger people.
On the upside, he said, vaccinations among the elderly are helping stem the virus' spread in that population.
About 25% of Japan's population is fully vaccinated, according to the Johns Hopkins center.
More military cases in Korea
U.S. Forces Korea announced Tuesday that 12 people affiliated with the command had tested positive for COVID-19 between July 14 and Monday.
Five are active-duty service members — two stationed near the border with North Korea at Camp Casey and three at Osan Air Base south of Seoul — whose infections were discovered after they developed symptoms, according to a USFK news release.
Seven people tested positive between Saturday and Monday after being tagged as direct contacts of a recent patient. USFK identified them as a Defense Department civilian and the family members of two service members and another civilian stationed at either Osan or Camp Carroll, in the southeast.
Stars and Stripes reporter Mari Higa contributed to this report.