Sailors take on armed suspects during security forces drills across the Pacific
by
Alex Wilson
Stars and Stripes
July 23, 2021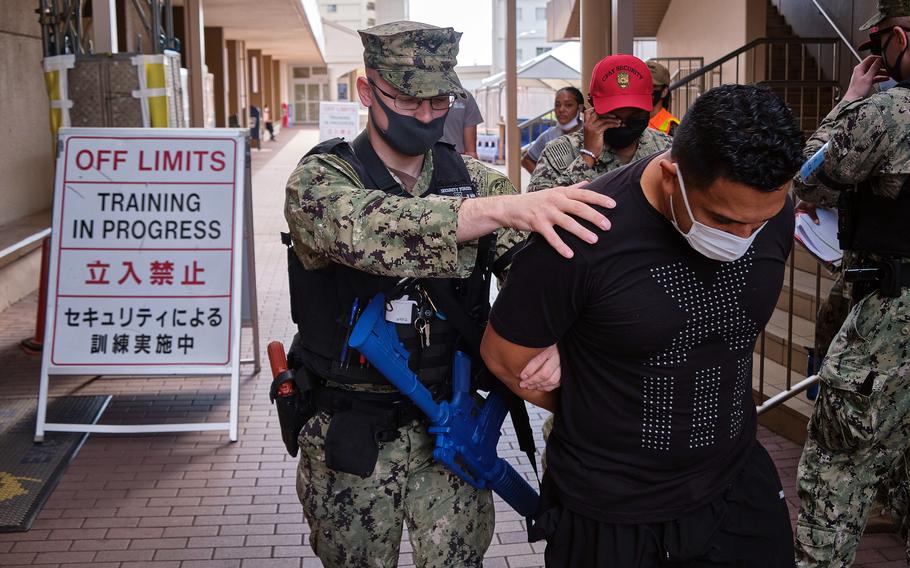 YOKOSUKA NAVAL BASE, Japan — Early Tuesday morning, a security forces team, weapons raised, entered the Navy Exchange, searching for a knife-wielding suspect.
The action was a drill using blue, rubber versions of M4 carbines, all part of Citadel Pacific 2021, five days of security-forces exercises this summer at Navy installations across the region.
At Yokosuka, a combination of security teams cleared the exchange before finding and apprehending someone playing the role of suspect. The teams then moved to a second scenario at Yokosuka Middle School, where they took another roleplaying suspect into custody and discovered a "suspicious" package.
"The importance of these drills is they're realistic scenarios that allow our patrolmen to get out of the routine patrols and respond to something that doesn't necessarily happen a lot," Master-at-Arms Chief Petty Officer Andrew Burnett, security training chief for the base, said in an interview Tuesday.
Burnett, the antiterrorism training team leader during the exercise, said routine training often involves slideshows or standard drills, but practicing more unique scenarios out in the real world gives security personnel and the base in general wider experience.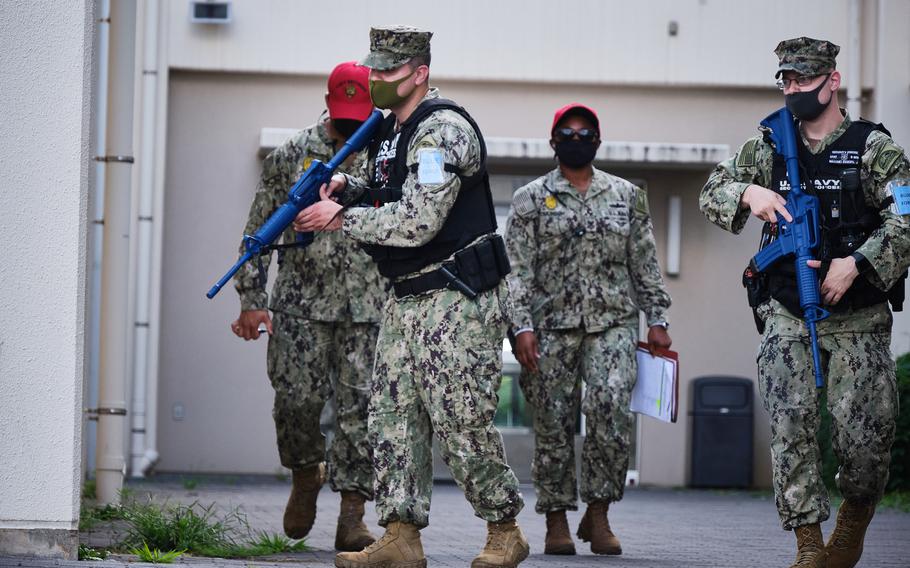 "It helps us understand where our training deficiencies are, and it also helps train the public in what might happen if something were to happen," he said.
Citadel Pacific, organized by Navy Installations Command and U.S. Pacific Fleet, is being conducted at every naval installation in the theater — Navy Region Japan, Navy Region Hawaii, Navy Region Korea and Joint Region Marianas.
Navy Region Japan held its training from Monday through Friday. Navy Regions Hawaii and Korea will conduct their five-day exercises in August, and Joint Region Marianas will hold its drills in early October.
Citadel Pacific provides a standardized metric to train and examine security measures across the area, said Cmdr. Benjamin Waite, the integrated tactics training leader and public works officer at Yokosuka.
"It's intended for the regions to exercise their installations at the same time in a consistent way," he told Stars and Stripes on Tuesday. "It's a coordinated effort to ensure consistent training is occurring."
Waite said other days' training included observation drills, drone training and entry point exercises.
"It benefits the entire installation — and particularly our security department — but it allows us to train to defend the base against both internal and external threats," he said.
Threats on U.S. military bases, such as active shooters or knife-wielding assailants, aren't unheard of.
In June 2020, Lance Cpl. William Luce, an infantry rifleman with the 2nd Battalion, 8th Marine Regiment, died at Camp Lejeune, N.C., following a shooting-stabbing incident that occurred in on-base housing. Another man, a Marine's spouse, was also killed in the incident, but his identity wasn't released at the request of next of kin.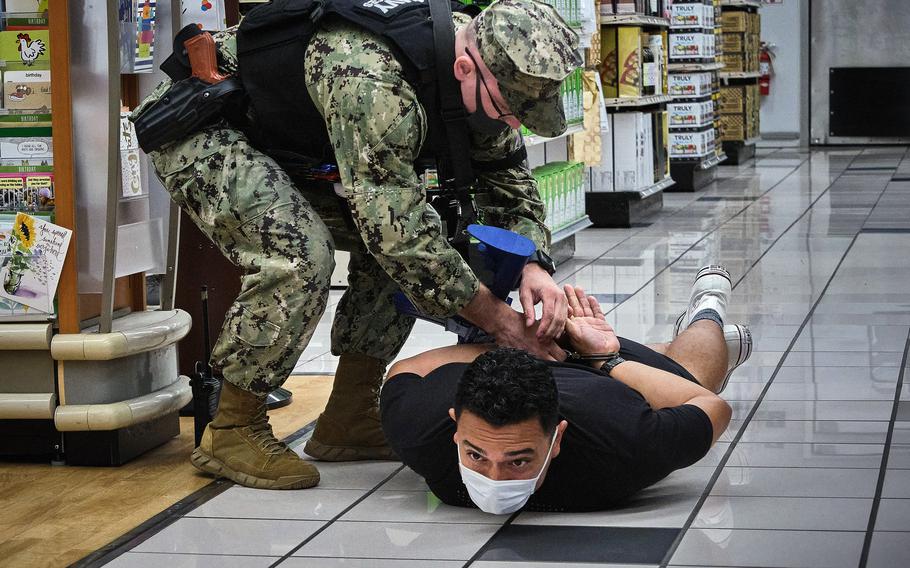 Also in June 2020, Army Spc. Austin Hawk was stabbed to death in his barracks room in Fort Stewart, Ga.
On Dec. 4, 2019, Seaman Gabriel Romero, a machinist's mate auxiliary fireman assigned to the fast-attack submarine USS Columbia, shot three civilians at Pearl Harbor Naval Shipyard in Hawaii before turning the gun on himself.