Seasoned submariner takes helm of US Naval Forces Japan from retiring rear admiral
by
Alex Wilson
Stars and Stripes
July 15, 2021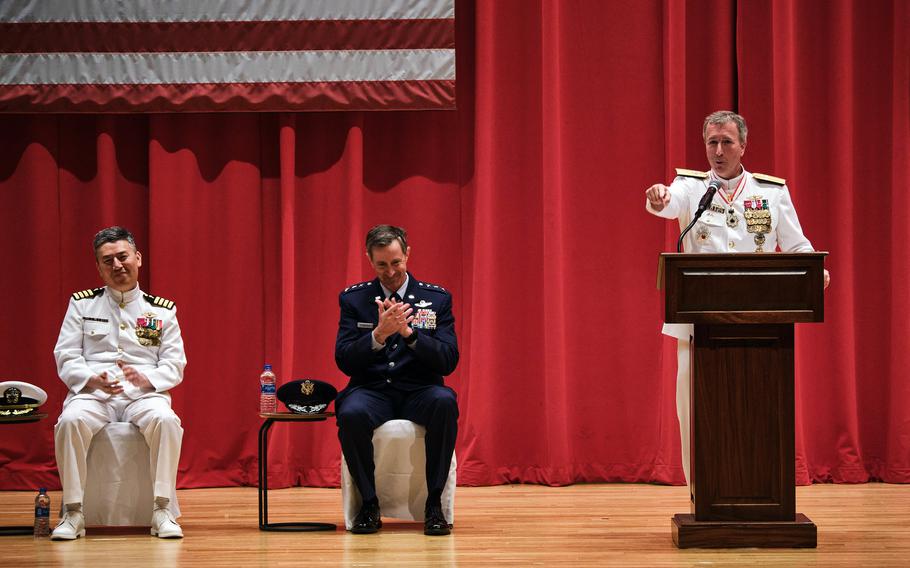 YOKOSUKA NAVAL BASE, Japan — Rear Adm. Brian Fort closed out 32 years in the Navy this week by handing over his last command to an experienced submariner who recently arrived from Washington, D.C.
Fort transferred the dual-hat responsibility for U.S. Naval Forces Japan and Navy Region Japan to Rear Adm. Carl Lahti, most recently the commandant of Naval District Washington. The command exerts both operational and administrative control over all Navy personnel and installations in the country.
The Wednesday ceremony at the naval base's Fleet Theater featured accolades on Fort's behalf. He presided over the Navy response to the coronavirus pandemic in Japan, which in spring 2020 meant a three-month lockdown at Yokosuka, the Navy's headquarters south of Tokyo and homeport of the 7th Fleet.
"I think it's only fitting that over [my wife and I's] 32 years of service together we have called the Pacific our home for five tours of duty," Fort said during the ceremony. "And I can't think of a better place to conclude our service than our current home-away-from-home: Japan."
The commander of U.S. Forces Japan, Air Force Lt. Gen. Kevin Schneider, congratulated Fort for his many years of service and his numerous accomplishments. Fort received the Order of the Rising Sun, gold and silver, from the Japanese government July 1 in recognition of his service.
"Brian's achievements as commander of U.S. Navy Forces Japan/Navy Region Japan are just one example of his many successes over a 32-year military career which has been nothing short of fantastic," Schneider said at the ceremony. "He has been a tremendous sailor, he has been a leader, he has been a trainer, and he has a been a mentor who created an environment where his subordinates could achieve their potential."
Schneider highlighted Fort's role during the pandemic, saying that "the numbers speak for themselves." Better than 80% of U.S. Navy forces in Japan are fully vaccinated, Fort said later.
"Since February, we have averaged single-digit cases of COVID on any given week," Fort said. "Ninety-nine percent of those were [unvaccinated] at the time. Today, we are tracking three positive cases – that is what real teamwork is all about, and I know the entire team is proud."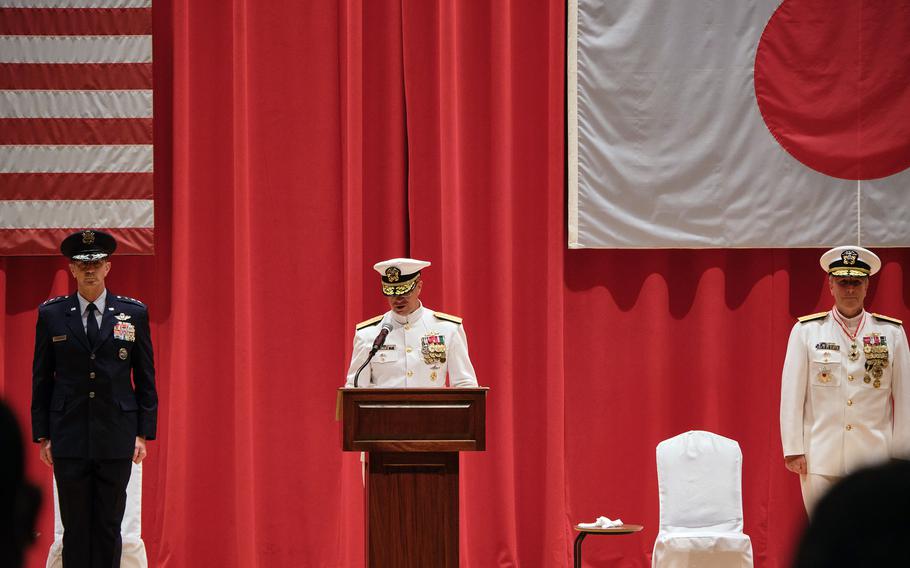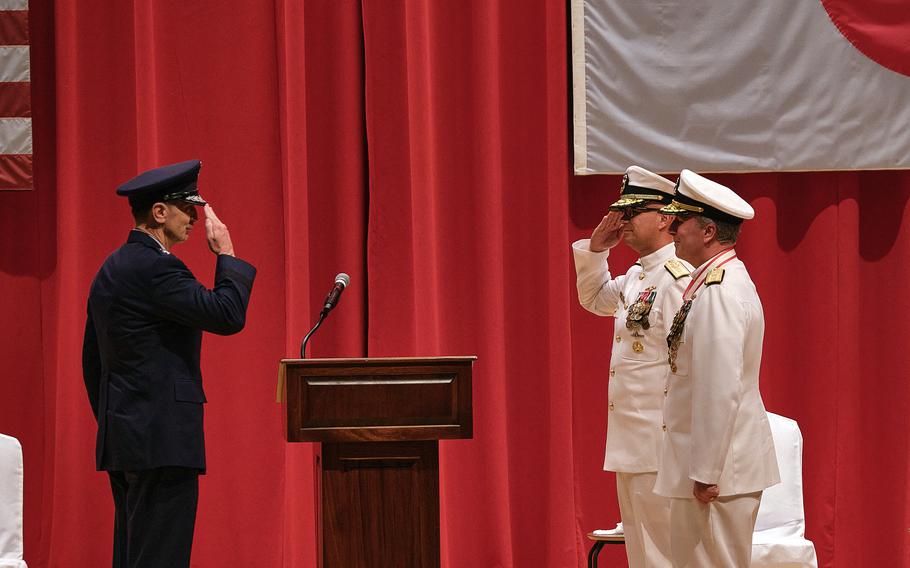 Lahti, in addition to his tenure in Washington, D.C., has served as a submariner and also commanded the ballistic-missile submarine USS Nebraska, stationed at Naval Base Kitsap-Bangor in Washington state, according to his Navy biography.
Originally from Buffalo, N.Y., Lahti holds a bachelor's degree in systems engineering from the U.S. Naval Academy, a master's in electrical engineering from the Naval Postgraduate School and a master's in national security and strategic studies from the Naval War College.
Lahti thanked Fort for his service and pledged to continue "to maintain and foster the strong relationships" that Fort created.
"For the U.S. Naval Forces Japan and Naval Region Japan teams, our missions are clear: enable the 7th Fleet, enhance and strengthen the U.S.-Japan alliance and serve as the naval component to U.S. Forces Japan," he said. "We will do this by working together as a team and putting people first, creating a positive command climate and culture where everyone can contribute to mission accomplishment."
Lahti told reporters after the ceremony he plans to continue all coronavirus mitigation polices that Fort put into place.
"We'll be partnering with our Japanese counterparts until such a time as we move beyond this pandemic," Lahti said.
After the ceremony, Fort said he expects the vaccination rate of Japanese nationals to eventually match the percentage of U.S. personnel.
"I think it says a lot about our relationship with Japan and the culture of the organizations to be able to get the point where we're working with the U.S. [Food and Drug Administration] and the government of Japan to be able to vaccinate our master labor contract workforce," Fort said.