Tokyo copes with continuing COVID-19 surge as Olympic Games approach
by
Joseph Ditzler
Stars and Stripes
July 13, 2021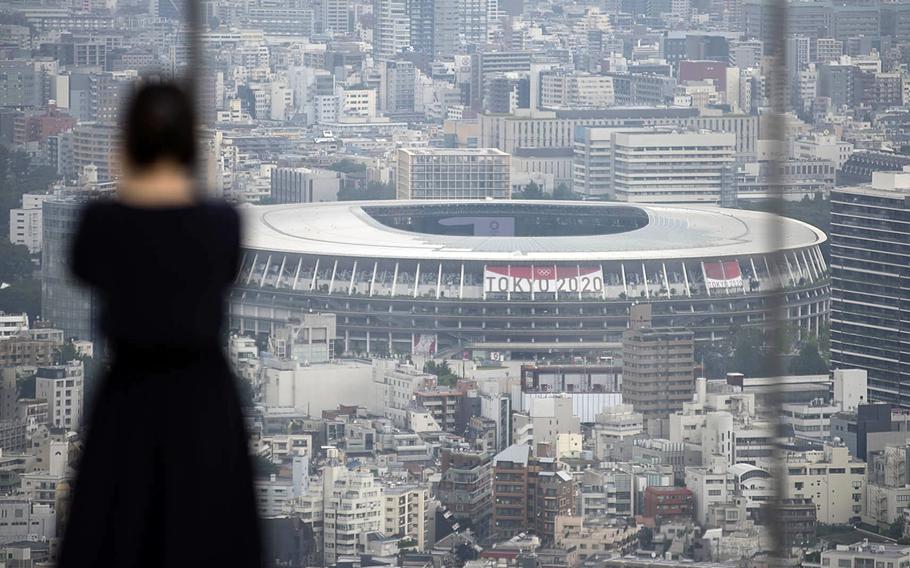 TOKYO – Japan's capital city reported another 830 people infected with the coronavirus Tuesday, barely more than a week before the Olympic Games are set to open there, according to public broadcaster NHK.
Elsewhere in Japan, two U.S. military bases had reported 11 new COVID-19 cases by 7 p.m. Tuesday.
For 24 days, the number of new infections in Tokyo has exceeded the number on the same day a week earlier, reversing a trend that had prevailed until early June. The daily count of new cases on June 23 exceeded 600 for the first time in nearly a month, and by Saturday had reached 950, according to Tokyo Metropolitan Government data.
Meanwhile, the seven-day moving average of new coronavirus cases went from 376 in mid-June to 756 on Monday, according to metro data.
The city is under its fourth state of emergency, which took effect Monday in another effort to stem the virus' spread, this time ahead of the Olympics, which open July 23. Bars and restaurants are asked to stop serving alcohol and to close early. Residents are asked to avoid unnecessary travel.
One consequence of the rising infection rate is that the Olympics, already a year late, will open in venues largely devoid of spectators.
Monday evening, Kadena Air Base on Okinawa reported another spate of new COVID-19 patients "over the last few days," according to a post on its Facebook page. Eight people had contracted the virus, bringing the total new infections there to 22, so far, in July.
The base reported four people had become ill before testing positive for the coronavirus respiratory disease; two turned up positive while on restricted movement following travel outside Japan; and the final two were close contacts of previously infected individuals.
The air base last reported four new COVID-19 cases on Friday, one of them an employee of the Chili's restaurant on base, which closed temporarily. On Thursday, the base reported six people had tested positive since July 2. Kadena announced 39 infections in June.
Vaccinations, however, have cut into the coronavirus infection rate, the base stated in its Tuesday post. Kadena said 94% of its new COVID-19 cases arose in service members, their families and civilian employees who have not been vaccinated, according to the Tuesday post.
Three new cases were reported Tuesday by Marine Corps Air Station Iwakuni, which is hosting the U.S. Women's Olympic softball team.
The new patients, who were not in quarantine when they tested positive, have no association with the Olympians, according to a statement from the air station.
Yokosuka Naval Base, the homeport south of Tokyo of the U.S. 7th Fleet, on Tuesday reported its last known COVID-19 patient had recovered, according to a news release from the naval base.
South Korea has now gone a solid week of reporting more than 1,000 daily coronavirus cases as the country continues to grapple with a summer surge of infections.
Tuesday saw 1,150 cases, according to the Korea Disease Control and Prevention Agency, with most coming from the capital city of Seoul.
South Korea has added more than 13,000 cases so far this month, according to The Associated Press, bringing its pandemic total to 170,296 infections and 2,046 deaths.