Coronavirus slide continues across Japan, with US military reporting six new cases
by
Matthew M. Burke
Stars and Stripes
June 11, 2021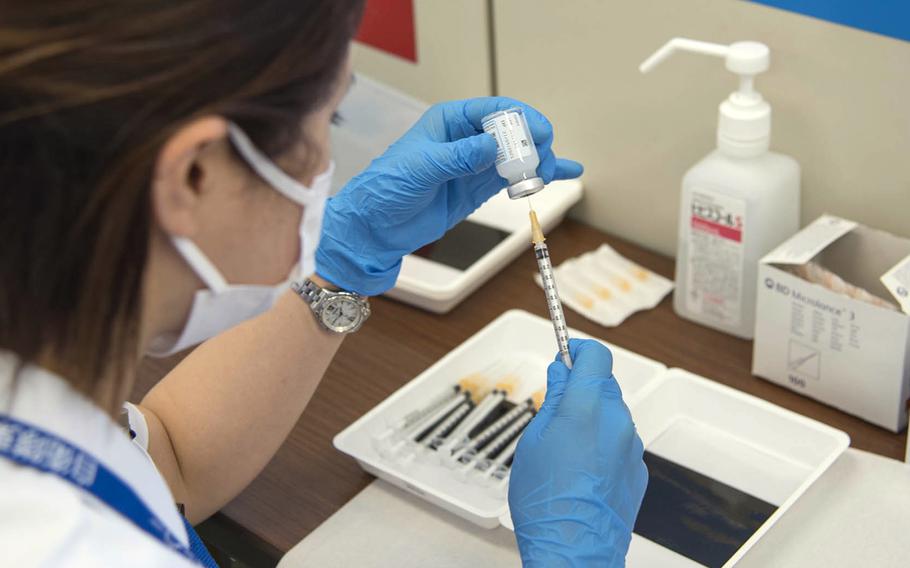 CAMP FOSTER, Okinawa – The number of COVID-19 patients continued to decline across Japan on Friday, including at U.S. military bases, which recorded just a handful of new cases.
The Marine Corps on Okinawa had four people test positive for the coronavirus respiratory disease, according to a Facebook post by Marine Corps Installations Pacific. Three are at Camp Foster and one is at Camp Hansen.
The Marines have reported 28 cases on Okinawa since May 29.
Yokosuka Naval Base, 35 miles south of central Tokyo, announced Friday that two patients have popped up since Wednesday. One is an unimmunized person in Japan under the status of forces agreement. The other is a base employee who tested positive after displaying COVID-19 symptoms.
The SOFA member is in quarantine and is being monitored by U.S. Naval Hospital Yokosuka staff, a statement said.
Japan reported 1,937 new coronavirus cases Friday, 937 fewer than the same day last week, according to public broadcaster NHK and the World Health Organization. There were also 64 deaths.
The government has counted 765,000 COVID-19 cases during the pandemic and more than 13,500 deaths, the WHO said.
Tokyo on Friday reported another 435 coronavirus infections and eight deaths, according to NHK, which cited metropolitan government data. That's 37 fewer cases than the same day last week.
Osaka prefecture, the nation's second-largest metro area, reported 134 new cases Friday and 11 deaths, NHK said.
Okinawa prefecture, home to the majority of U.S. troops in Japan, reported another 145 new infections Friday, 102 fewer than the same day last week, according to NHK.
Though Japan has lagged other developed nations in vaccinating its population, the country is ramping up its efforts ahead of the Olympic Games, scheduled to begin July 23. Prime Minster Yoshihide Suga said Wednesday he hoped to have the lion's share of Japan's population inoculated by November.
The Japanese government is also considering lifting a state of emergency for 10 prefectures, including Tokyo, Osaka and Okinawa, on June 20 as scheduled, Kyodo News reported Friday, citing unnamed government officials. However, they may maintain some restrictions through a "quasi-state of emergency" in places like Tokyo and Osaka.