US military reports nine new COVID-19 cases as Japan focuses on vaccinations
by
Matthew M. Burke 
Stars and Stripes
June 2, 2021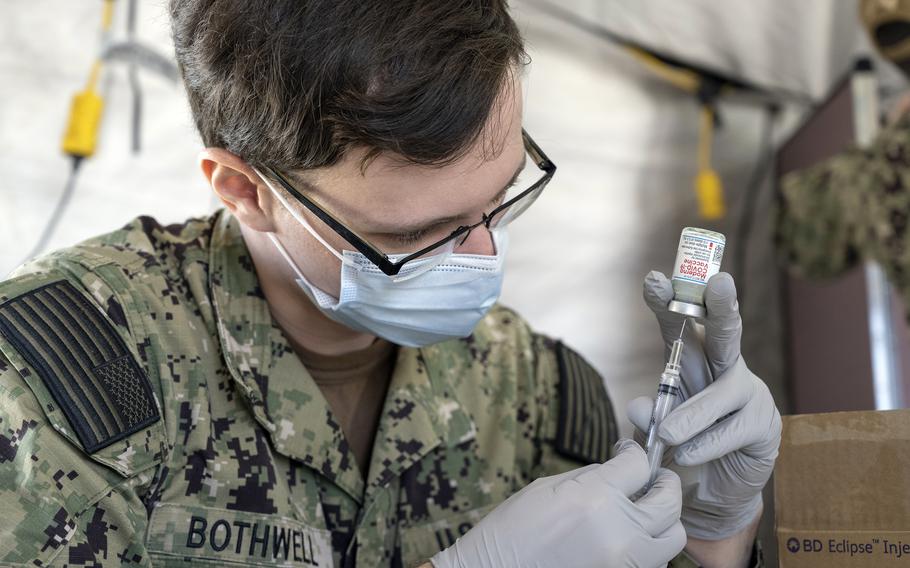 CAMP FOSTER, Okinawa – The U.S. military in Japan reported nine new cases of COVID-19 as of 6 p.m. Wednesday.
The Marine Corps on Okinawa had eight people test positive for the coronavirus respiratory disease between Saturday and Tuesday: three each at Marine Corps Air Station Futenma and Camp Hansen and two at Camp Foster, according to a Facebook post Wednesday by Marine Corps Installations Pacific.
The Marines have reported 53 cases of COVID-19 since May 1.
U.S. Army Japan reported that a recent arrival tested positive while still in the mandatory 14-day quarantine between May 26 and Tuesday, according to an Army news release Wednesday.
Japan reported 2,642 new coronavirus cases on Wednesday, down nearly 4,600 from the most recent peak of 7,237 on May 8, the Yomiuri newspaper reported. The government has counted 750,000 cases during the pandemic and more than 13,000 deaths, according to the World Health Organization.
Tokyo on Wednesday reported another 487 people coronavirus infections and 13 deaths, according to public broadcaster NHK. The number of new infections is 256 less than the same day last week, according to metro government data.
Osaka prefecture, the nation's second-largest metro area, reported 213 new infections, according to NHK. A month ago, the prefecture was experiencing its highest caseload of the pandemic. It had 1,057 new COVID-19 patients on May 2 alone, according to prefectural data.
Okinawa prefecture, now experiencing its worst phase of the pandemic, thus far, reported another 223 new infections Wednesday, according to NHK.
Due to the surge, hospitals in the prefecture are restricting outpatient treatment and limiting inpatient admissions, NHK reported Wednesday. Hospitals on Okinawa are close to 98% capacity for coronavirus cases and 93.5% for all other hospitalizations.
Tokyo and nine other prefectures, including Osaka and Okinawa, are in a state of emergency through June 20.
Japan, which has lagged other developed nations in vaccinating its population, is preparing to step up inoculations ahead of the Olympic Games, scheduled to begin July 23, according to Japanese media reports.
Vaccine distributions will begin at seven state-run universities across Japan later this month, Kyodo News reported Wednesday. Japanese athletes, coaches and staff taking part in the Tokyo Olympics received their first doses Tuesday.
Twitter: @MatthewMBurke1