Bar and nightclub ban is ending for fully vaccinated US troops in South Korea
by
Joseph Ditzler
Stars and Stripes
May 27, 2021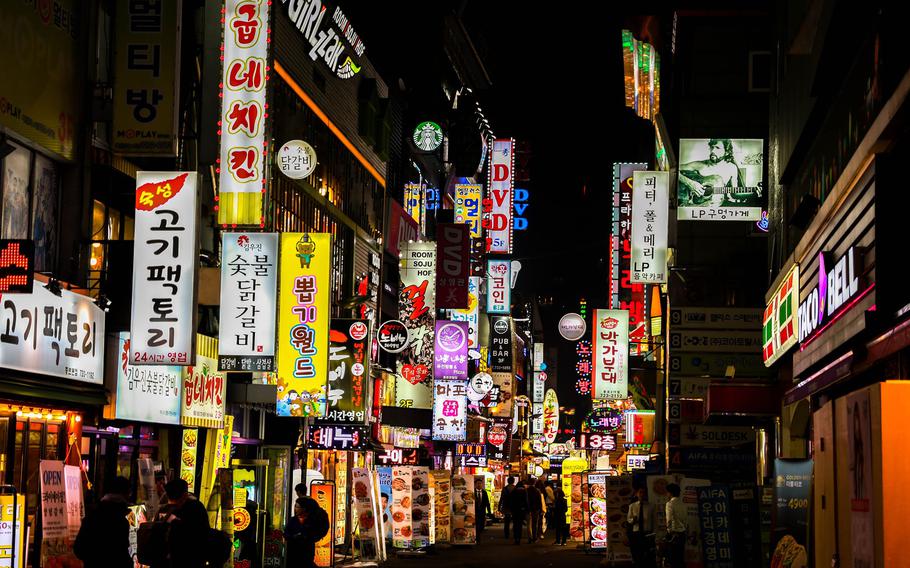 A coronavirus-induced alcohol drought is ending for fully vaccinated U.S. personnel on the Korean Peninsula.
Starting Friday, local bars and nightclubs will no longer be off-limits to those associated with U.S. Forces Korea – service members, Defense Department civilian workers, contractors and their families – USFK announced Thursday on Facebook.
However, "all bars and clubs remain off-limits to partially vaccinated and non-vaccinated individuals," the post said.
Seoul is another exception. The pandemic prohibition still applies to Area II, which includes the capital city and the surrounding area.
Many other activities remain off-limits, including karaoke rooms, saunas and bathhouses. Off-post gyms are allowed with approval from a colonel in command or the civilian equivalent.
South Korean rules on social distancing, masks and business hours still apply, according to USFK, which removed a mask mandate for the fully vaccinated on its installations May 15.
Lifting the ban on bars and clubs was possible because USFK had made the COVID-19 vaccine available to all of its eligible population and had achieved a "greater than 75% vaccination rate," spokesman Col. Lee Peters said in a video posted to Facebook on Thursday.
By comparison, host-nation vaccination rates are about 4% in South Korea and 2.5% in Japan.
Another 12 people with the U.S. military in South Korea and Japan have contracted COVID-19, the coronavirus respiratory disease, according to reports made by 6 p.m. Thursday.
Eight people tested positive after arriving in South Korea between May 10 and Tuesday, USFK announced in a news release Wednesday.
Four of those patients landed at Osan Air Base from the U.S. via a government-chartered passenger service on May 10, 12, 19 and Monday. The other four arrived at Incheon International Airport in Seoul on May 11, 12, 21 and Tuesday, the release said.
Five came up positive on their first mandatory COVID-19 test, and three were positive on the test required to exit quarantine. All were subsequently quarantined at either Osan or Camp Humphreys.
In Japan, the Marine Corps had four new cases on Okinawa, two each at Camps Hansen and Kinser, according to a Facebook post Thursday by Marine Corps Installations Pacific.
Tokyo reported another 684 people tested positive Thursday, according to public broadcaster NHK. The prefecture also reported 11 deaths.
In South Korea, 629 people had contracted the virus Wednesday, including 216 in Seoul and 168 in Gyeonggi province, where Humphreys and Osan are located, according to the Central Disease Control Headquarters.
Starting in July, anyone in South Korea who has received their first dose of a vaccine may go without masks, a government incentive to spur more inoculations, according to Japan's Kyodo News on Wednesday.
For fully vaccinated individuals, the ban on gatherings of five or more people will be lifted, too, according to the report.