US military bases announce new travel restrictions as Japan's COVID-19 cases hit record high 
by
Joseph Ditzler 
Stars and Stripes
May 26, 2021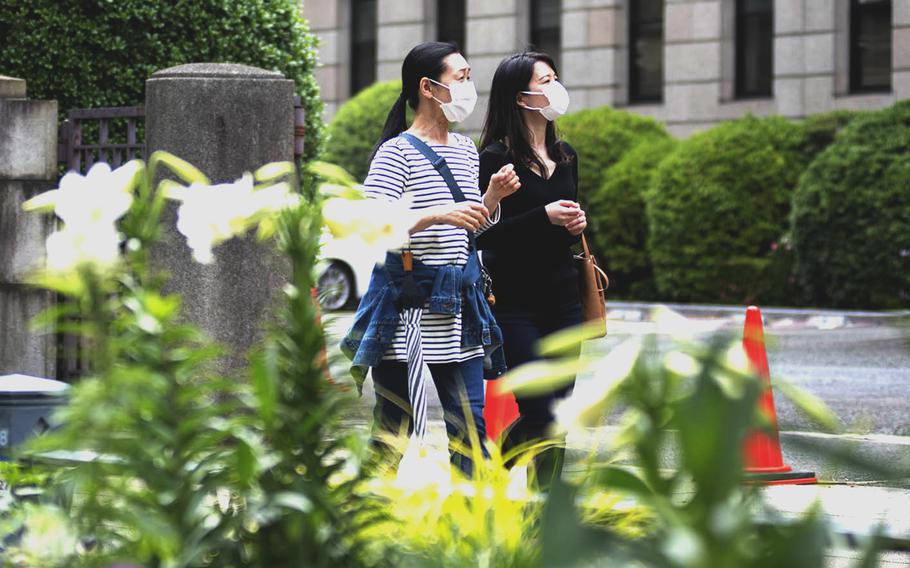 TOKYO — Japan's latest coronavirus surge spurred U.S. military bases to impose further travel restrictions on Wednesday as the nation's two largest metro areas looked at extending their public health emergencies.
Case numbers continued to fall Wednesday in Tokyo and Osaka prefectures, though Japan overall recorded its highest one-day tally of 4,176 new infections, according to public broadcaster NHK.
The report said Tokyo and Osaka are considering requests to the national government that would allow both prefectures to extend emergency declarations that were imposed April 12 and extended May 7. Six of Japan's 47 prefectures were under a state of emergency in April. That number grew to 10 this month.
The U.S. military in Japan by 6 p.m. Wednesday had reported 10 new cases of COVID-19, the coronavirus respiratory disease, all at Marine Corps bases on Okinawa. Camp Foster has eight new patients and Camps Kinser and Hansen each have one, according to a Facebook post by Marine Corps Installations Pacific.
Okinawa prefecture set another one-day record for the third time since Saturday and reported 302 new COVID-19 patients on Wednesday, according to NHK.
Bases in Japan continue to update their travel limits in prefectures where coronavirus conditions are changing and where emergencies are underway.
Yokota Air Base in western Tokyo, for example, permits non-mission essential travel within Aichi, Fukuoka, Osaka, Kyoto, Hyogo, Hokkaido, Okayama, Hiroshima with approval by a squadron commander or equivalent until Monday and for leave in Okinawa until June 20, according to a base Facebook post Wednesday.
Marine Corps Air Station Iwakuni put all prefectures under emergencies off limits for leave and liberty, according to its Facebook page.
U.S. Army Japan divided emergency prefectures into those of significant risk and those of high risk. Significant risk areas include the 23 central wards of Tokyo and the prefectures of Aichi, Hyogo, Hiroshima, Kyoto, Oita and Okayama. A colonel or equivalent must sign off on leave requests in those areas, the command announced Wednesday on Facebook.
High risk areas include Fukuoka, Osaka, Hokkaido and Okinawa prefectures, and travel there requires the commanding general's approval. Only travel on official business is permitted to those areas, according to the Army. Within the area, the off-duty travel limit is 93 miles from an individual's installation.
For all commands, basic prohibitions remain in effect for bars, adult entertainment venues like nightclubs, dance and karaoke clubs and similar businesses.
Tokyo on Wednesday reported another 743 people have been infected with the coronavirus, 23 fewer than the same day a week ago, NHK reported. Neighboring Kanagawa prefecture, home to several U.S. military installations, reported 225 cases on Wednesday, 44 fewer than a week ago.
Twitter: @JosephDitzler