47,000 Cubans have arrived at the US border in recent months
By
Miami Herald
April 5, 2022
---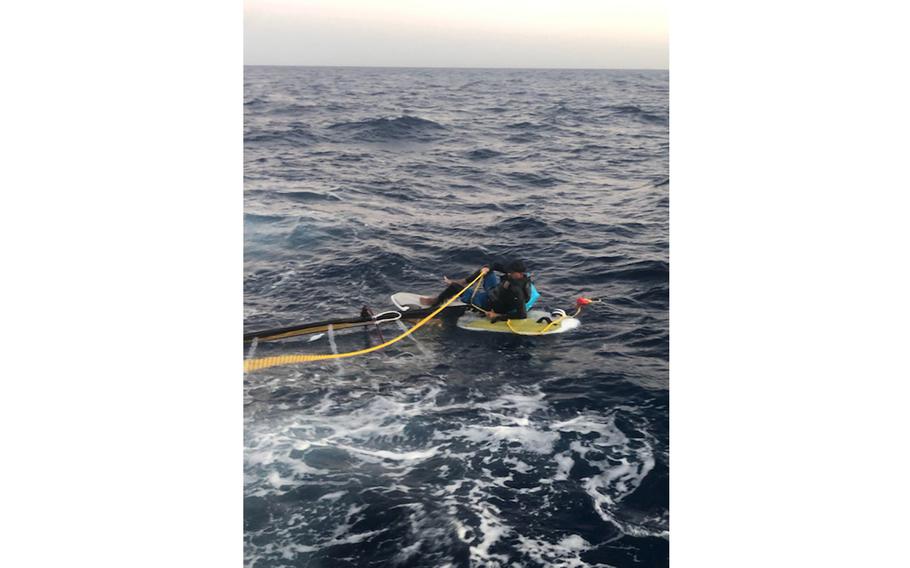 MIAMI (Tribune News Service) — A Cuban diving instructor was recently rescued near Islamorada, in the Florida Keys, after sailing from Cuba on a windsurfing board. If the attempt seems desperate, it is not exceptional:
Driven by a government crackdown on dissent, widespread poverty and a lack of opportunities, young Cubans are leaving the island in a new exodus by land and sea that has already eclipsed the balsero crisis of 1994, when more than 35,000 Cubans took to the sea in makeshift rafts.
In the five months between October and the end of February, 47,000 Cubans arrived at the Mexico-U.S. border, according to the latest U.S. Customs and Border Protection statistics.
That number is larger than the 39,303 Cubans who came in the entire fiscal year that ended Sept. 30, 2021, a figure that already marked a steep increase over previous years.
The majority of Cubans arriving at the border have been admitted into the U.S., unlike most Cubans who are stopped at sea.
The U.S. Coast Guard is also tracking a similar rising trend, reporting that they have interdicted 1,067 Cubans since October, up from 838 interdictions in the previous year. During the past weekend, 15 Cubans made landfall near Key West. On Sunday, the Coast Guard said it was suspending the search for another group of Cuban migrants.
Most Cubans rescued by the Coast Guard are sent back to the island, but sometimes they are allowed to stay in the U.S. That's what happened to Elián López Cabrera, 36, the diving instructor from Varadero who made the trip on the windsurfing board. He was allowed to remain in the U.S. to receive medical treatment and seek asylum, a family member confirmed to the Miami Herald.
"We are thankful to our fellow mariners," said Lt. Cmdr. Jason Neiman, a U.S. Coast Guard official, speaking of the team that helped rescue two other Cubans found on a surfboard with a motor near Bimini. "Their actions helped save two lives from the sea. Both men are now safe, but we must highlight trips like this are incredibly dangerous and often turn tragic."
The U.S. Embassy in Havana is asking Cubans not to take "irregular" routes to come to the U.S., but the messages are unlikely to sway those seeking to leave the island.
With a soaring inflation rate, widespread shortages of basics and little prospects for economic recovery from the impact of the pandemic, Cuba topped the worldwide "misery index" in 2021, compiled annually by John Hopkins University economist Steve Hanke. After widespread protests last year seeking regime change and improved living conditions, the government made some minor reforms to the private sector with little effect on the larger economy, which follows a centralized socialist model.
Cuban authorities also launched an all-out assault on civic liberties, passing decrees and legislation further restricting freedom of expression and other civil rights while arresting more than 1,400 people, including several minors, for participating in the islandwide protests last July 11. Harsh sentences meted out to the protesters have also sent a chilling message, and many young Cubans are seeking to start a new life elsewhere.
"The Cuban economy is in a deep crisis," said Camilo Condis, a young Cuban entrepreneur who co-hosts the podcast El Enjambre, Spanish for swarm. "Although it is true that the COVID-19 pandemic and the (U.S.) sanctions have negatively affected the economy, the Cuban government has not taken any measures to promote development within the country and continues to bet on a failed centralized economy."
Condis, who runs a private lighting business in Havana, said the private sector continues to be tied up by "absurd regulations" that have prevented it from generating significant economic development.
"On the other hand, politics remains immovable, and the repercussions of the July 11 protests, with unjust and long sentences for protesters, have provoked anger, sadness and fear in young Cubans, who see no other solution than to emigrate given the possibility of being charged for something as simple as a social media post," he added.
Meanwhile, family reunification and legal immigration from Cuba to the U.S. have become much more difficult since the Trump administration suspended most visa processing in Havana in late 2017 due to the still unexplained events that sickened U.S. diplomats in the Cuban capital. The U.S. Embassy said recently that it would resume processing some immigration visas in Havana to help with a case backlog that was made worse by the pandemic restrictions. Currently, Cubans must go to the U.S. consulate in Guyana to get their visa interviews to travel to the U.S.
With legal migration severely disrupted, most Cuban migrants try to reach the U.S.-Mexico border. Department of Homeland Security officials said the increase of Cubans and other migrants fleeing authoritarian regimes in Venezuela and Nicaragua poses a "challenge" for U.S. authorities at the border because it is difficult to return them to their countries, even when they don't appear to have a valid case for political asylum.
But despite the dramatic increase in Cubans arriving at the southern border and crossing the Florida Straits, Deputy Secretary of State Brian McKeon told the Herald there was still no set date for the partial resumption of consular services in Havana.
"I don't believe we have pressure to speed up, but we are going to fulfill our plan to resume immigrant visa processing," he said in an interview.
Cubans are allowed in
Unlike immigrants from other countries like Haiti, few Cubans who make it to the U.S.-Mexico border are being deported.
Most Cubans arriving at the border in the past few months have been released on an immigration parole or under other supervision after expressing credible fear of persecution if they are returned to the island. Those Cubans are usually given an immigration court date to fight deportation and claim asylum.
But most immigration cases will likely get resolved in favor of the Cuban arrivals before they get considered by an immigration judge.
That's because Cubans have a shortcut to obtaining permanent U.S. residence: the Cuban Adjustment Act, the 1966 law that allows Cubans admitted to the U.S. to apply for a green card after a year and a day, even if they are fighting deportation in court. Cubans interviewed for this story who arrived in the past few months said their asylum hearings have been scheduled for a date beyond the year-and-a-day threshold, meaning they will be legally allowed to remain in the U.S. before an immigration judge gets to hear their cases.
Cubans reaching the southern border have gotten there though different routes. A few lucky enough to get a visa take a direct flight to Mexico. Others have traveled through much of Latin America, coming from as far as Uruguay, where many Cubans have settled in recent years. But many are now taking a land route that begins in Nicaragua, thanks to what experts suspect was a deal cut by the Cuban government and its close ally, Nicaraguan leader Daniel Ortega, to let Cubans enter the Central American nation without visas.
Some analysts believe the two governments are deliberately attempting to create an immigration crisis for the Biden administration ahead of November's midterm elections.
"It is plausible that Nicaragua struck a deal with the Cubans to facilitate the push northward to express both regimes' opposition to Biden administration policies," said Michael Shifter, the president of the Inter-American Dialogue, a think tank in Washington, D.C. "All signs suggest the flows will continue to mount, intensifying pressure on the U..S border and giving the Biden administration another huge political headache."
In the past, the Cuban government has used migration both as an escape valve whenever dissent grows in the country and as a negotiating tactic with the U.S. government. The Mariel exodus in 1980, the rafters' crisis in 1994, and the crisis created by thousands of Cubans arriving at the border during the Obama years all allowed the Cuban government to get rid of opponents and extract some concessions from the U.S.
"The Cuban government sees the U.S., which continues to impose harsh sanctions, as being chiefly responsible for the island's profound economic woes and for worsening its humanitarian crisis," Shifter said. "Unleashing significant levels of Cuban migrants to the United States can serve as a means of retribution."
The last time Cubans reached the U.S.-Mexico border in significant numbers was in fiscal year 2016, when 41,523 Cubans arrived. At the time, many Cubans feared changes in U.S. immigration policies during the thaw in relations pursued by the Obama administration. They were right: Just days before leaving office in January 2017, President Barack Obama ended the policy known as "wet foot, dry foot" as part of his normalization policies toward Cuba. That policy had granted most Cubans the ability to stay if they set foot on U.S. soil, while those stopped at sea were sent back.
The same fear of U.S. policy changes is also fueling the current exodus, said Abel Cartaya, a private entrepreneur from the central province of Matanzas who makes handbags for the tourist market. He said he was shocked when, after the disruption caused by the pandemic, he contacted his distributors to resume business and found that "at least eight or 10 had left the country."
He noted that some of his friends are rushing to sell homes and other properties to be able to pay for a trip that can cost thousands of dollars.
Unsurprisingly, the Cuban government blames the U.S. for the current crisis, especially because both Republican and Democratic administrations have failed to comply with a migration accord, negotiated after the balsero crisis in 1994, to issue 20,000 immigration visas annually to Cubans.
In particular, the Cuban government is focusing its criticism on the one piece of legislation that the Obama administration could not change: the Cuban Adjustment Act.
"The U.S. migration policy towards Cuba stimulates illegal and irregular flows," Cuban leader Miguel Díaz-Canel recently said in a tweet sharing a cartoon image criticizing that law. "It is part of its traditional destabilizing policy."
But Cartaya, the Cuban private business owner, said it is the government crackdown after the islandwide protests last July that has convinced many young Cubans to leave.
"After July 11, there has been a change in social perceptions of the government," he said. "Many young people are trying to emigrate because they are looking for a better future, but they also saw closely what this regime is capable of doing to those who decide to confront or oppose it openly.
"July 11 marked a turning point."
©2022 Miami Herald.
Visit at miamiherald.com.
Distributed by Tribune Content Agency, LLC.
---
---
---
---