'Awesome to find them': Coast Guard says 2 men who left Cuba on motorized surfboard now safe
By
Miami Herald
March 30, 2022
---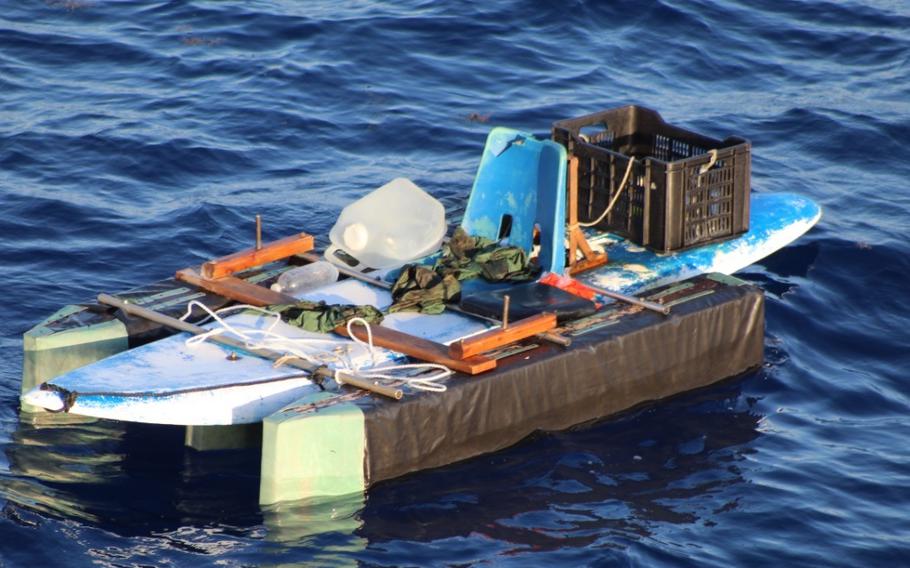 (Tribune News Service) — Two men who left Cuba more than a week ago on a homemade boat made from a surfboard and pontoons have been found safe near the Bahamas, according to the U.S. Coast Guard.
A boater reported to authorities seeing the men on the makeshift vessel about 5 p.m. Tuesday around 10 miles west of Bimini. That was welcome news for the Coast Guard, which presumed them missing at sea and suspended its search on Sunday.
"It was awesome we were able to find them," said Petty Officer Jose Hernandez, a Coast Guard spokesman.
Hernandez said the men did not have injuries or serious medical issues.
As the Coast Guard, Border Patrol and U.S. Customs and Border Protection Air and Marine Operations face a maritime migrant surge they haven't experienced in at least five years, finding people alive who have been lost at sea for so long is a welcome, but rare occurrence.
"We are thankful to our fellow mariners," Lt. Cmdr. Jason Neiman, Coast Guard spokesman, said in a statement. "Their actions helped save two lives from the sea. Both men are now safe, but we must highlight trips like this are incredibly dangerous and often turn tragic."
In January, 34 people were never seen again after a migrant boat carrying people of various nationalities capsized between Bimini and Fort Pierce Inlet. Five bodies were recovered, and one man survived. He was found by a tugboat crew clinging to the overturned hull of the vessel.
U.S.-based family members of the men found off Bimini called the Coast Guard last Friday to report their concern — they had left Cuba last Tuesday and still hadn't reached their destination of Key West.
Not only were the men found alive and healthy, they were on the same homemade vessel on which their loved ones said they had departed.
Crew of the Coast Guard Cutter Mohawk brought the men on board. They are scheduled to be transferred to the Royal Bahamas Defense Force, and eventually returned to Cuba.
Since the beginning of October, the Coast Guard has stopped 1,067 Cubans at sea and on the way to South Florida — the most since fiscal year 2017.
Last fiscal year — a period of time in the calendar year spanning the end of September to the beginning of October — the Coast Guard said it stopped 838 Cubans along the Florida Straits, a huge jump from the prior fiscal year's 49 people.
©2022 Miami Herald.
Visit miamiherald.com.
Distributed by Tribune Content Agency, LLC.
---
---
---
---