Episode 10: Task Force Pineapple and the Afghanistan evacuation
By
Stars and Stripes
December 30, 2021
---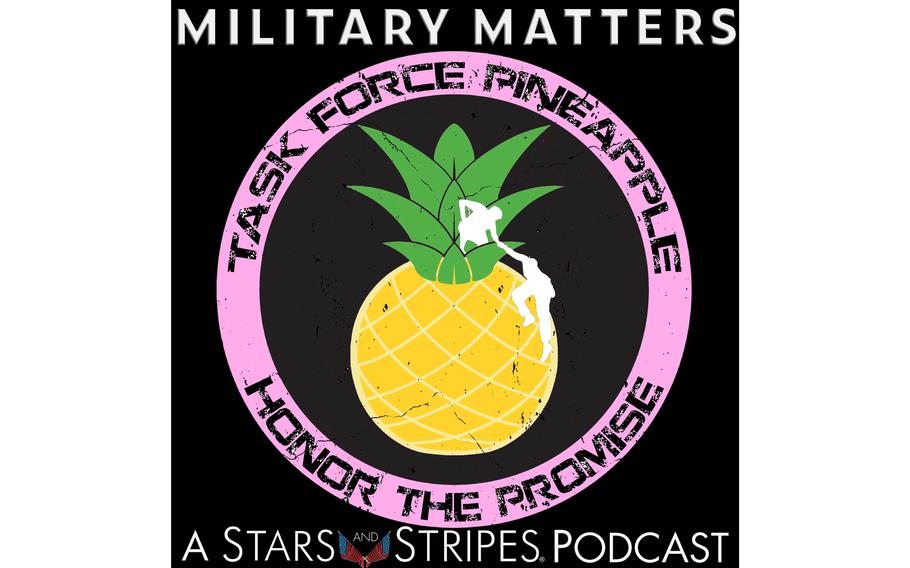 In the first part of Military Matters' deep dive into the Afghanistan evacuation, co-hosts Rod Rodriguez and Jack Murphy spoke with veterans Chad Robichaux and Nick Palmisciano, who were on the ground with the Save Our Allies Coalition helping get American allies out of the country.
But there also were veterans in the U.S. helping rescue Afghan allies and American citizens. This week, Military Matters talks with former Special Forces Lt. Col. Scott Mann about the veterans with Task Force Pineapple who helped save more than 1,000 people in Afghanistan, all on the phone from their kitchens, cars and living rooms.
Mann and James Meek, a national security investigative reporter for ABC News, kicked off the so-called "Pineapple Express" with a mission to rescue their friend, former Afghan army special forces soldier Nazam. They managed to guide Nazam to the gates at the Kabul airport over the phone using the encrypted app, Signal, but were unable to get a Marine on the ground to approve him.
"(Meek) called one of his buddies who knew a guy on the inside and it turns out the guy was a diplomat and he was a former SFD," Mann said. "And when he heard James' description of Nazam and that he was ANA SF and that he had gone to the Q course at Bragg, he was like, 'All right, I'm gonna pass the word down to the Marines, tell him to say "pineapple."' So we were screaming over the phone, 'Say "pineapple," dude.' And he did. And a few minutes later we got a selfie of him inside the wire, and I just collapsed in the driveway."
Through various contacts including Meek and U.S. Rep. (and former Green Beret) Mike Waltz, Mann was able to set up a network of veteran "shepherds" manning phones to guide their "flocks" of Afghan allies to the airport and out of the country.
"I was like, we're not putting anybody on the ground," Mann said. "The hero in this journey is the Afghan and the Afghan and their family. … We're the guides, we're the shepherds, they're the protagonists. They gotta walk this ground. This is not about the Americans going over to save them."
For the veterans, the experience of seeing the images of the evacuation on their phones and hearing the chaos in Kabul was a harrowing experience that opened up old wounds from the war.
"These were people that we had served with, we had been to combat with — in many cases, they had saved our lives," Mann said. "I mean, like you have an unspoken commitment to each other. And now they're on the phone with them, with their families and they can hear their wives crying. They can hear their children screaming, and, you know, there's no relief. … You've been up 36 hours, 41 hours. And you're looking at things on your phone that you used to look at in a combat zone."
You can find Military Matters on Twitter @stripesmmpod.
Follow Jack Murphy on Twitter @jackmurphyrgr and Rod Rodriguez @rodpodrod.
A transcript of the episode can be found here.
Go to www.stripes.com use promo code PODCAST and save 50% on your digital subscription.
---
---
---
---