Fast Take: Veterans and the Afghanistan evacuation
By
Stars and Stripes
December 16, 2021
---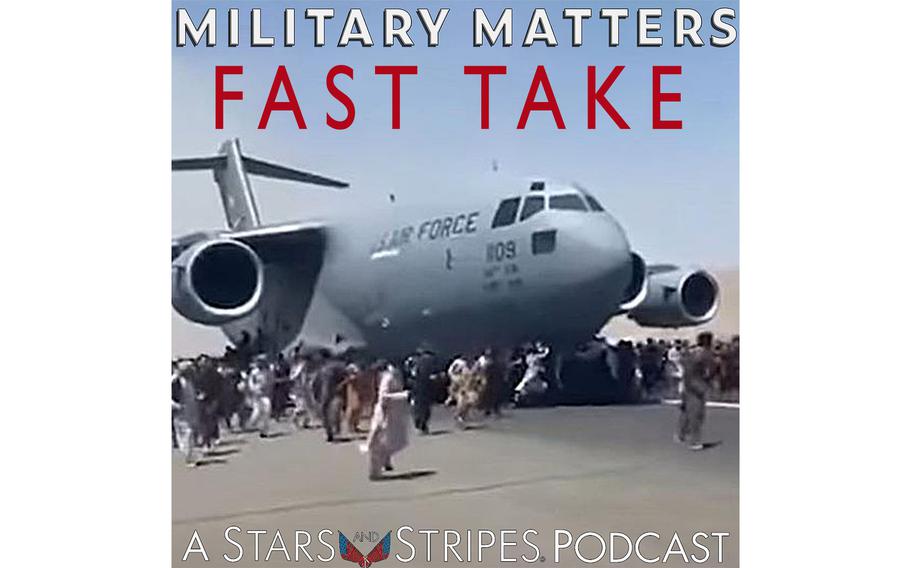 Last week's episode of Military Matters delved into the efforts of veterans to rescue Afghan allies and American citizens stuck in Afghanistan after the Taliban's takeover in August, via interviews with two of the veterans behind the Save Our Allies Coalition, Chad Robichaux and Nick Palmisciano.
In this week's Fast Take episode, co-hosts Rod Rodriguez and Jack Murphy offer their reflections on the Afghanistan evacuation. Listen here.
Rodriguez and Murphy said that while Robichaux and Palmisciano were more than willing to talk to them about their efforts in Afghanistan, the Defense Department has been less forthcoming with interviews.
"I guess this is the part of the story that we're missing, is the military side, military folk," Rodriguez said. "The DOD does not want to talk about this. … I don't even get emails back about, you know, talking to the DOD or any, any aspect of it about this whole endeavor."
Rodriguez said he wondered why the Defense Department needed veterans to step in and help with the evacuation mission.
"What was happening inside the DOD and its relationship with the State Department that tied people's hands to the point that they were looking at civilians?" Rodriguez said. "Which by the way, to me, that is not a good look for the DOD to say, 'We needed these 12 civilians to do this particular job, because we couldn't do it.' Like that does not sit with me. … It just doesn't make sense."
Murphy said that, needed or not, the additional people on the ground helped.
"I would have to know a little bit more — have a little bit more inside knowledge of the DOD effort," Murphy said. "It seemed like they scrambled a lot of aircraft there. Could they have used more? I mean, every commander on the ground wants more resources. And it was (Major) Gen. (Christopher) Donahue (commander, 82nd Airborne Division) on the ground, I believe. I'm sure he wished he had more airplanes too. I mean, every commander always does."
You can find Military Matters on Twitter @stripesmmpod.
Follow Jack Murphy on Twitter @jackmurphyrgr and Rod Rodriguez @rodpodrod.
A transcript of the episode can be found here.
Go to www.stripes.com use promo code PODCAST and save 50% on your digital subscription.
---
---
---
---