Fast Take: Childhood hauntings, more ghosts and an Okinawan 'murder house'
By
Stars and Stripes
October 28, 2021
---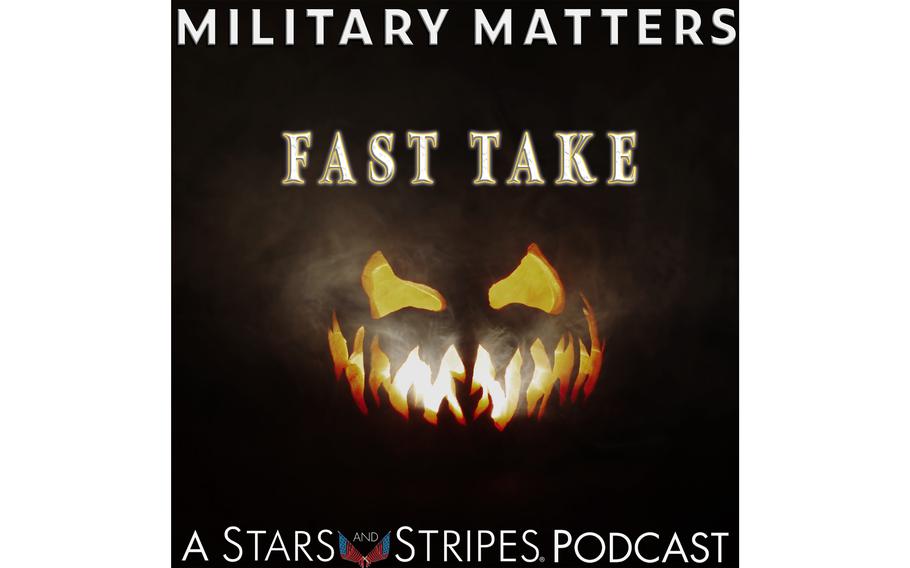 In last week's episode of Military Matters, listeners shared some frightening tales of otherworldly encounters with restless spirits in Okinawa and the Pacific Northwest.
With Halloween fast approaching, cohosts Rod Rodriguez and Jack Murphy are back with more ghost stories in this Fast Take episode, including a couple of their own.
Murphy recalled growing up in a house built in the mid-1800s and hearing creaking footsteps coming up the stairs and stopping right by his bed while he was trying to sleep. As an adult, he didn't think much of it — until his mother confirmed she heard it, too.
"I was probably in my 30s by the point that this topic came up at the family dinner table one day, and I mentioned it to my family about the footsteps – or I mentioned that I feel like our old house that we used to live (in) was haunted," Murphy said. "And my mother was like, 'Oh yeah, the person coming up the steps at night.' It was like, well, wait a second."
Rodriguez grew up in Tucson, Ariz., and as a kid was convinced his bedroom was haunted — it was always cold, even in the desert heat, and he could often hear faint music coming from the walls. Like with Murphy's encounter, this one had another witness — a visiting uncle.
"I'm in the front room, sleeping on the couch and he's in my room, and he would come out and be like, 'Hey, are you watching TV?'" Rodriguez said. "I'm like, 'No, I'm trying to sleep.' And he's like, 'I'm hearing music. And it sounds like it's coming from out here.' And I'm like, 'Nah, man. Oh, sorry, Tio. That's the ghost that lives in my room.'"
Despite these encounters, Murphy and Rodriguez maintain a healthy skepticism about these and other supernatural encounters. But some things are hard to explain.
Murphy shared three more ghost stories from listeners, including another from Okinawa, Japan, about a service member's brush with a spirit in a house on Kadena Air Base in which two families were murdered. The airman, Joe Brown, decided to visit the house with some friends one night.
"As we were getting ready to leave, I shined my flashlight down the hallway and in the back of the hallway, there was a dark silhouette of a human shape, just ink, jet black," Brown said. "And it just moved across the back of the hallway. Now, whether that was my overactive imagination or some sort of demon or spirit, I left that up to folks to decide for themselves. But all I know is I ran the hell out of there as fast as I could, and I never went to that place again."
You can find Military Matters on Twitter @stripesmmpod.
Follow Jack Murphy on Twitter @jackmurphyrgr and Rod Rodriguez @rodpodrod.
A transcript of the episode can be found here.
Go to www.stripes.com use promo code PODCAST and save 50% on your digital subscription.
---
---
---
---