Fast take: How China could become an existential threat
by
Brian McElhiney
Stars and Stripes
August 3, 2021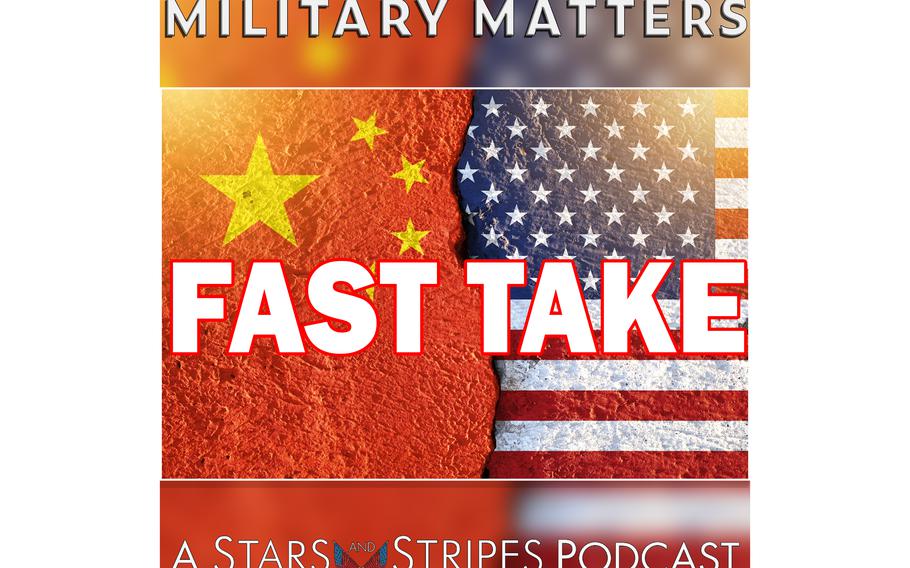 As the U.S. winds down the Afghanistan War after 20 years, China could emerge as a threat in a way that terrorism never could be.
In this Fast Take episode of Military Matters, co-hosts Rod Rodriguez and Jack Murphy discuss Murphy's interview with former CIA analyst Gail Helt in last week's episode, and examine how China could become an existential threat to the U.S.
"Yes, terrorism is a threat, but it's not an existential threat," Murphy said. "It's not something that is going to consume the United States. And even when we talk about China, we have to have a somewhat more nuanced argument or conversation about that because China is most likely never going to invade the mainland United States."
Rather, the threat could come from China looking to increase its influence in the Pacific and beyond. Last week Helt talked about China's Belt and Road Initiative, or "New Silk Road," a plan to invest in countries in Asia and Europe.
"What is much more likely is that China poses an existential threat to America in the sense that they knock us down a couple pegs in the pecking order of global order, of international world order, so that America becomes a second-rate state — that we are no longer the predominant superpower in the world," Murphy said.
But China also has to contend with its image not just abroad but at home. Murphy mentioned a 2016 Wall Street Journal article, "China discovers the price of global power: Soldiers returning in caskets," that examined how the death of two Chinese soldiers on a peacekeeping mission in South Sudan stoked outrage among the Chinese people.
"Part of it is because they don't have the sort of — we don't have a national consensus in our country, but we have national conversations because we are a democracy," Murphy said. "We have a fairly open society. Everyone knows we have soldiers in Afghanistan. But Chinese people were shocked that they had troops in Sudan. What? What's all this about? And they were outraged that one or two of their soldiers died there."
Coming up in part two of Military Matters' deep dive into China, Murphy will speak with researcher, writer and Army veteran Matthew Brazil about Chinese espionage. In part three, Murphy interviews Dr. Roger Cliff, author of a 2011 RAND Corporation study on armed confrontation with China in the South China Sea, about what a war between the U.S. and China might look like.
You can find Military Matters on Twitter @stripesmmpod.
Follow Jack Murphy on Twitter @jackmurphyrgr and Rod Rodriguez @rodpodrod.
A transcript of the episode can be found here.
Go to www.stripes.com use promo code PODCAST and save 50% on your digital subscription.