Spring Revolution: Burmese restaurant in Tokyo stands with Myanmar coup protesters
by
Erica Earl
Stars and Stripes
December 9, 2021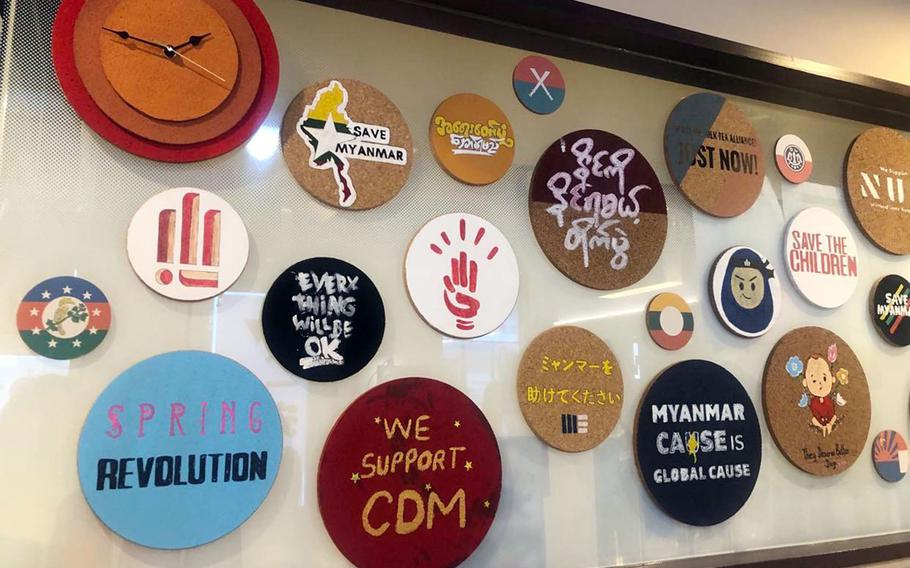 A restaurant in Tokyo is using the power of comfort food to support the people of Myanmar impacted by a military coup there early this year.
The Spring Revolution Restaurant, named for the grassroots resistance to the military takeover in February, opened in June in Ikebukuro, a shopping and entertainment district in central Tokyo.
The restaurant staff are all volunteers, except the chef. All profits are sent to Myanmar, also known as Burma, to help those who have lost wages while peacefully protesting the military government there and its brutality, according to the café's website.
The military on Feb. 1 overthrew the civilian government led by Aung San Suu Kyi, jailed her and other elected leaders and seized control of the southeast Asian nation. Suu Kyi faces myriad charges by the junta that could send her to prison for years. She has denied all charges.
Her party, the National League for Democracy, swept the November 2020 elections but the prospect of further power-sharing with a civilian government prompted a coup d'état and Suu Kyi's arrest.
The ruling junta's opponents took to the streets. Many were shot down. Others have been scooped up and jailed.
With its name and its choice in décor, Spring Revolution Restaurant stands with protesters in Myanmar. At the same time, it offers a repast to Burmese people who miss their hometown cuisine and to curious diners interested in sampling the century egg salad or fermented pork.
Bulletins and art pieces around the restaurant make the staff's sentiments clear: "Save Our Children," and "We Support the CDM," the Civil Disobedience Movement. Paintings and sculptures in East Asian style complement the political message.
Despite its fervent mission, the café still delivers a peaceful environment for first-time samplers and longtime fans to experience Burmese cuisine.
The dinner menu includes traditional Myanmar dishes like tea leaf salad, maple-flavored chicken feet, spicy incense pot, samosas and seafood rice.
However, the only lunch option is a buffet for 1,200 yen – about $10.62 – that includes curried vegetables, spicy udon noodles, chicken wings, salad, soup and spicy pork.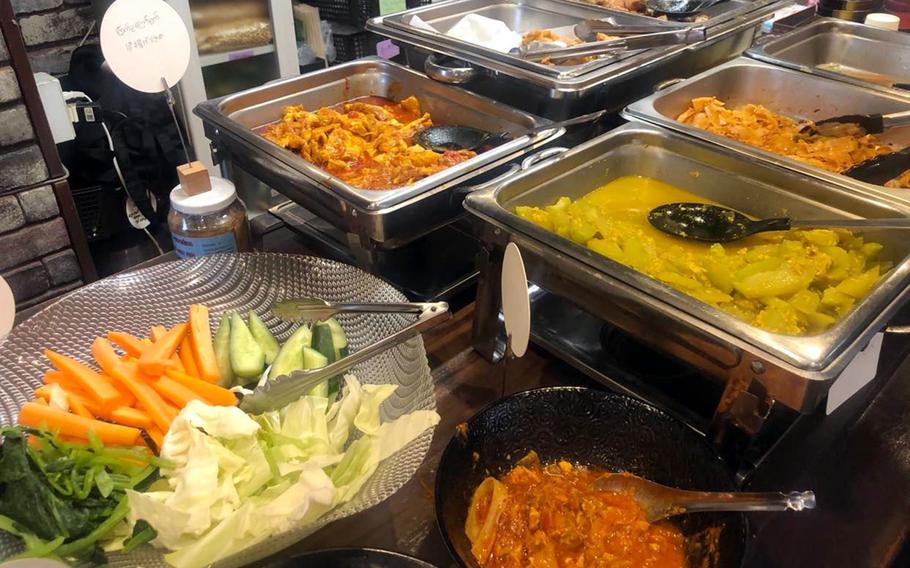 Spring Revolution Restaurant is a good stop if you are already out and about downtown and want to try something new or support the cause.
However, the meal itself was a little lackluster for a long trek to the cafe alone, especially the lunch buffet.
SPRING REVOLUTION RESTAURANT
Location: 1-20-4 Nishi-Ikebukuro, 7th Miyake building 3F, Toshima, Tokyo 171-0021
Directions: A 5-minute walk from Ikebukuro Station's north exit
Hours: 11 a.m. to 3 p.m. and 5 p.m. to 8 p.m., Tuesday through Sunday
Prices: Dishes run between 750 yen and 1,200 yen.
Dress: Casual
Information: Online: springrevolutions.com/restaurant
---
---
---
---