Admirals rally to finish off unbeaten season
By
Stars and Stripes
March 5, 2022
---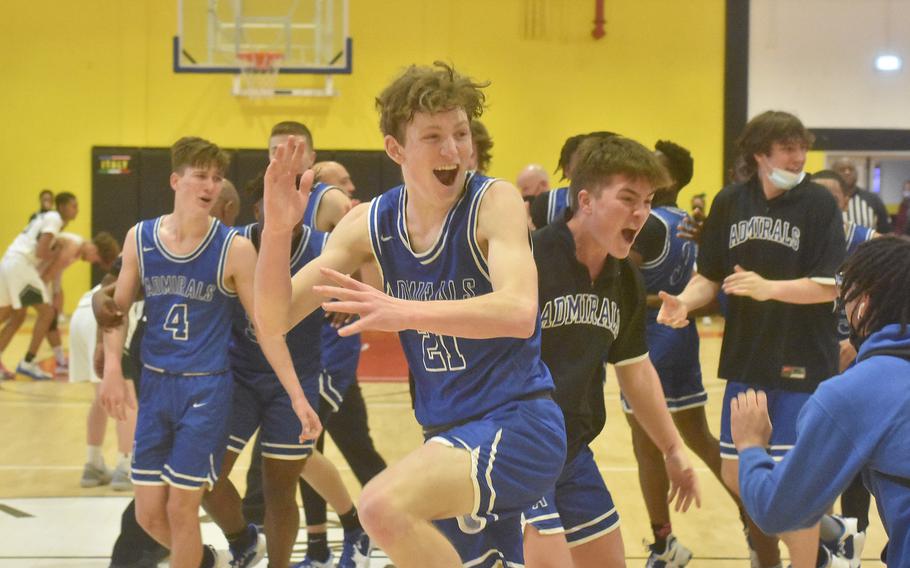 VICENZA, Italy – It's not common in DODEA-Europe for a team to go undefeated during an entire season. With a constant changeover due to PCS moves, it's even more unusual for five players on such a team to play together for all four years of high school.
So in context, the far-from-ordinary ending of Saturday's Division II boys basketball title game shouldn't have been that much of a surprise.
Instead, the shock for those who have watched the Rota Admirals play this year is that they needed to score more points in the final quarter than in the first three combined in order to topple the Naples Wildcats.
But that's what happened after Rota rallied from 14 points down to finish unbeaten during an abbreviated basketball season with a 50-43 victory over Naples.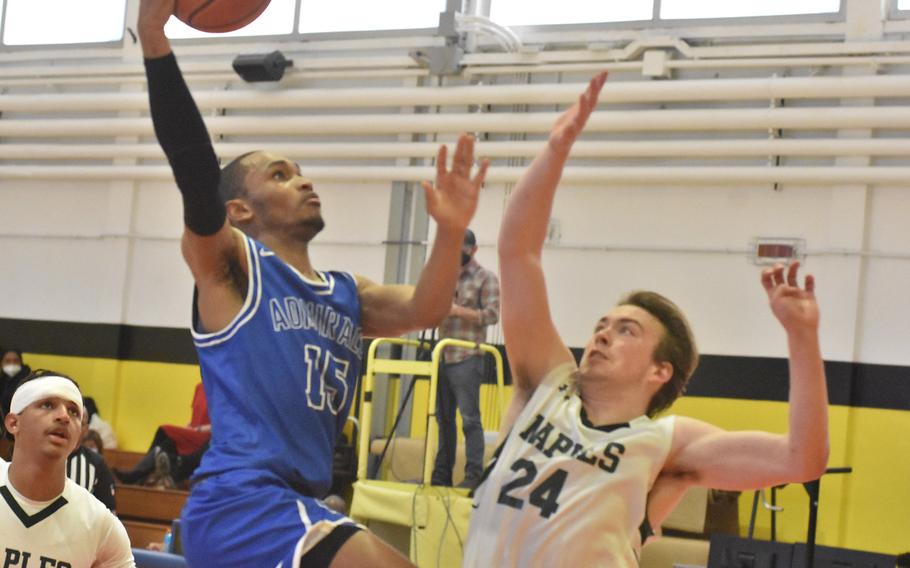 "We were playing nervous," Admirals coach Ben Anderson said of his team's struggles during the first half in which Naples went on top 22-15. "We've worked too hard. We're seniors. We have no reason to be nervous."
Anderson looked upset heading into the locker room. But he said he didn't go on a tirade.
"I just told them that just like in life, they needed to keep fighting, pick themselves up," he said.
The Wildcats didn't let up in the third quarter, though, expanding their lead to as much as 14 points while slowing the ball down. That worked well for a while, ending up with several open three-point shots and drives to the basket after extended possessions.
But momentum started to change halfway into the final period.
Owen Bond drove to the basket and scored, cutting the Wildcats' lead to 41-36 with 3 minutes, 11 seconds to play.
Naples wouldn't score again for almost three minutes.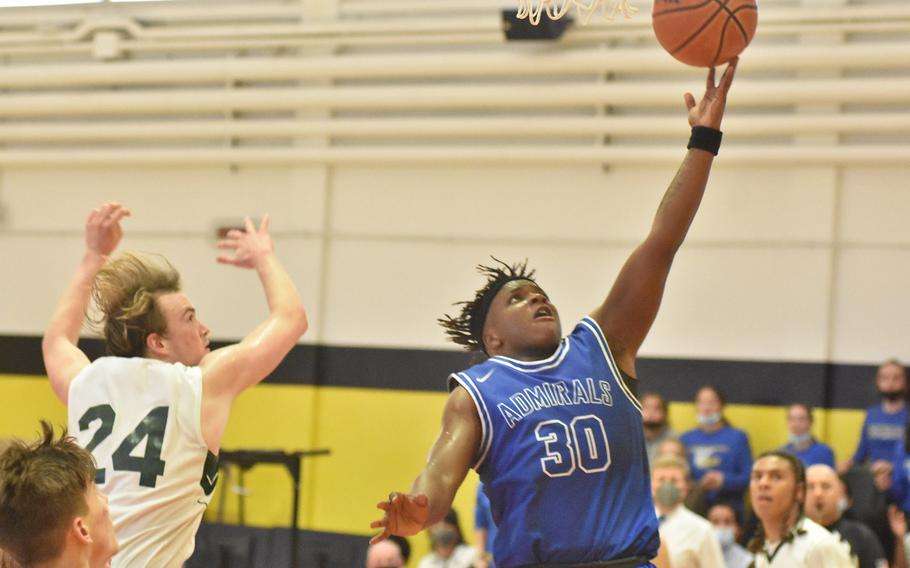 Kennith Bryant, who scored 26 points in Friday's semifinal victory over Vicenza, didn't score in the first half. But he suddenly caught fire in the final quarter – scoring six straight points on a pair of layups and two free throws. His second layup gave the Admirals their first lead since the opening minutes at 42-41 with 1:42 left. Free throws by Bond and Emory Butler capped a 16-0 run to put Rota up 46-41 with under a minute left.
Keith Rascoe – who finished with a game-high 17 points - scored for Naples a few seconds later. But a pair of free throws from Butler and a basket by Bond sealed the victory.
"I was still always confident," Butler said.
Bond admitted he wasn't so sure after drawing a technical while his team was down and then immediately feeling regret.
"I almost gave up on myself, but my teammates never gave up on me," he said.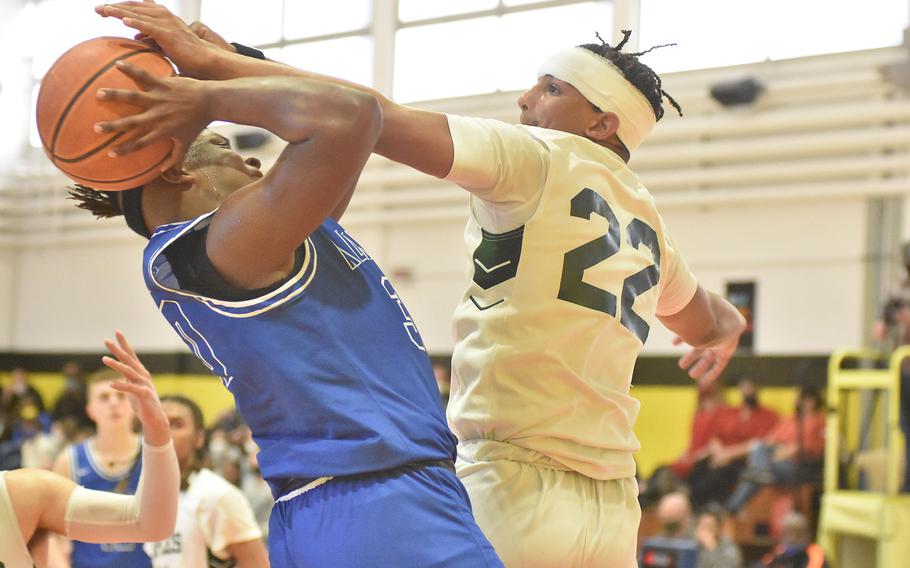 Naples coach Craig Lord said he'd probably opt to use the same tactic again of trying to eat time off the clock while holding a lead against a favored opponent.
"I don't know if (slowing down) was something we shouldn't have done," he said. "We've done that before this season. We just didn't hit our shots and turned the ball over and that was the problem.
"Sometimes, it's just a matter of how the ball bounces."
Keshawn Holland finished with 11 points – and a bandage wrapped around his head after a second-quarter injury – for the Wildcats. Bryant and Butler each had 15 and Bond 10 for the Admirals.
American Overseas School of Rome defeated Vicenza 58-48 for third place.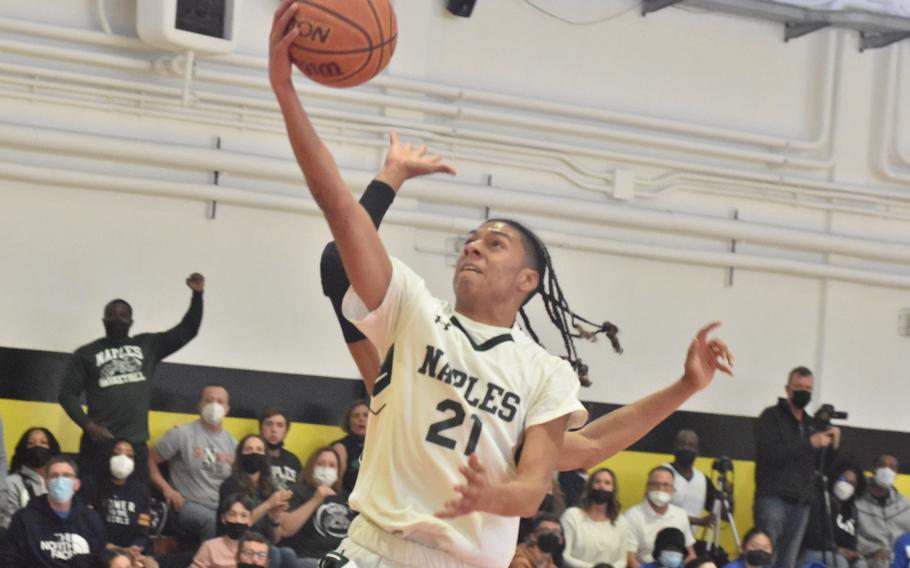 ---
---
---
---