It's Sigonella vs. AOSR and Naples vs. Rota
By
Stars and Stripes
March 4, 2022
---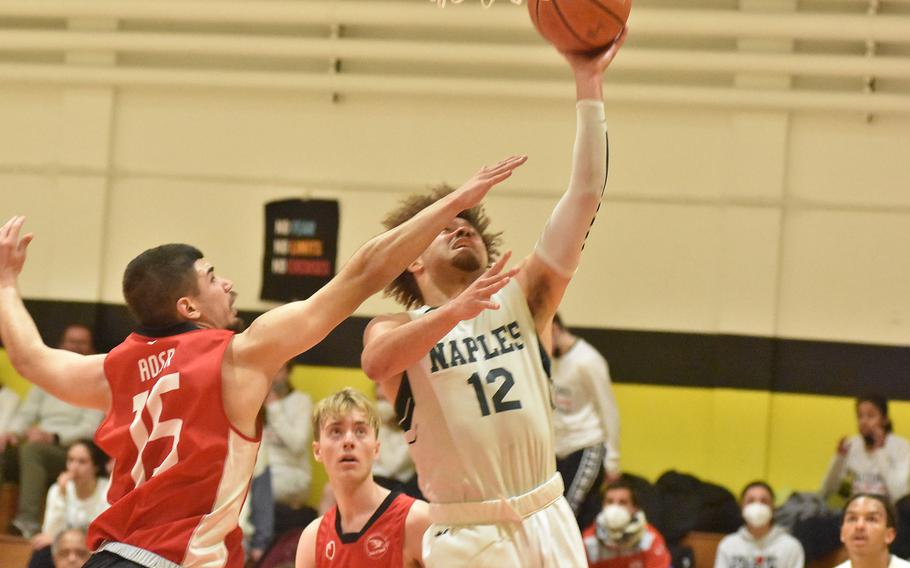 VICENZA, Italy – Two tournaments with very different flavors will conclude Saturday with a pair of championship games that end the DODEA-Europe Division II basketball season.
Favorite-turned upstart American Overseas School of Rome takes on underdog Sigonella in the girls game before top seeds Rota and Naples meet for the boys crown. The Falcons have lost one game during the three-day tournament the Jaguars twice. Neither the Admirals nor Wildcats have dropped a single game, though they've been tested.
Six preliminary games were followed by four semifinals on Friday.
Boys
Naples 59, AOSR 53: The Wildcats downed the Falcons for the second time in two days despite 41 points from Parker Huber.
"I don't think I've ever coached against someone as hot as he was," Naples coach Craig Lord said of the junior guard from Idaho.
But it was a pair of three-point shots from Naples' senior Corbin Gustafson that opened a gap between the two teams that the Falcons could never close.
The game was tied late in the third quarter at 40-40 when Gustafson connected on back-to-back long-distance shots. AOSR never got closer than three points the rest of the way.
Keith Rascoe had 18 points, Keshawn Holland 14, Cameron Collins 11 and Gustafson 10 for Naples.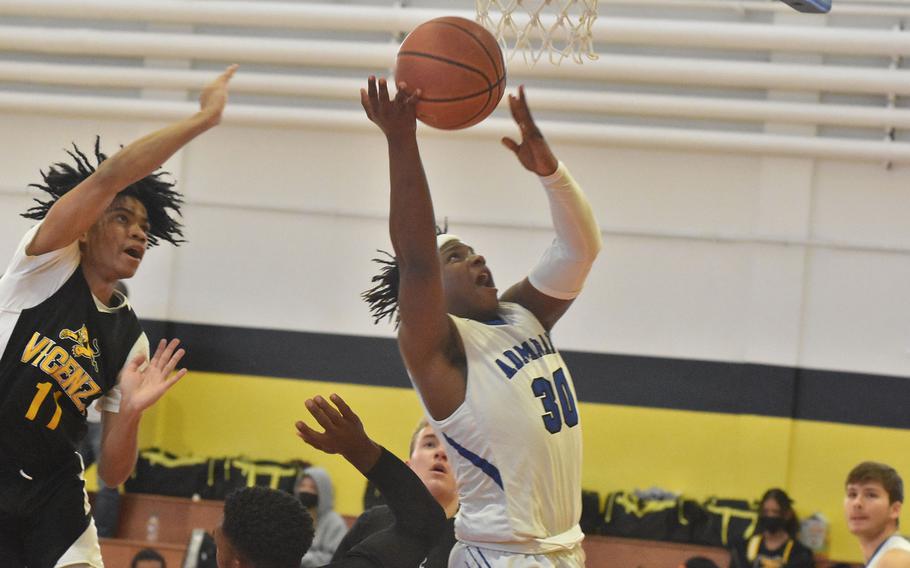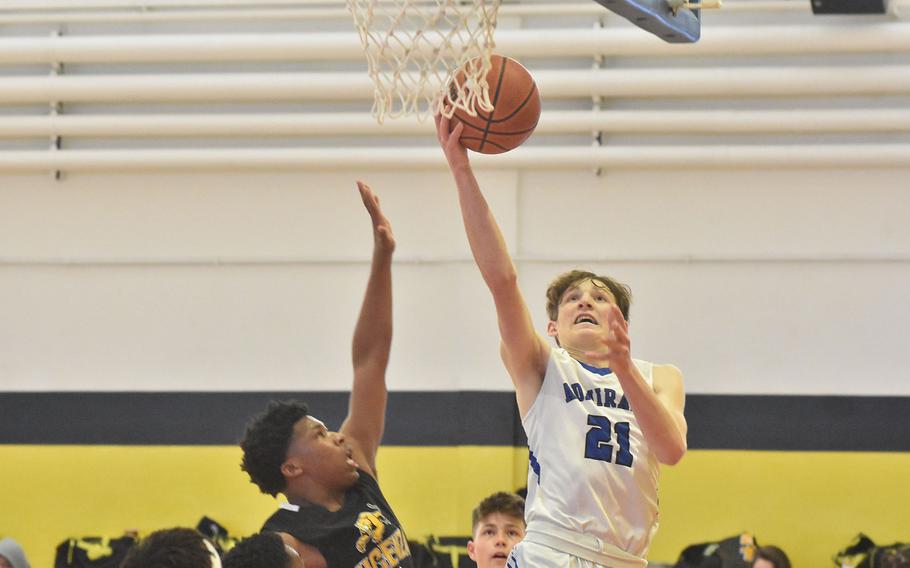 Rota 59, Vicenza 35: The unbeaten and top-seeded Admirals used a big second quarter to pull away from the host Cougars.
Senior Kennith Bryant scored half of his game-high 26 points in the quarter to break the game open. Rota led 13-9 after one period, but 36-15 at halftime. The Admirals scored numerous times on layups, adding a few three-pointers and free throws.
Fellow seniors Emory Butler and Owen Bond added 10 and nine more respectively.
"They're a very special team," Rota coach Ben Anderson said. "They play hard for each other and they never care who gets the baskets or the credit."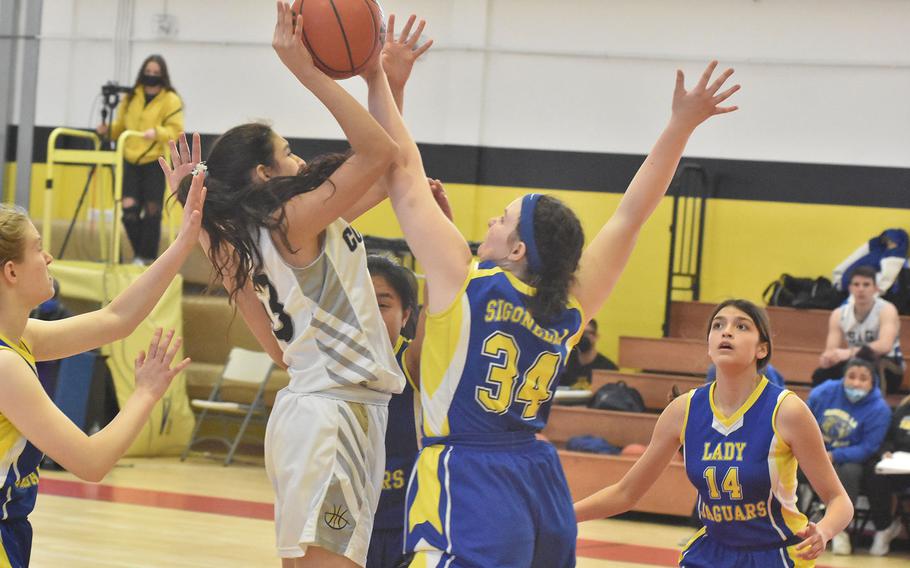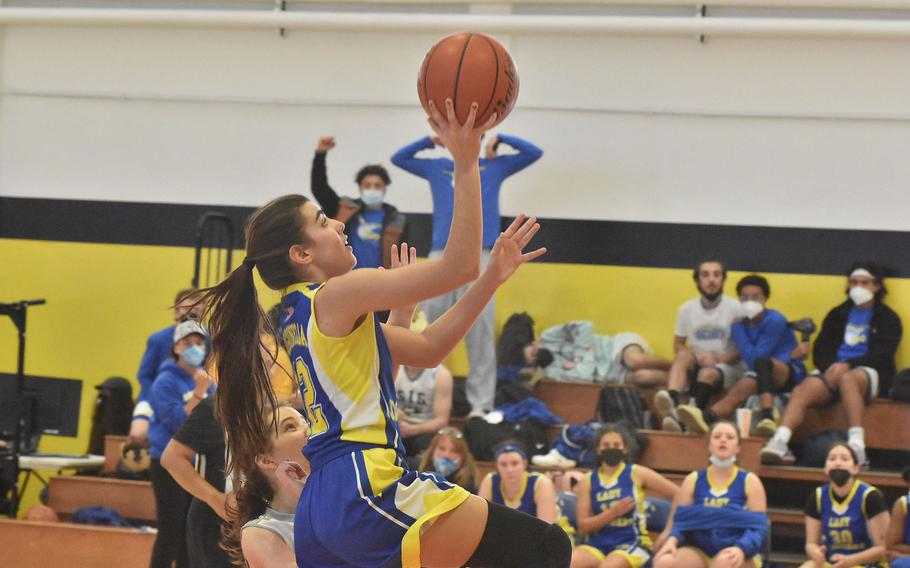 Girls
Sigonella 33, Vicenza 27: The Cougars hadn't lost in the tournament – including a 34-20 defeat of the Jaguars – until the first semifinal of the day.
Senior Fabiola Mercado-Rodriguez finished with a team-high nine points for the Jaugars, but it was her driving to the basket before dishing off to teammate Leila Denton to set up short shots banked off the backboard that helped Sigonella pull away.
"It's something we've been trying to get them to do all season and they're finally doing it," Sigonella coach Michelle Chandler said of the play, which the No. 2 seeded Cougars couldn't stop.
That season – essentially only a month long for the three Navy community schools in Europe - has been a particularly odd one for Sigonella and others, Chandler said.
"All of us coaches are usually able to see growth as the season goes along," she said. "We finally saw some tonight."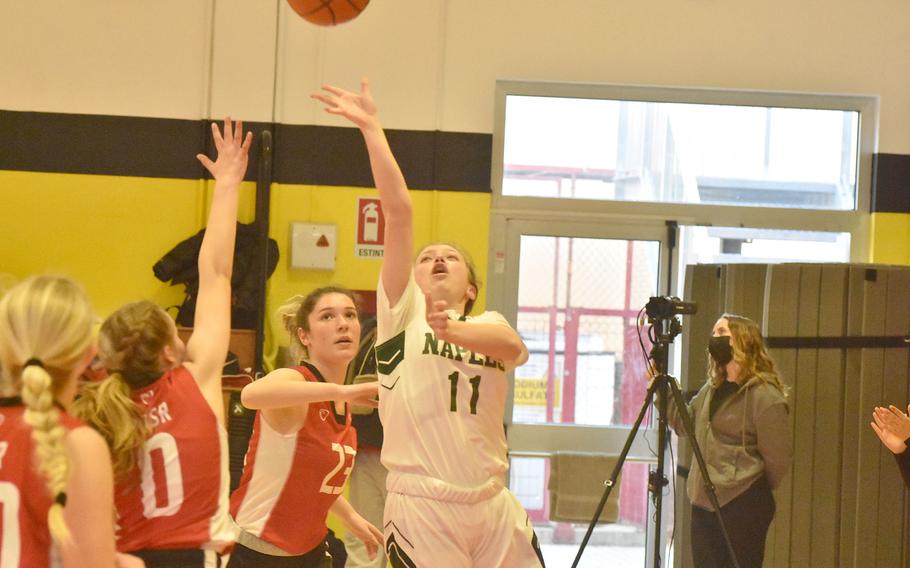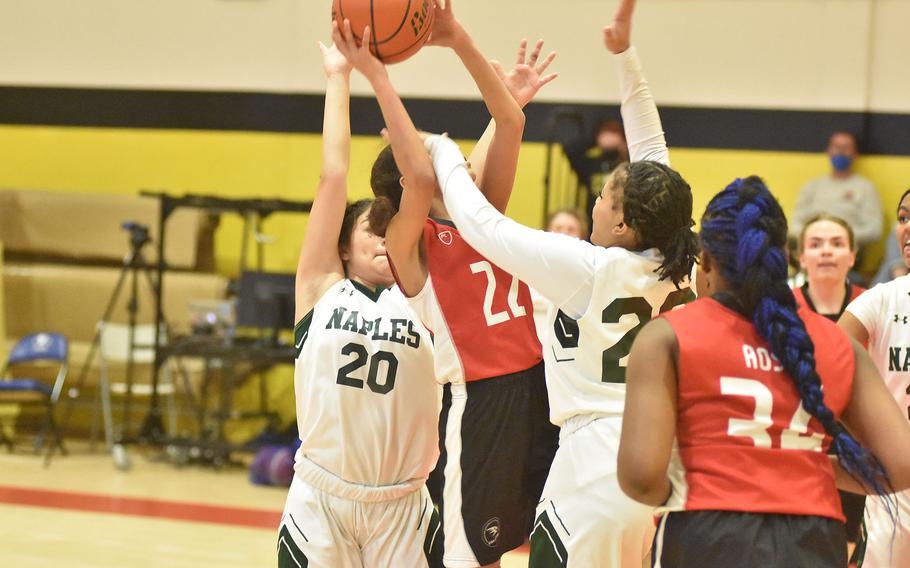 AOSR 38, Naples 35: The top-seeded Falcons earned revenge for a tournament-opening loss to the Wildcats thanks an 11-0 run late in the fourth quarter.
Naples was up 32-24 with about two and a half minutes left. A pair of free throws and three straight layups by Lara Jaff – all after Wildcats turnovers – tied the score. And a three-pointer from Alexis Lambert put the Falcons ahead for good.
"When we played them the first time, I think we just took them for granted," first-year AOSR coach Lillian Aldred said. "And they outplayed us on both sides of the floor. We were hoping we'd get a second chance at them."
Jaff had 16 points, Clara Clayton 14 and Lambert eight for AOSR and were the only Falcons to score. Anais Navidad led Naples with 13 points, while Abigail Michienzie added 10 and Shardaisa Greely eight.
---
---
---
---