US Navy commands in Southern Europe urge caution while traveling as COVID-19 numbers surge
by
Alison Bath
Stars and Stripes
November 18, 2021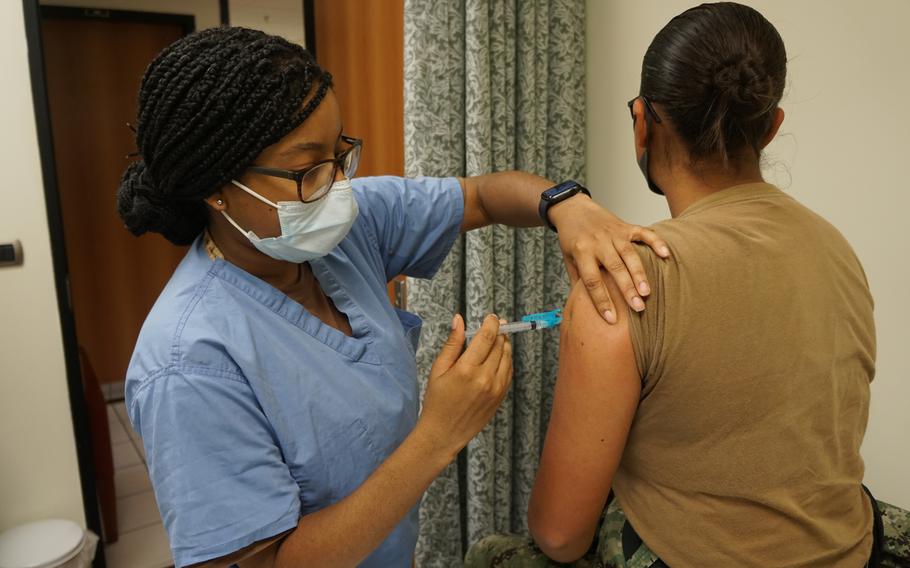 U.S. naval bases in Italy, Spain and Greece are urging their communities to help stop the spread of COVID-19 during the upcoming holiday season, as numbers of new cases and deaths rise across Europe.
In separate but similar Facebook posts, bases in Naples, Rota and Souda Bay urged people to continue to wear masks, maintain social distancing and limit their contacts.
They also encouraged those eligible to consider getting a COVID-19 booster shot and to vaccinate their children.
Vulnerability to infection grows "as travel continues to open and community activities return to a pre-pandemic regularity," said Capt. Jim Stewart, commanding officer of Naval Support Activity Naples.
"COVID 19 remains a threat to our mission readiness and our day-to-day lives," Stewart said in a Wednesday post to the base's Facebook page.
Naval Air Station Sigonella is planning a similar post, said Lt. Drake Greer, a base spokesman.
The messages follow elevated concerns across Europe. Austria and Germany have put added restrictions focused on unvaccinated people in place as caseloads increase to record highs in some areas.
The Italian Health Ministry reported 10,172 new COVID-19 cases on Wednesday, the highest daily total since early May, according to the ministry's website.
Italian officials are weighing new restrictions against the unvaccinated, such as barring access to restaurants, cinemas or stadiums even if a person has a negative test, the Italian newspaper Corriere della Sera reported Thursday.
Italy has steadily increased restrictions since July by requiring a person to show proof of vaccination, a negative test or proof of recovery from the virus to work or take part in other daily activities such as indoor dining or going out to a movie. The health ministry reports 84% of residents 12 and older are fully vaccinated.
Greek officials enacted restrictions earlier this month against the unvaccinated, barring them from non-essential services such as retail shops, restaurants, beauty salons and some other public places if they cannot show a negative COVID-19 test.
Naval Air Station Souda Bay doesn't have restaurants or other facilities that would be impacted by the restrictions, but officials there, like at Navy bases in Italy and Spain, say they follow local rules except in cases where Defense Department or Centers for Disease Control and Prevention guidelines are stricter.
"Our personnel are kept informed of the restrictions enacted by the Greek government and are held accountable for following them when they are in the local community," said Joel Diller, NSA Souda Bay spokesman.
Greece reported 6,682 new coronavirus infections on Wednesday and 87 deaths. Officials ordered private doctors in five regions to assist its health care system as the country grapples with a COVID-19 surge, Reuters reported Thursday.
While infection rates near Naval Station Rota remained low, base officials reminded people that travel to other regions in Spain where infection rates are high, such as Navarra and Pai Vasco, as well as other European countries, should be carefully evaluated.
---
---
---