Analysis
Vaccine skeptics are on the decline, poll shows
by
Aaron Blake
The Washington Post
August 31, 2021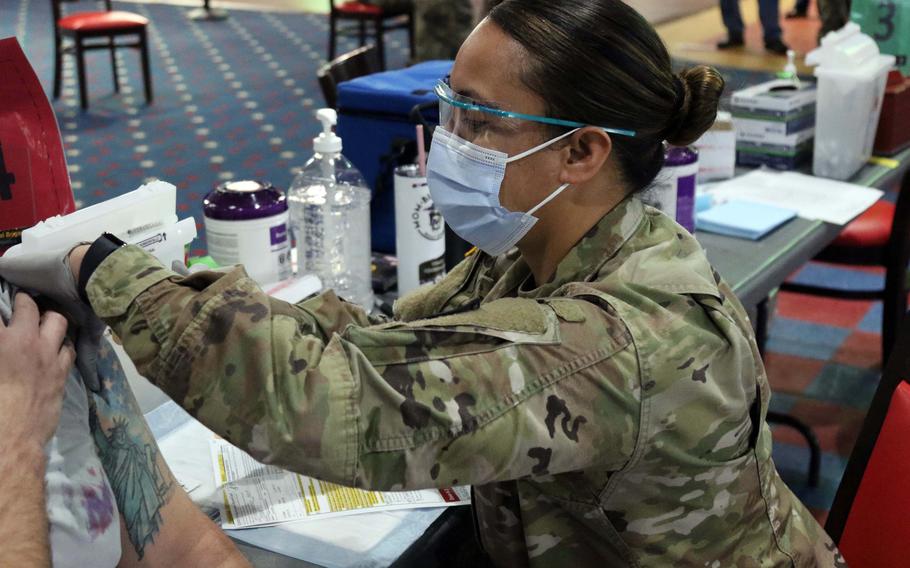 When the Food and Drug Administration last week for the first time fully authorized a coronavirus vaccine, the question instantly was: What would this mean to vaccine skeptics?
The first major poll since then is in, and it shows vaccine hesitancy hitting a new low — though there is no major shift yet. And that tracks with other polls that suggest a once rather stubborn core of unvaccinated Americans is slowly but steadily warming to the vaccine.
The Axios/Ipsos poll shows 20% of Americans now say they are either "not very likely" or "not at all likely" to get the vaccine, and 14% have effectively ruled it out. Both represent the lowest numbers recorded.
The numbers aren't hugely different from where they have been in recent weeks, but overall the trend line is moving steadily downward. Through the first four months of the year, the number of skeptics had stayed mostly in the 30% range.
Those saying they are "not at all likely" has also dropped, from around 25% in late 2020 to 14% today.
The findings mirror those of other recent polls conducted before the FDA announcement that show a decline in vaccine hesitancy, though not a huge one. An NBC News poll last week showed the number of people saying they won't get vaccinated or will do so only if required at 16%. The number was at 27% in October and 19% in April.
The Kaiser Family Foundation tracking poll last month showed more resilience in the most dug-in vaccine skeptics, with 17% saying they either won't get vaccinated or will only do so if required. That's similar to where that number has been throughout 2021.
But that poll also offers a middle-ground, "wait and see" option, and that group has steadily embraced the vaccine. Back in January, about half of those surveyed said they would either "wait and see" or not get vaccinated if they could choose; that number is now down to 27%.
Perhaps the more interesting finding in the Axios/Ipsos poll involves a big emerging issue in the vaccination campaign: vaccinating children.
Polls have regularly shown parents are less sold on vaccinating their children than they are on vaccinating themselves, but the new poll shows a sharp decline in skepticism on vaccinating kids.
Since polling on this question began in May, at least 40% of parents have said they were unlikely to vaccinate their children as soon as it became possible, but that number dropped to 31% in the new poll.
The vaccines are approved for emergency use in children ages 12 to 17. But the FDA has moved to further study the vaccine's effects on children ages 5 to 11, meaning it might not be available to them until early 2022. Some are growing impatient with that process as children return to school and prove significantly more susceptible to being infected by the delta variant.
The overall numbers suggest the FDA's announcement hasn't had an immediate, large impact on vaccine hesitancy in adults. And it's quite possible the larger decline in hesitancy toward vaccinating children is more about the increasing threat the delta variant poses to them. But there has been a significant uptick in vaccinations in recent weeks, and these data suggest that's in part because the skeptics are declining in number - albeit perhaps not as quickly as health officials would prefer.
The poll also suggests whatever further impact the FDA's decision might have, it's likely to be small. It shows about 8% of Americans are unvaccinated but say they are likely to get vaccinated. When asked about their intentions in light of the FDA fully approving the vaccine, that number ticked up slightly, to 10%.
In sum, the data reinforce that the larger impact of the FDA's decision is likely to be in allowing employers and others to mandate vaccines. But the number of vaccine resistors they'll confront is clearly declining.