'Space it up': Space Force to modify Air Force blues while waiting for final dress uniform rollout
By
Chad Garland and Alexander W. Riedel
Stars and Stripes
February 7, 2022
---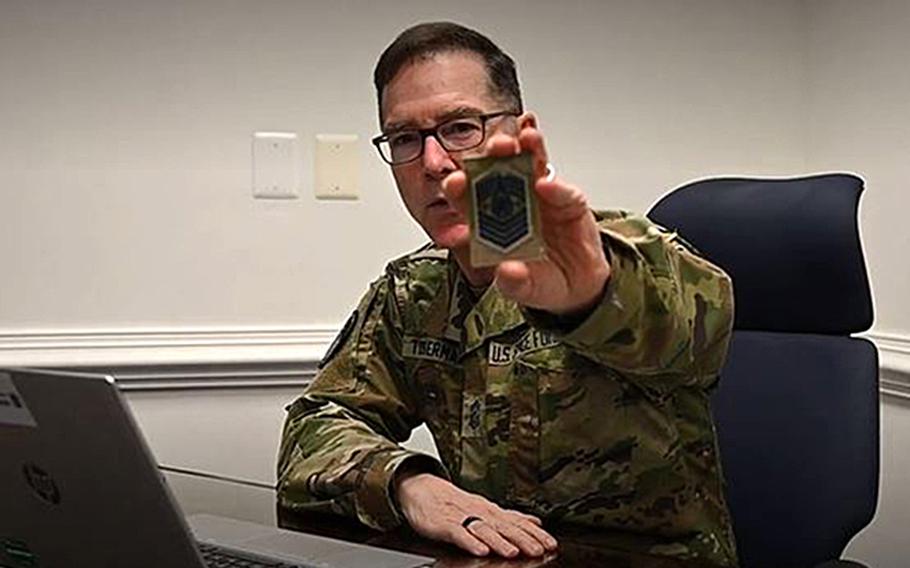 The Space Force is going for "quick wins" with plans to tweak the Air Force blues uniform before eventually rolling out its own service dress outfit, its top enlisted leader said.
Chief Master Sgt. of the Space Force Roger A. Towberman said changes to buttons, name tags and insignia would distinguish members of the newest service, known as Guardians, from those of the Air Force. Both branches fall under the Department of the Air Force.
The goal is to "space it up a little bit," he said in a video message released internally last week, explaining that officials were ditching plans to introduce a completely new service dress uniform all at once. For now, "the chassis remains the same," he said.
The changes will transfer to the Space Force's final uniform as it works to create its own identity, two years after the service formed to operate and protect the military's satellite fleet.
Officials previewed a dress uniform prototype at a September conference, which some observers found reminiscent of costumes from science fiction shows like Star Trek.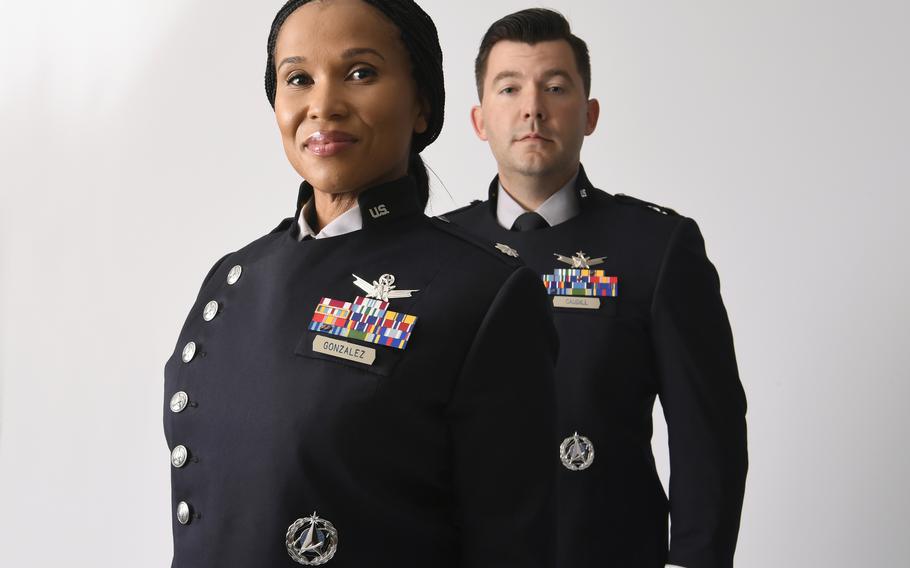 The uniform was being redesigned based on feedback from the force and has garnered positive feedback from wear-testers, Towberman said. But he cautioned that a textile shortage could affect when it will be available for purchase.
A fabric shortage led the Air Force and Space Force late last year to reduce the number of some service uniform items issued to recruits.
Towberman showed off a version of the service's rank insignia patch to be worn on the camouflage uniform. The patch was expected to go into production soon, with availability possible around May, he said.
While global supply chain issues may be hindering efforts to give the service a distinctive look, some members of the fledgling force have struggled to convince the public the new branch even exists.
Apparently responding to a recent Military.com article that recounted instances of Guardians facing public disbelief or confusion about the service, Towberman called on members to "do better at telling the Space Force story."
"I ask every one of you to get out of your echo chambers and do what you can to share what we're doing," he said. "What you do matters to the world, to the nation."
One service member's decision to speak to a reporter anonymously for fear of reprisal prompted a conversation among senior leaders, Towberman said. He reminded them the service's ideals include courage.
"We all have to embrace this concept of candor and honesty, and the courage it takes to have real conversations and build on our teams, and build the psychological safety to make that happen," he said.
The video message was released on internal Space Force web forums, which require a military ID card and passcode for access.
---
---
---
---