Labor, material shortages trim delivery of uniform apparel to newest Air Force members
by
Frank Andrews
Stars and Stripes
December 22, 2021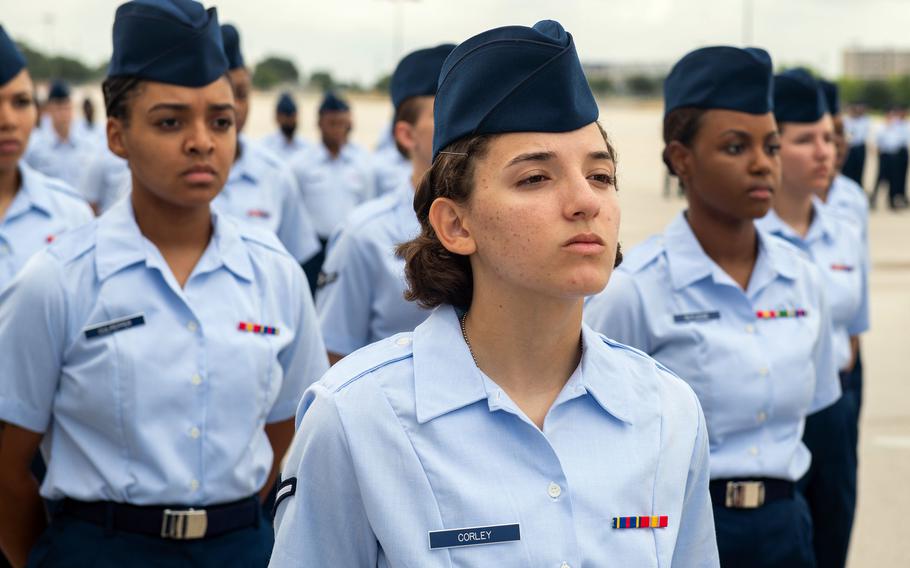 Shortages of fabric and labor mean the newest members of the Air Force and Space Force will leave boot camp next year with fewer uniform items.
Starting in November, the Air Force began issuing to graduates of basic military training two dress blue uniform shirts — one long sleeve and one short sleeve — and one pair of slacks or trousers, according to an Air Force news release Tuesday.
Normally, new Air Force members are issued two of each shirt type along with three pairs of trousers for men and two pairs of slacks for women.
The Air Force plans to put something extra in their paychecks so basic training graduates may purchase their missing uniform items from the Army and Air Force Exchange Service when they arrive at their next school or duty station, according to the release. Reservists will be issued missing items, if available, after they arrive at their home units.
The Air Force said Tuesday that the Defense Logistics Agency is working with the fabric supplier, Burlington Industries, to restore full production.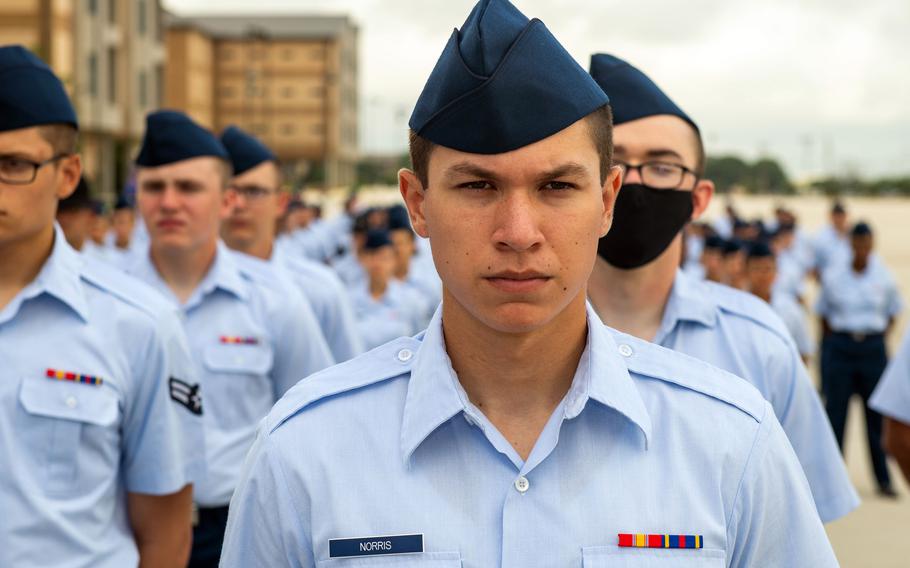 Burlington Industries is the sole supplier of worsted and poly-wool dress fabric used in all U.S. military dress uniforms, according to the Air Force. A representative of Burlington Industries, based in Greensboro, N.C., could not be reached Wednesday.
The company is a division of International Textile Group, based in Charlotte, N.C., a multinational corporation with 37 facilities across six continents, according to the Burlington website.
Economists point to the coronavirus pandemic as the primary cause of many shortages and backlogs in the global supply chain. Closed plants, labor shortages, higher material costs and other factors causing shortages and backlogs in the chain are linked by economists to the pandemic.
The Air Force said Tuesday it expects increased costs and material shortages to have a greater impact on the availability of its dress uniforms in the third quarter of fiscal year 2022, or the three months ending in June.
All service members may feel the pinch, but graduates of basic military training will have first dibs on uniform items, according to the news release.
The Air Force and Space Force are not alone. The Coast Guard in spring 2020 faced a shortage of operational dress uniforms due to COVID-19 outbreaks at factories in Puerto Rico.
Those shortages were alleviated but the Coast Guard soon found itself short of its blue service jacket and pants, "making these uniform items very difficult to come by," according to a June news release from the service.
The stock of dress jackets and pants was exhausted, and suppliers faced with pandemic-related labor shortages could not keep up with demand, according to Lt. Cmdr. Sonya Leibowitz, a spokeswoman for the Coast Guard Office of Logistics. The Defense Logistics Agency, she wrote in the release, responded by temporarily converting Navy uniform contracts to meet Coast Guard demand.
The Coast Guard itself found new suppliers that promised September deliveries.
"Despite all efforts, over the next few months there will be a delay in fully outfitting some of the incoming recruits and cadets with Bravo jackets," Leibowitz wrote.
Correction
An earlier version of this story should have said the Air Force began issuing fewer uniform items in November.
---
---
---
---