Aircraft carrier USS Ronald Reagan departs Japan for second leg of regional patrol
By
Stars and Stripes
September 12, 2022
---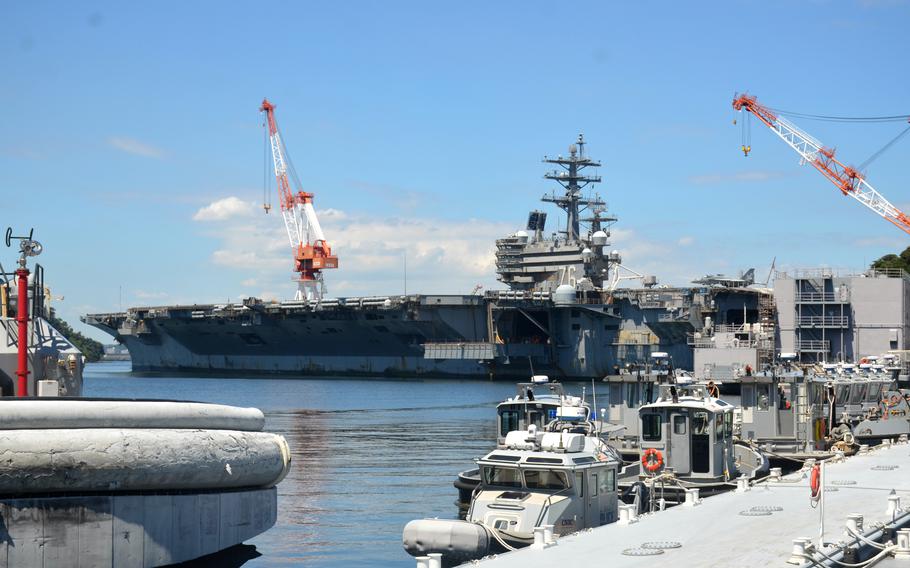 YOKOSUKA NAVAL BASE, Japan — The aircraft carrier USS Ronald Reagan steamed out of Tokyo Bay with its strike group on Monday to continue its annual Indo-Pacific patrol.
The Ronald Reagan's departure came three weeks after the carrier and its strike group returned to Yokosuka for maintenance and resupply, the ship's staff said in a Monday news release. The strike group includes the guided-missile cruiser USS Chancellorsville and the guided-missile destroyers USS Benfold and USS Barry, all homeported at Yokosuka.
"Ronald Reagan is quickly back at sea thanks to the efforts of the ship's sailors and the outstanding work from maintenance teams ashore," the carrier's skipper, Capt. Fred Goldhammer, said in the news release. "Our completion of scheduled maintenance ensures we remain ready and agile to respond at a moment's notice."
The strike group is expected to continue "working with allies and partners, promote adherence to a rules-based international order, as well as maintain presence and flexibility," according to Task Force 70 spokesman Lt. Cmdr. Joseph Keiley. No additional details on upcoming operations were available, he told Stars and Stripes by email Monday.
The Ronald Reagan departed Yokosuka for the first half of its deployment in May, followed immediately by exercises alongside the Japan Maritime Self-Defense Force and later with the aircraft carrier USS Abraham Lincoln, visiting the region from its homeport in San Diego.
The Ronald Reagan also made several port visits in its first three months, including Guam and Changi Naval Base in Singapore.
The strike group was scheduled to return to Yokosuka earlier in August, but the visit was delayed after the Defense Department ordered it to remain near the South China and Philippine seas in response to extensive drills by the Chinese navy and air force around Taiwan.
The weeklong drills, which concluded Aug. 11, were Beijing's response to U.S. House Speaker Nancy Pelosi's visit to Taipei on Aug. 3.
---
---
---
---