USS Ronald Reagan back in Japan after three months at sea
By
Stars and Stripes
August 19, 2022
---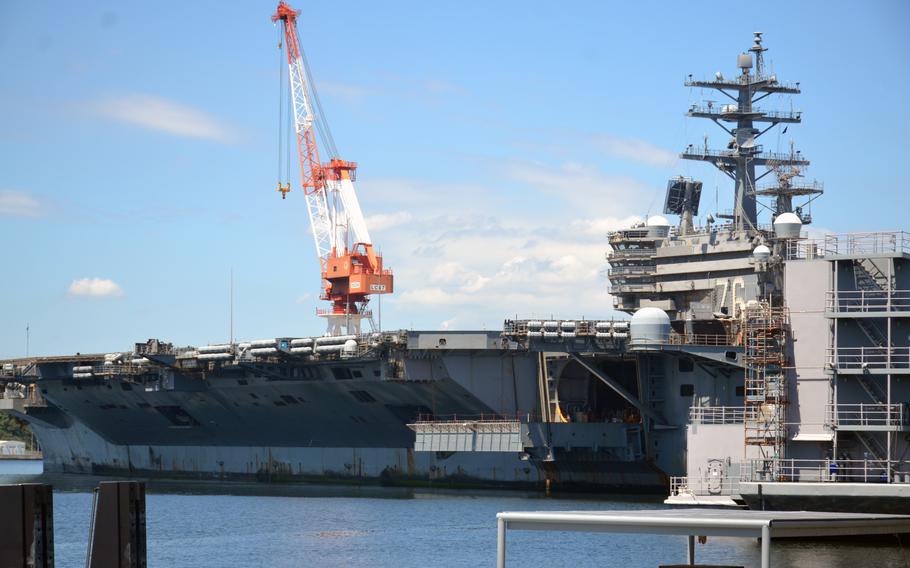 YOKOSUKA NAVAL BASE, Japan — The aircraft carrier USS Ronald Reagan steamed into Tokyo Bay on Friday, three months after leaving its homeport on its annual summer deployment. 
The carrier pulled into its berth at Yokosuka Naval Base around 9 a.m. without fanfare or ceremony, Task Force 70 spokesman Lt. Cmdr. Joseph Keiley told Stars and Stripes by email Friday. The Reagan's complement of aircraft, Carrier Air Wing 5, arrived at Marine Corps Air Station Iwakuni on Thursday. 
Keiley didn't comment on whether the Reagan's deployment is concluded or if its arrival in Yokosuka is just a stop. Its deployments typically last around six months. 
"While in port, Ronald Reagan will conduct maintenance and remain ready to respond to any assigned tasking in their role as the U.S. Navy's only forward-deployed aircraft carrier," he said. 
The Reagan was expected to arrive in Yokosuka earlier in August, but the Defense Department ordered it to remain near the South China and Philippine seas in response to extensive drills by the Chinese navy and air force around Taiwan. 
The week-long drills, which concluded Aug. 11, were Beijing's response to U.S. House Speaker Nancy Pelosi's visit to Taiwan on Aug. 3. China launched a fresh set of exercises on Monday in response to a second U.S. congressional delegation arrived in Taipei on Sunday. 
Beyond Taiwan, the Reagan was busy the last three months. Immediately following its departure in late May, the Reagan participated in an exercise with the Japan Maritime Self-Defense Force, in which it integrated the destroyer JS Teruzuki into its strike group. 
The carrier went on to take part in a carrier strike group exercise with South Korea in early June and later linked up with the USS Abraham Lincoln Carrier Strike Group to join the U.S.-only Valiant Shield 2022 exercise. 
The Reagan finished June with its first port visit to Guam. In July, the carrier and its strike group entered the South China Sea for maritime security and flight operations. It later stopped at Changi Naval Base in Singapore, where it hosted Secretary of the Navy Carlos Del Toro and U.S. Ambassador to Singapore Jonathan Kaplan. 
---
---
---
---