US destroyer demonstrates 'innocent passage' near South China Sea islands
By
Stars and Stripes
July 13, 2022
---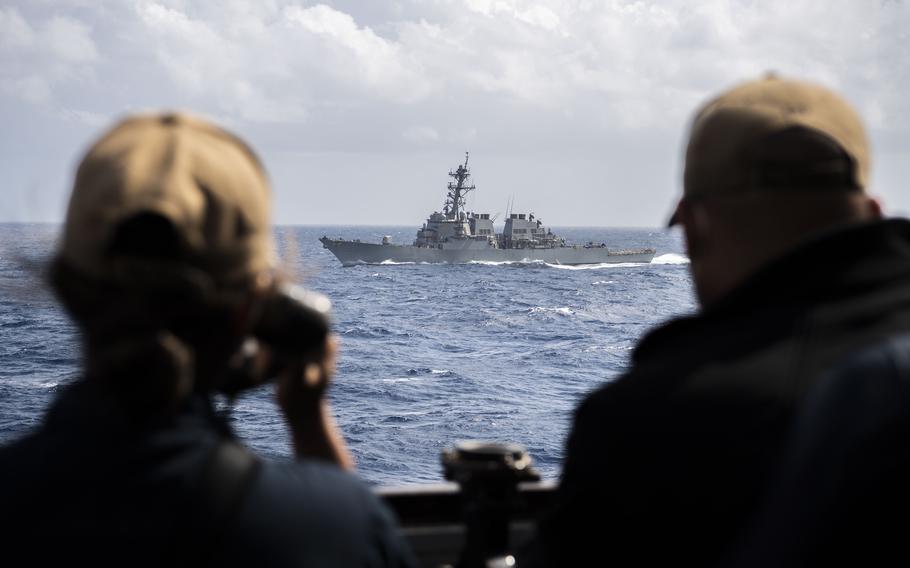 A U.S. warship cruised past the Paracel Islands in the South China Sea to assert "navigational rights and freedoms" on Wednesday, according to a 7th Fleet spokesman.
The guided-missile destroyer USS Benfold steamed by the island group about 200 miles off the coasts of Vietnam and Hainan, China, and continued into the South China Sea, said an emailed statement from Lt. Nicholas Lingo.
The operation asserted rights to freedom of navigation and innocent passage "by challenging restrictions" imposed by China, Taiwan and Vietnam, Lingo wrote. It also challenged China's claim of "straight baselines" enclosing the islands, a bid to extend China's claim of maritime sovereignty far into the South China Sea. That claim is disallowed under international law, according to a 1996 State Department report.
Beijing has occupied the Paracel Islands since 1974 and has about 20 outposts throughout the chain. More than 1,000 Chinese personnel reside on the largest feature, Woody Island, according to the CIA World Factbook website.
China, Taiwan and Vietnam require either permission or advance notification before a military vessel makes an "innocent passage" through the territorial sea, a violation of the Law of the Sea Convention, Lingo wrote. The U.S. demonstrates the illegality of those restrictions by making an innocent passage without prior notice or asking permission, he said.
"As long as some countries continue to claim and assert limits on rights that exceed their authority under international law, the United States will continue to defend the rights and freedoms of the sea guaranteed to all," according to Lingo.
The Chinese Ministry of Defense, which typically condemns these moves by the U.S. Navy, had made no statement on its website about the Benfold's movement by Wednesday afternoon.
The Benfold last carried out a freedom-of-navigation operation in January when it steamed past the Paracels and the Spratly Islands, another scattered group of small features farther south and about 200 miles off the Philippine coast.
The Chinese military said it warned the Benfold off in January, a claim the Navy called false.
---
---
---
---