China's military demands end to Navy demonstrations in the South China Sea
By
Stars and Stripes
January 20, 2022
---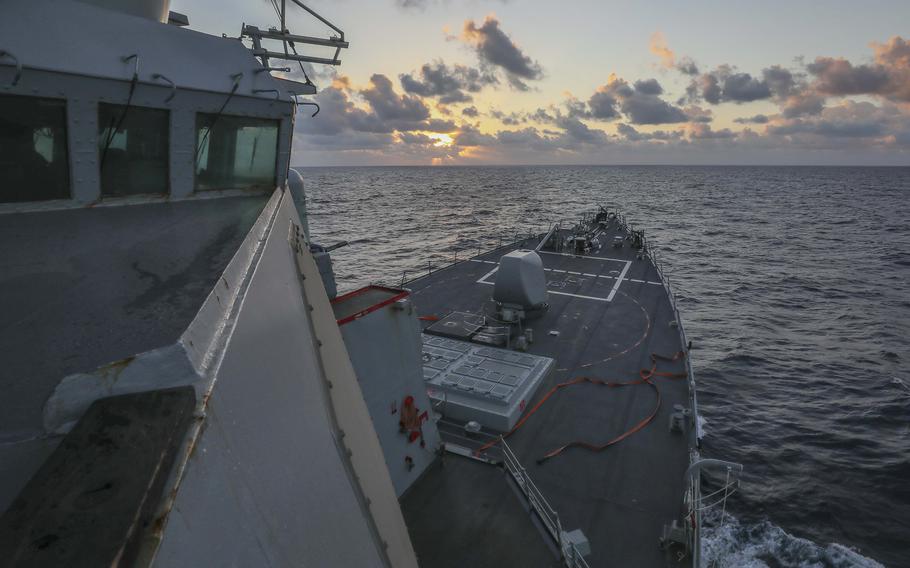 A guided-missile destroyer steamed past two disputed island chains in the South China Sea this week, provoking demands from China's military that the U.S. cease its freedom-of-navigation patrols in the region.
The USS Benfold cruised through the Spratly Island chain Tuesday, then turned north for a similar demonstration near the Paracel Islands on Thursday, according to an email from Lt. Mark Langford, spokesman for the U.S. 7th Fleet. The two chains are about 500 miles apart.
China's Southern Theatre Command said Thursday that its naval forces tracked and later warned the Benfold away from the Paracels.
"We solemnly demand that the U.S. side immediately stop such provocative actions, otherwise it will bear the serious consequences of unforeseen events," the command said in a statement.
The Benfold's operations defied three countries – China, Vietnam and Taiwan – that claim both island chains as their territory and require "advanced notification or permission" from warships before they navigate the area, Langford said.
Citing international law, the U.S. Navy asserts that ships from any nation, including warships, have the right of innocent passage through territorial waters and that any requirement of permission or notification is unlawful.
Langford said China's claim that the Benfold was warned away from the Paracels is "false" and that the destroyer operated in accordance with international law.
The Benfold's passage Thursday challenged all three countries' claims to the Paracels, according to a Navy news release Thursday. But the statement drew specific attention to baselines China drew around nearly the entire chain in 1996, effectively declaring the region as its sovereign territory.
China occupied the Paracel Islands in 1974 and maintains approximately 20 outposts throughout the chain, according to the CIA World Factbook website. More than 1,000 Chinese personnel reside on the largest feature, Woody Island, the agency estimates.
The Benfold made a previous visit to the Paracels on July 12, according to Langford's email.
The Navy regularly conducts freedom-of-navigation operations in the South China Sea, as well as regular transits through the Taiwan Strait, in an effort to ensure a "free and open Indo-Pacific." The Chinese government regularly condemns those demonstrations.
---
---
---
---