Navy destroyer in South China Sea after Taiwan Strait flyover by recon plane
By
Stars and Stripes
June 28, 2022
---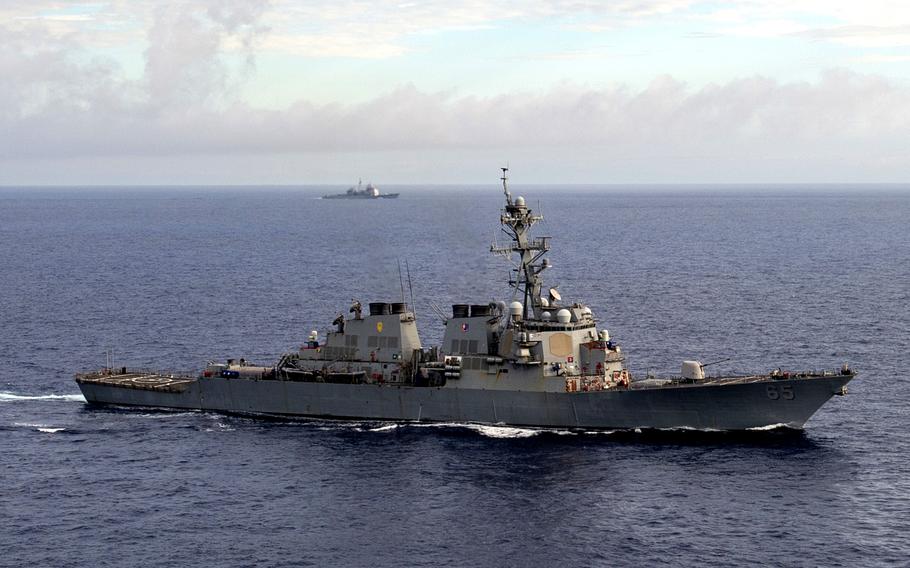 YOKOSUKA NAVAL BASE, Japan  — A U.S. Navy warship entered the South China Sea over the weekend, one day after a Navy reconnaissance aircraft flew through the adjacent Taiwan Strait.
The guided-missile destroyer USS Benfold, homeported at Yokosuka, sailed west from the East China Sea to the South China Sea through the Verde Island Passage in the Philippines on Saturday, according to a tweet that day from Chinese think tank South China Sea Strategic Situation Probing Initiative. The passage separates the islands of Luzon and Mindoro.
The Benfold was still in the region Tuesday on routine operations, U.S. 7th Fleet spokeswoman Cmdr. Hayley Sims told Stars and Stripes by phone.
The Navy sometimes sends warships on freedom-of-navigation operations past islands claimed by China and other nations in the South China Sea, including Taiwan and Vietnam. Those missions are meant to challenge those maritime claims and maintain free passage, according to the Navy. China also claims a large portion of the sea itself as its maritime territory.
In January, the Benfold steamed past the Spratly and Paracel island chains on a freedom-of-navigation operation. However, Sims said the destroyer was not on such a mission Tuesday.
The Benfold arrived in the South China Sea one day after a Navy P-8A Poseidon aircraft flew through the Taiwan Strait, a 110-mile-wide waterway that separates the island of Taiwan from mainland China.
"The aircraft was conducting a transit of the Taiwan Strait from the South China Sea to the East China Sea in accordance with international law," U.S. Indo-Pacific Command spokesman Maj. Jonathan Camire told Stars and Stripes by email Tuesday. "By operating within the Taiwan Strait in accordance with international law, the United States upholds the navigational rights and freedoms of all nations."
China's Eastern Theater Command spokesman Col. Yi Shi said Friday that the Poseidon's transit was an intentional disruption of the "regional situation" that endangered "the peace and stability" of the Taiwan Strait, according to his statement on the Chinese Ministry of Defense website.
"We express our firm opposition to this," he said. "The theater's troops maintain high alert at all times and resolutely defend national sovereignty and territorial integrity."
China regards Taiwan as a breakaway province that must be reunified with the mainland at some point, possibly by force. Lately, Chinese authorities have emphasized their nation's claim to the strait as its exclusive economic zone.
---
---
---
---