China asserts jurisdiction over Taiwan Strait, shuns 'international waters' stance by US
By
Stars and Stripes
June 14, 2022
---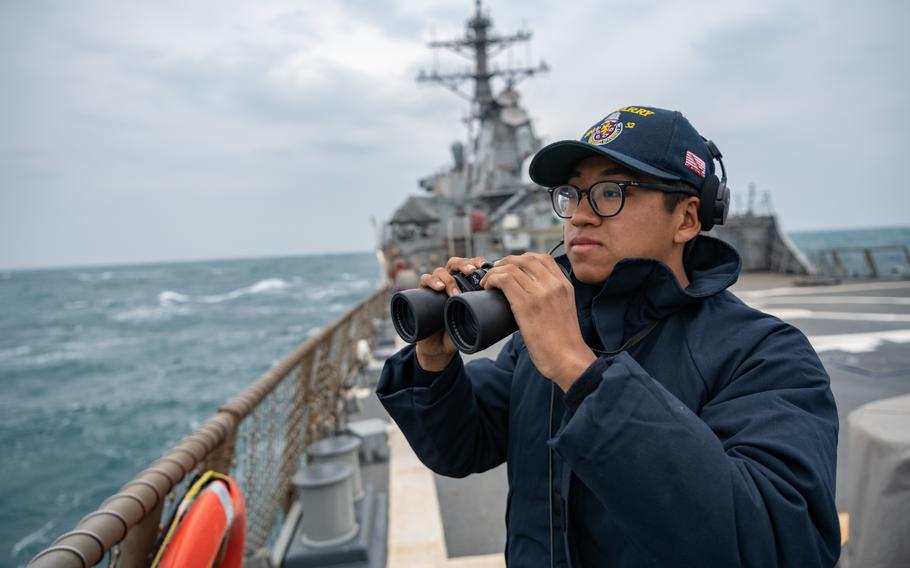 China claims exclusive rights over the Taiwan Strait, a spokesman for the country's Foreign Ministry said Monday, a statement that could set up a confrontation with U.S. warships that regularly transit the region.
"China has sovereignty, sovereign rights and jurisdiction over the Taiwan Strait. At the same time, it respects the lawful rights of other countries in relevant waters," China Foreign Ministry spokesman Wenbin Wang said at a Monday news conference.
China for months has privately told the U.S. government that it considers the waters separating Taiwan from the mainland as part of China's exclusive economic zone, Bloomberg News reported Monday, citing an anonymous source. The U.S. and other nations regard the strait as international waters where its warships are free to pass.
An exclusive economic zone, or EEZ, lies beyond a country's 12-nautical-mile maritime territorial limit and gives that country certain rights, including the right to the natural resources there, according to the 1989 U.N. Convention on the Law of the Sea.
Referring to the Taiwan Strait as "international waters" is an attempt to manipulate China's claim over the island of Taiwan, Wang said Monday.
"There is no legal basis of 'international waters' in the international law of the sea," he said. He said Taiwan is an "inalienable part of China's territory."
The U.S has sent a Navy warship through the area once a month so far this year.
"U.S. Navy ships use the Taiwan Strait to transit between the South China Sea and the East China Sea in accordance with international law, and have done so for many years," Navy spokesman Lt. Mark Langford told Stars and Stripes by email Tuesday. 
By claiming the Taiwan Strait as its own, China may be laying a basis to deny foreign military vessels access to those waters, according to James Brown, an international affairs expert at Temple University's Japan campus.
The U.S. is not party to the Law of the Sea Treaty but generally abides by its provisions, according to the Stockton Center for International Law. The treaty guarantees freedom of navigation through economic exclusion zones but its exact implications for foreign warships are debated.
"Many Western countries interpret UNCLOS as permitting external states to conduct military exercises within another country's EEZ under the principle of 'navigational freedom,'" Brown said in a Monday email to Stars and Stripes. "However, this interpretation is not shared by Beijing. China takes the view that military exercises are harmful to national security and thus should not be permitted within its EEZ."
That position is consistent with Beijing's use of "lawfare" to further national interests and bears a resemblance to China's stance towards the South China Sea, according to Brown.
"There too, Beijing has disregarded international law and sought to assert national primacy over international waters," he said.
In September, China amended its law to require foreign vessels to give notice prior to entering the South China Sea, portions of which Beijing also claims as an exclusive economic zone.
Pentagon spokesman John Supple at the time said the U.S. resists claims by coastal states to "infringe upon navigation and overflight rights enjoyed by all nations under international law."
The Pentagon has consistently responded to China's claims of control in the strait and South China Sea by saying it would operate where international law allows.
Chinese aircraft and vessels have made "an alarming increase" in unsafe aerial intercepts and confrontations at sea, U.S. Defense Secretary Lloyd Austin said Saturday at the Shangri-La Dialogue defense summit in Singapore.
"We've witnessed a steady increase in provocative and destabilizing military activity near Taiwan," Austin said.
---
---
---
---