Yokosuka commander ends pandemic-era tour at Navy's largest overseas base
By
Stars and Stripes
July 8, 2022
---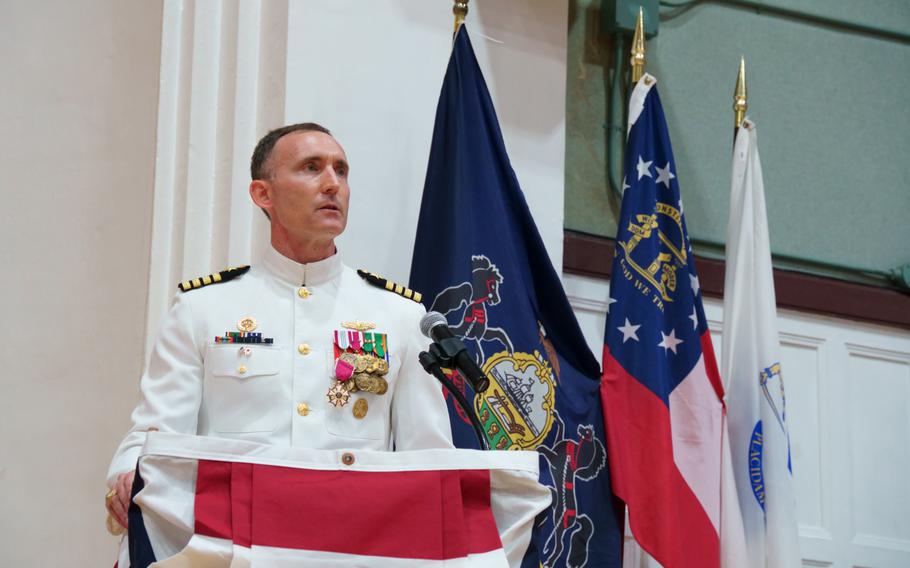 YOKOSUKA NAVAL BASE, Japan – Capt. Rich Jarrett, who steered the Navy's largest overseas installation through the coronavirus pandemic, relinquished command Friday to Capt. Les Sobol during a ceremony at a base theater.
Jarrett, 48, of Charleston, W.Va., took command in July 2019, just months before the coronavirus emerged in China. He contended with the COVID-19 pandemic for more than two years, during which base lockdowns and quarantined ships became familiar events. The naval base, homeport of the 7th Fleet and headquarters of the U.S. Navy in Japan, was struck hard by the virus and often reported the highest number of COVID-19 cases among U.S. bases in Japan.
"We had very little information in 2020 when this began, but we learned a little bit each step of the way," Jarrett told reporters after the ceremony. "I think we had very good health outcomes, both here and in the local community."
Sobol, 51, of Jersey City, N.J., moves over from a post with 7th Fleet as an operations officer and director of integrated air and missile defense at Yokosuka. He previously served as the chief staff officer for Amphibious Squadron 11, homeported at Sasebo Naval Base, Japan, and as commander of the guided-missile destroyer USS Gonzalez.
"I'm so very grateful for the opportunity," Sobol said during the ceremony. "I'm really excited to serve this community.
Sobol enlisted in 1988 and served 10 years as a sonar technician before he was commissioned through Officer Candidate School.
He deployed several times with operations Restore Hope in Somalia, Southern Watch and Iraqi Freedom in Iraq, Enduring Freedom in Afghanistan and Inherent Resolve in Syria, Iraq and Libya. Sobol said his experiences as an enlisted sailor and an officer will be his foundation as the new commander.
"The experiences that you fall back on are the leadership talents and traits that you develop over the course of your time serving," he told Stars and Stripes after the ceremony. "I'm going to have to fall back on all of that, and then some, to make sure that I'm able to provide unreserved support to the fleet, to our alliances, to our families and to our partners."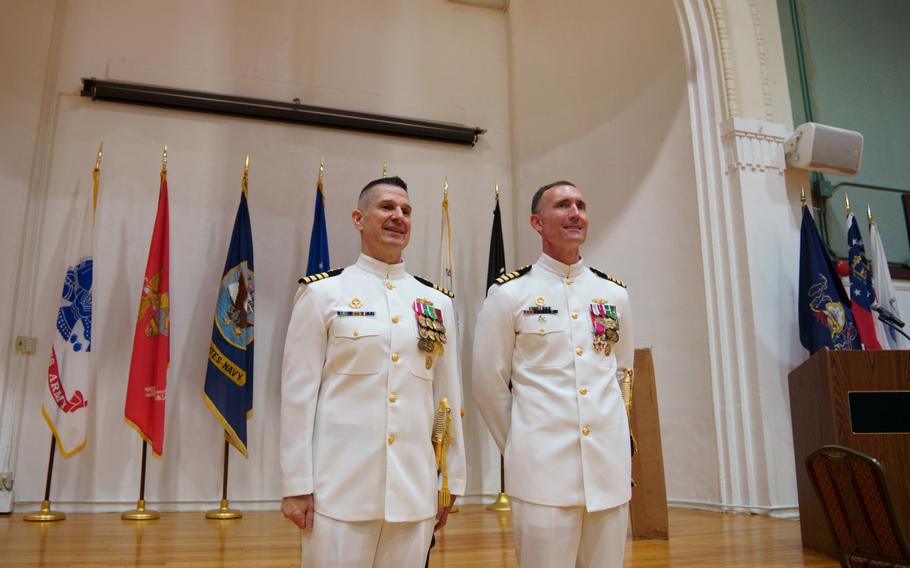 The naval base on Tokyo Bay is home to approximately 9,500 sailors and 6,500 dependents, along with another 11,000 contracts and local workers.
Jarrett is heading to a staff job at Naval Installations Command in Washington, D.C.
In March 2020, a sailor aboard the aircraft carrier USS Ronald Reagan, homeported at Yokosuka, became the first U.S. sailor to test positive for coronavirus. The pandemic waxed and waned at U.S. bases in Japan for the next two years.
In December 2020, for example, the naval base reported what was the highest number of COVID-19 cases of the unfolding pandemic when several people violated liberty restrictions. Jarrett was direct in his response.
"These individuals then brought illness to their place of work and to their shipmates they work with," he said. He predicted hundreds of service members and their families would spend the holidays in quarantine, as a result.
"This outcome is unacceptable," he said at the time, "and it was almost entirely preventable."
The base reported nearly 2,500 cases of COVID-19 during the pandemic, although the U.S. military at times did not publicly report case numbers. It reported nearly 700 cases in 2021 with no reported fatalities.
However, in January the base reported more than 1,400 cases, its highest one-month total of the pandemic.
---
---
---
---