Navy pilot is second to die in four Super Hornet crashes in California desert in three years
By
Stars and Stripes
June 6, 2022
---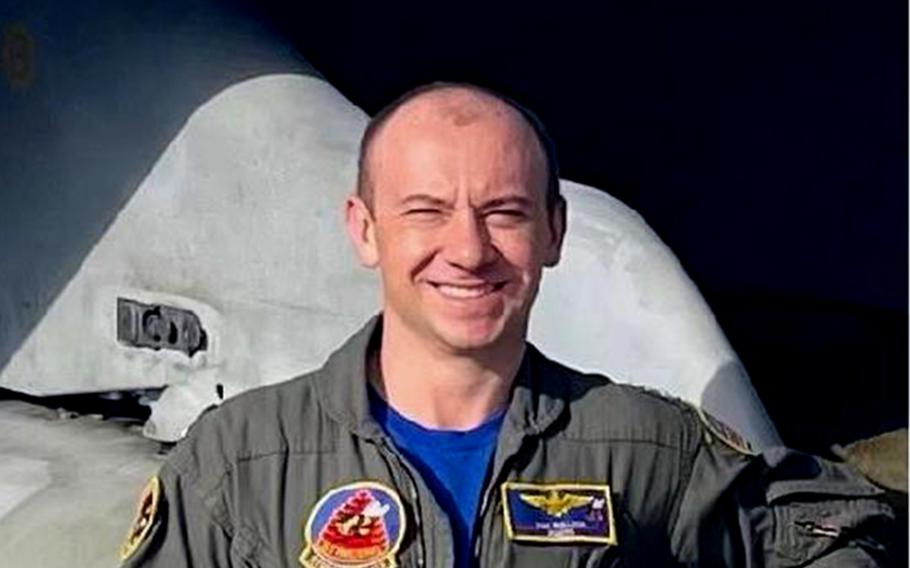 The Navy has identified Lt. Richard Bullock as the pilot killed Friday in a Super Hornet crash near Trona, Calif.
It was the fourth crash of the same type of aircraft in less than three years in the Mojave Desert, though pilots safely ejected in two cases.
Bullock was killed when the F/A-18E Super Hornet he was flying crashed at about 2:30 p.m. during a routine training mission in a remote, unpopulated area of the desert, the Navy said Sunday in a statement.
No civilians were injured in the crash, which is under investigation. Recovery efforts are ongoing, the Navy said.
Bullock was assigned to Strike Fighter Squadron 113 based at Naval Air Station Lemoore, about 40 miles southwest of Fresno, Calif. Trona is in the Searles Valley in northwestern San Bernardino County, an isolated, remote part of the desert.
Friday's crash was the latest incident involving a Navy plane in the region.
A Navy pilot safely ejected, suffering minor injuries, when the F/A-18F Super Hornet he was flying crashed in Death Valley National Park, Stars and Stripes reported Oct. 6, 2021. The jet was assigned to Air Test and Evaluation Squadron 9 at Naval Air Weapons Station China Lake in Ridgecrest, Calif.
Another Super Hornet assigned to Lemoore went down during routine flight training near China Lake with the pilot also safely ejecting, Stars and Stripes reported Oct. 20, 2020.
A Super Hornet assigned to Strike Fighter Squadron 151 at Lemoore crashed into a ravine wall in a remote section of Death Valley during routine flight training, killing the pilot and injuring seven civilians, Stars and Stripes reported July 31, 2019.
NAWS China Lake supports the Navy's research, development, acquisition testing and evaluation of cutting-edge weapons systems, according to its website.
It is in the western Mohave, about 150 miles north of Los Angeles. Its two ranges and main site are situated on about 1.1 million acres, making it the Navy's largest base in terms of land, according to the site.
NAS Lemoore is home to Commander Strike Fighter Wing Pacific and Commander Joint Strike Fighter Wing. More than half of the Navy's F/A-18E/F Super Hornet aircraft are located at the base, which sees an average of 210,000 flight operations annually, according to its website.
---
---
---
---