USS Abraham Lincoln, with VIPs aboard, displays airpower at sea to underline US-Japan alliance
By
Stars and Stripes
April 23, 2022
---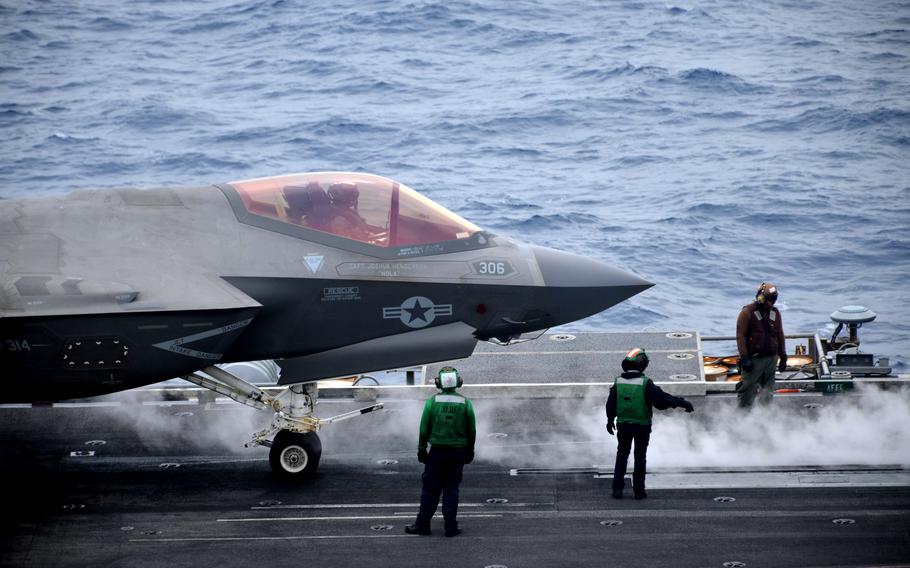 ABOARD THE USS ABRAHAM LINCOLN – U.S. fighters put on a display of naval airpower Saturday over the USS Abraham Lincoln in the Philippine Sea for two VIPS, and a sent a message to potential adversaries.
U.S. Ambassador to Japan Rahm Emanuel and Japanese Foreign Minister Yoshimasa Hayashi watched from the aircraft carrier's flight deck as F-18 Super Hornets and F-35C Lightning II stealth fighters roared through maneuvers about 140 miles off the coast.
Emanuel and Hayashi were escorted aboard the carrier by Vice Adm. Karl Thomas, the commander of 7th Fleet, headquartered at Yokosuka Naval Base. He reminded reporters of the Russian invasion of Ukraine, now two months old; of China's growing military capability and its willingness to flex its muscles in the South and East China seas; and North Korea's steady stream of missile tests taking flight this year.
"We're all watching what's happening in Europe, with Russian aggression. We're watching China gain confidence and expand their exercises. Certainly, North Korea has launched more missiles recently," Thomas said during a news conference aboard the carrier. "The key is deterrence, and I think you're standing onboard a large piece of that deterrence."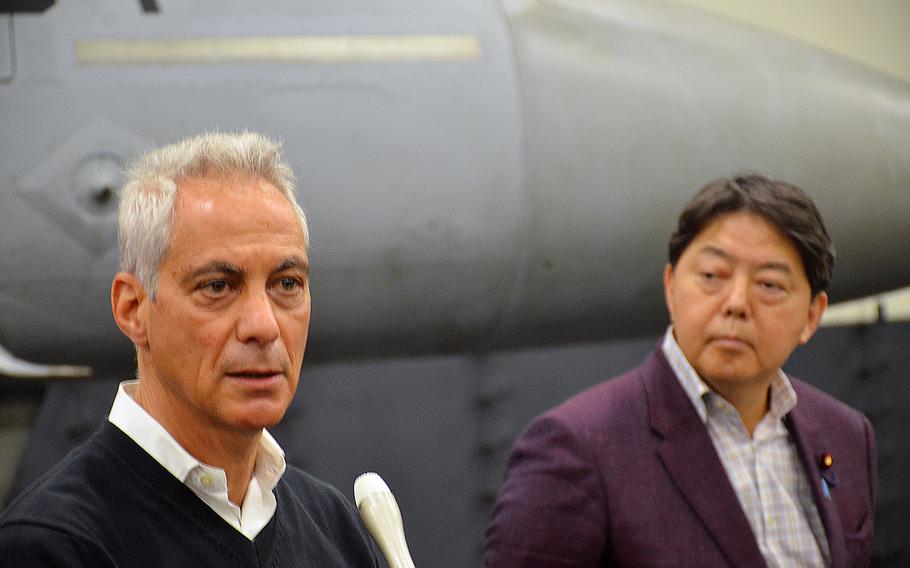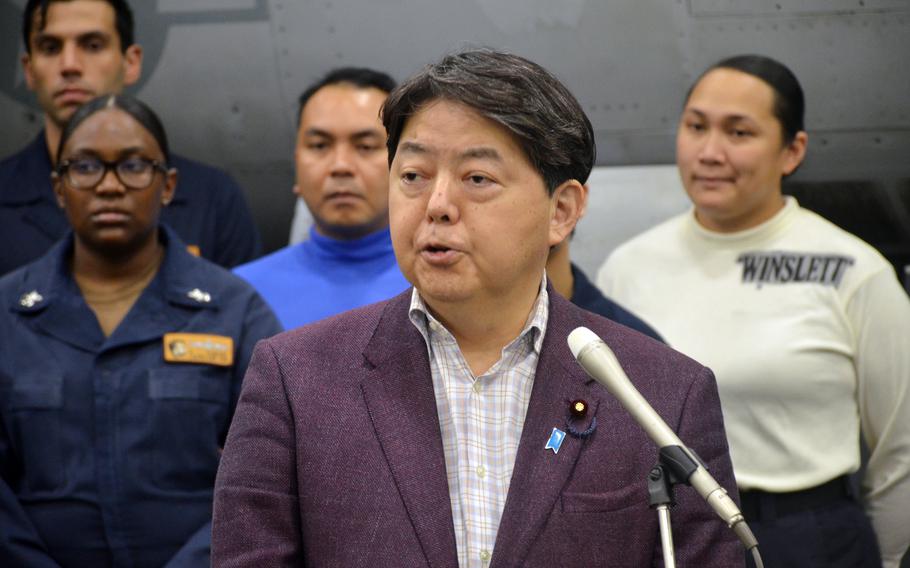 Emanuel and Hayashi flew south from Naval Air Facility Atsugi on a V-22 Osprey tiltrotor aircraft to tour the Abraham Lincoln and watch the Hornet and F-35C flights and the launch of an E-2D Hawkeye from the carrier deck.
The Hawkeye D model is an updated version of a Navy workhouse that provides airborne early warning, airborne battle management and command and control for the carrier strike group, among many other missions.
The demonstration concluded with a single Super Hornet exhibiting its flight capabilities over the course of about 20 minutes.
"Today, the foreign minister and I saw a powerful demonstration of our naval and air capabilities with the F-35 and the E-2," Emanuel told reporters inside one of the carrier's hangars. "These are capabilities that the United States shared with Japan, and now both of our countries deploy [them]."
The Abraham Lincoln and its carrier strike group on Tuesday trained alongside the Japan Maritime Self-Defense Force in the Philippine Sea and East China Sea.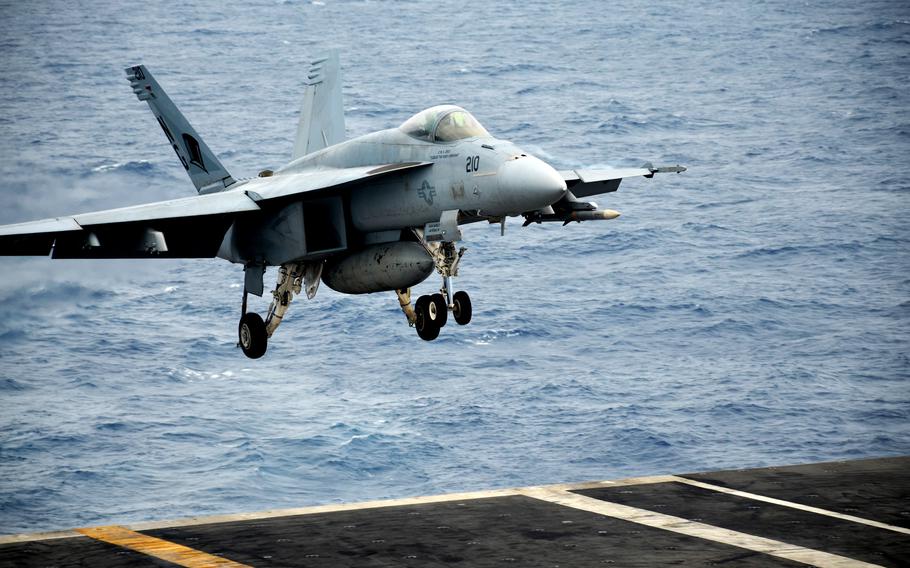 That exercise illustrates the strength of the U.S.-Japan alliance, Hayashi said.
"Enhancing joint response capabilities through practical training directly ties into robust interoperability and readiness of the alliance," Hayashi told reporters. "These important undertakings also show that both Japan and the U.S. are fully prepared to take on any contingencies at any time."
Interoperability for the military means the ability of a country's armed forces to use another country's training methods and military equipment.
Hayashi described the security environment in the region as "increasingly severe," but stopped short of naming any specific threats. However, Emanuel and Thomas called out China, Russia and North Korea as the source of potential conflict in the region.
One of the United States' primary strategies for avoiding conflict is deterrence, Thomas told reporters, through military and economic policies and building relationships with "like-minded" countries.
"There's a whole lot more nations that think the way the United States thinks," he said. "Authoritarian aggression is not as good for the free world and the freedom and security in [the Indo-Pacific]."
---
---
---
---