Testing the Navy's future: Robotic ships give the US an enhanced view of Middle East waterways
By
Stars and Stripes
April 21, 2022
---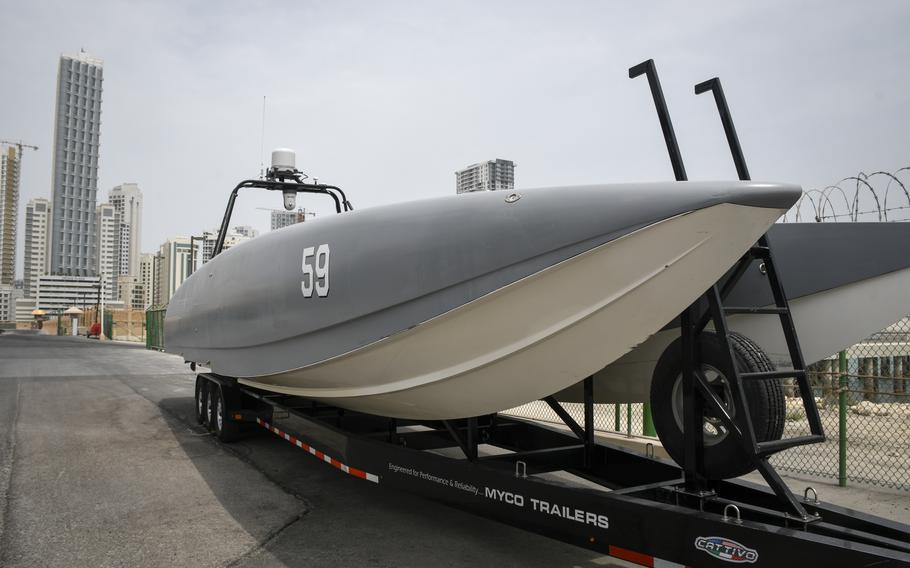 MANAMA, Bahrain — A robotic, 23-foot-long vessel moored at U.S. 5th Fleet headquarters in Bahrain provides a possible glimpse into the future of the U.S. Navy. 
The Saildrone Explorer resembles a torpedo with a 15-foot-tall shark fin. Powered by wind and solar panels, it has cameras and sensors to keep watch and the ability to sift through data to figure out what's important.
The bird droppings that covered it on its return to Bahrain served as proof of weeks spent at sea.
"We're getting past the PowerPoints and the fairy dust around the technologies, and we're seeing it in the real world," Navy Capt. Michael Brasseur, commodore of Task Force 59, told Stars and Stripes in a recent interview.
The Navy has used unmanned aerial vehicles and submarines for years. But since its founding last fall, Task Force 59 has worked to integrate the fleet's unmanned systems on the surface, underwater and in the air.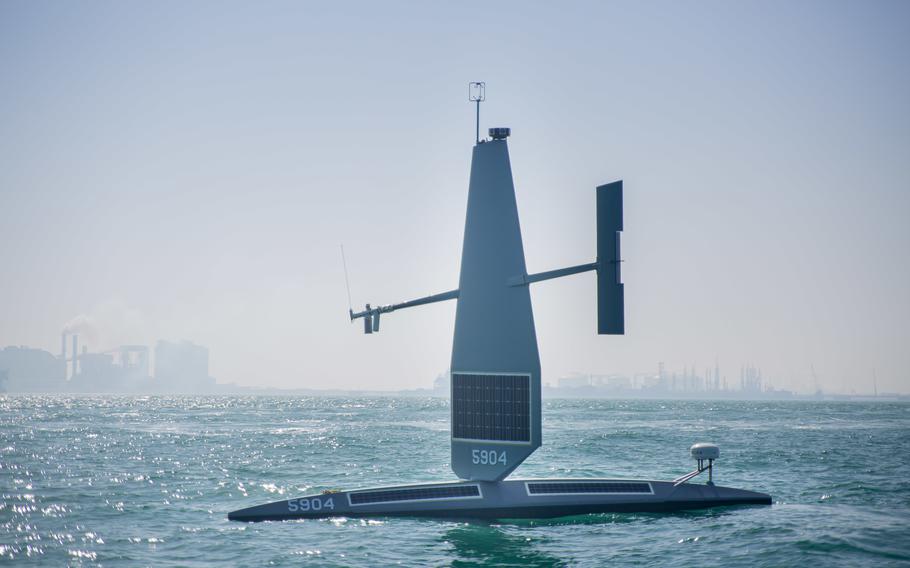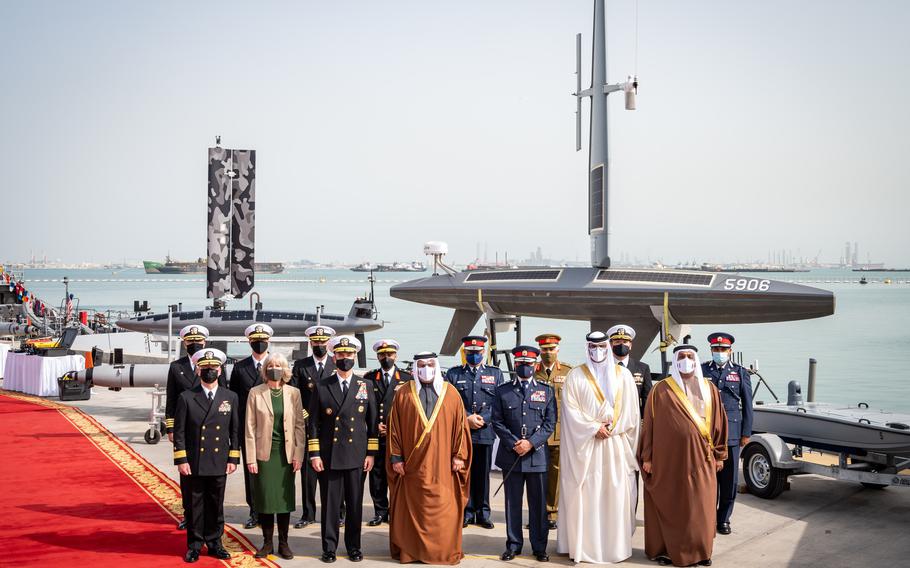 Its sailors have spent almost 10,000 hours working with surface vessels like the Saildrone Explorer, the group's leaders said.
Military officials said these unmanned ships can help the fleet patrol the busy waters of the Middle East, a pathway for much of the world's shipping as well as for pirates, smugglers and militias armed with drones of their own.
"The most exciting thing about what we're doing is the pace," Brasseur said at the group's headquarters at Naval Support Activity Bahrain.
The task force began exercises in October 2021 and plans to have 100 unmanned surface vessels sailing around the Middle East by the summer of next year, Brasseur said.
What the task force learns from those missions will inform the Navy's plans to spend billions on uncrewed ships.
Unmanned vessels as long as a football field could deploy with carrier strike groups by 2027, the Navy's top officer, Adm. Mike Gilday, told DefenseOne in February.
Gilday, the chief of naval operations, said he sees Task Force 59 as a test case for smaller vessels that can start sailing as soon as possible, USNI News reported in February.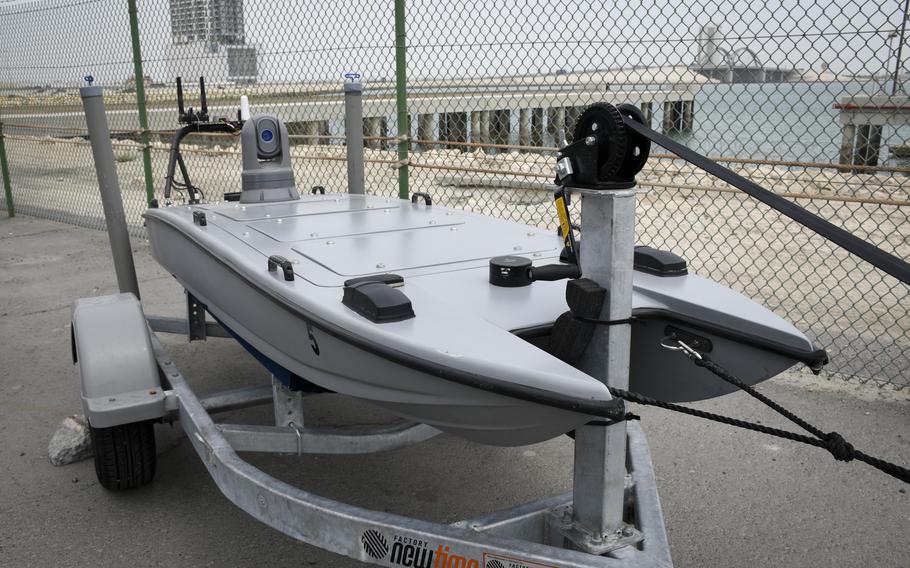 The drones that the task force uses are commercially available and relatively inexpensive. The Saildrones, for example, have been used by civilian scientists to collect data around Antarctica, according to the manufacturer, also named Saildrone.
The task force tested the Saildrones last fall in the Gulf of Aqaba, next to Jordan and east of the Sinai Peninsula.
Their 360-degree cameras send imagery back to sailors, and their sensors can scan cargo ships to see if they're properly registered, said Lt. Jay Faylo, who leads the group's artificial intelligence efforts.
The ship AI sort the data and alerts humans only when it notices something important, Faylo said.
The goal is to push these vessels to their limit, Brasseur said. Sometimes they need to ask the manufacturers for modifications, such as adding a propeller guard or inserting more backup systems, he said.
Rigorous testing is critical because there's a smaller margin of error when lives are on the line, said Arthur Holland, who has written extensively on drones and is a senior fellow at the Carnegie Council for Ethics in International Affairs.
Civilian autonomous ships and their fragile sensors have failed in the past while sailing in unforgiving seas, Holland said. Without people on board to make repairs, unmanned ships may have to return to port more often, he said.
"Unromantic and seemingly trivial issues can actually be dealbreakers when it comes to uninhabited systems," Holland said. "We've seen too many times, that people have been swayed by the coolness element without thinking about the nitty gritty issues."
Considerations like these are why the Navy may be underestimating how much it will cost to take care of unmanned vessels, the Government Accountability Office warned in a report earlier this month.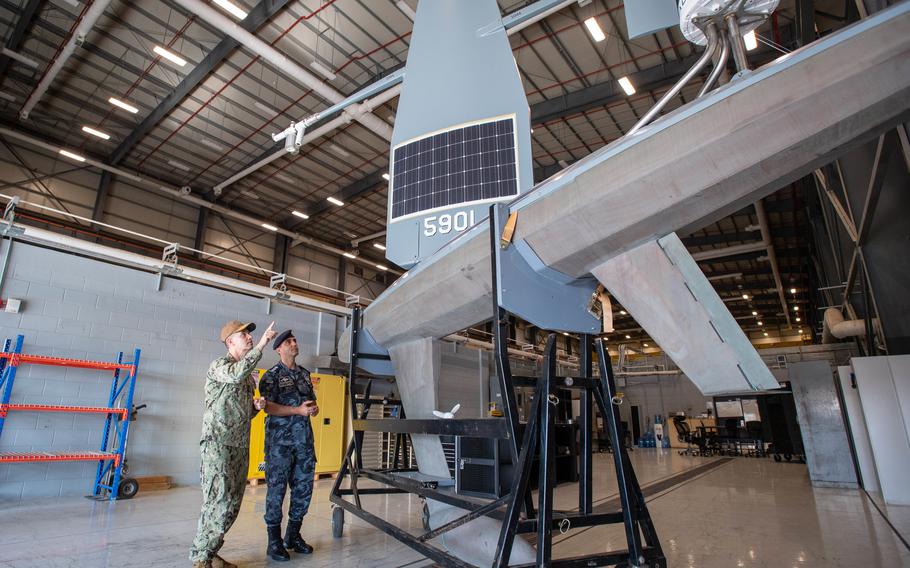 Most of the 100 unmanned surface vessels expected to be on the water by next summer will be shared with U.S. partners in the region, who are very interested in the technology, Brasseur said.
Bahrain collaborated with Task Force 59's exercise last October involving unmanned speedboats, and Jordan hosted the group during Saildrone testing in the Gulf of Aqaba.
Officers in Bahrain were upfront about the main concern in their area of operations.
"In the region, the most serious threat is Iran," U.S. 5th Fleet commander Vice Adm. Brad Cooper told Stars and Stripes.
Iran and the various armed groups that it backs have been accused of seizing ships, laying mines, and launching rockets at a U.S. guided-missile destroyer in Yemen as well as oil facilities in Saudi Arabia.
"Integrating new unmanned systems with artificial intelligence allows us to put more eyes out on the water that we simply have not had in the past," 5th Fleet spokesman Cmdr. Tim Hawkins said.
A shared network of surveillance drones among allies also could be a model for use in potential conflicts with sophisticated adversaries like China, said Kamran Bokhari, a director at the D.C.-based New Lines Institute for Strategy and Policy.
"Giving the technology to allies is more cost effective," Bokhari said. "You don't have to do the heavy lifting yourselves."
The hope is that lessons from Task Force 59 could prevent tragedy in future wars, said P.W. Singer, a political scientist whose works on drone warfare have been extensively cited by military officials.
Singer likens the task force's efforts to exercises prior to World War II, in which naval strategists trained with new technologies like aircraft carriers.
"We're clearly going to use these systems," said Singer, who consulted on an advisory board Brasseur co-founded for NATO on unmanned sea systems.
"But what are the best approaches? What are the best doctrines?" he said. "There's no better way to get there, other than getting on the water and learning." 
---
---
---
---