US senators tour USS Ronald Reagan during bipartisan visit to Navy base in Japan
By
Stars and Stripes
April 13, 2022
---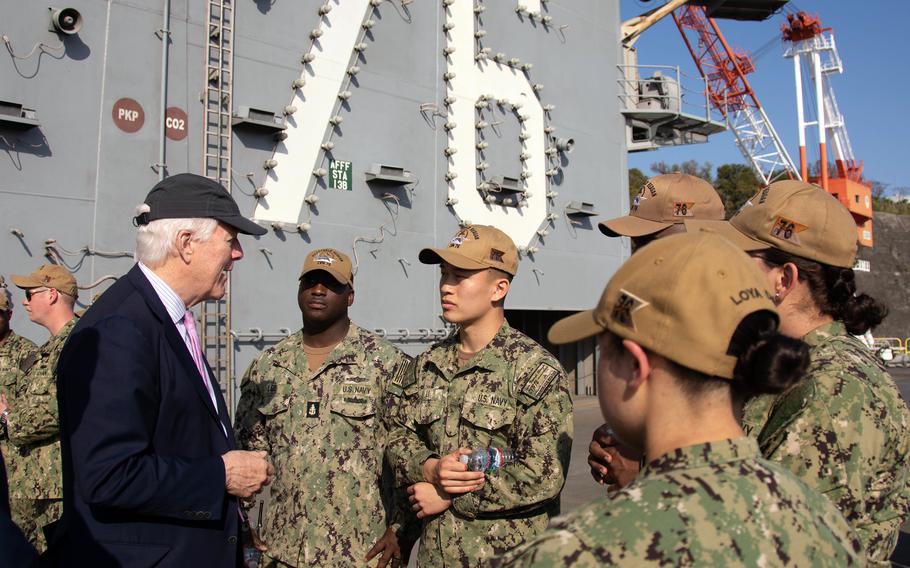 YOKOSUKA NAVAL BASE, Japan – Two U.S. senators toured the aircraft carrier USS Ronald Reagan as part of a bipartisan visit to the 7th Fleet's homeport on Tuesday.
Sens. John Cornyn, a Texas Republican, and Ben Cardin, a Maryland Democrat, met with the ship's commander, Capt. Fred Goldhammer, spoke with the crew and toured the hangar bay, flight deck and bridge, according to a Navy news release.
"We're always happy to show off the carrier and its value to the forward deployed forces, and we're grateful to give our sailors a chance to meet with their representatives," Lt. Cmdr. Joe Keiley, spokesman for Carrier Strike Group 5, told Stars and Stripes by phone Wednesday.
The senators also met with representatives of the 7th Fleet and Naval Forces Japan, also based at Yokosuka, Keiley said.
The Navy directed further questions to the U.S. Embassy in Tokyo, which in turn forwarded all questions to the senators' spokespeople. Neither responded as of Wednesday evening.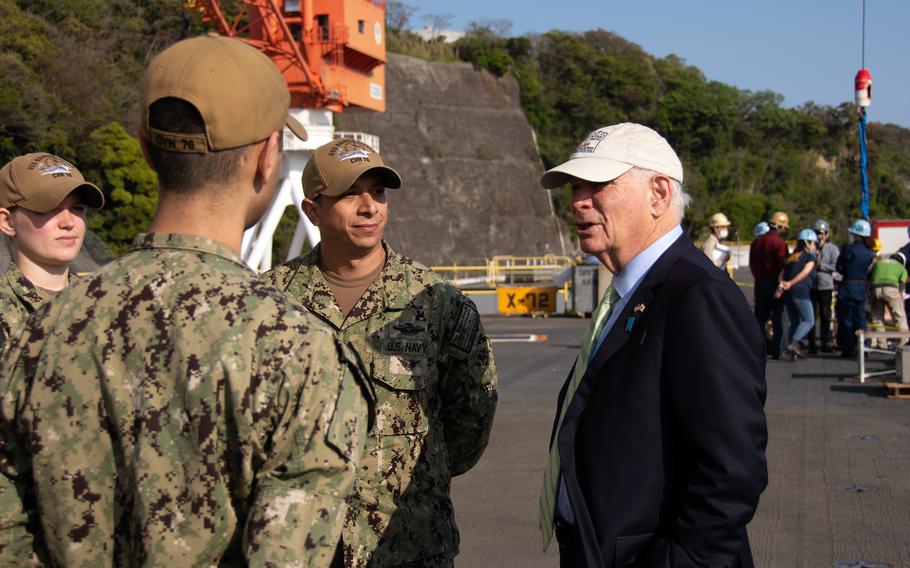 The previous day, Cardin and Cornyn met with Japanese Prime Minister Fumio Kishida , alongside Sen. Bill Hagerty, a Tennessee Republican, and U.S. Ambassador to Japan Rahm Emanuel. Hagerty served in Emanuel's role from 2017 to 2019, when he resigned to run for Senate.
Cardin and Cornyn both serve on congressional committees concerned with foreign affairs.
Cardin is a member of the foreign relations and finance committees and chairs a subcommittee on international development and foreign assistance. He also sits on a subcommittee that has oversight of multilateral international development policy, international economic policy and relations with international organizations such as the U.N.
Cornyn sits on the Senate Select Committee on Intelligence, which oversees U.S. intelligence activities and programs. Between 2019 and 2020, the committee frequently made headlines as it investigated Russian interference in the 2016 presidential election.
In November, Cornyn and five other Republicans visited the region with stops in the Philippines, Taiwan and India, along with meeting Adm. John Aquilino, head of U.S. Indo-Pacific Command, according to Cornyn's website.
---
---
---
---