Navy is latest service to end separations for those diagnosed with shaving-related skin condition
Stars and Stripes
March 10, 2022
---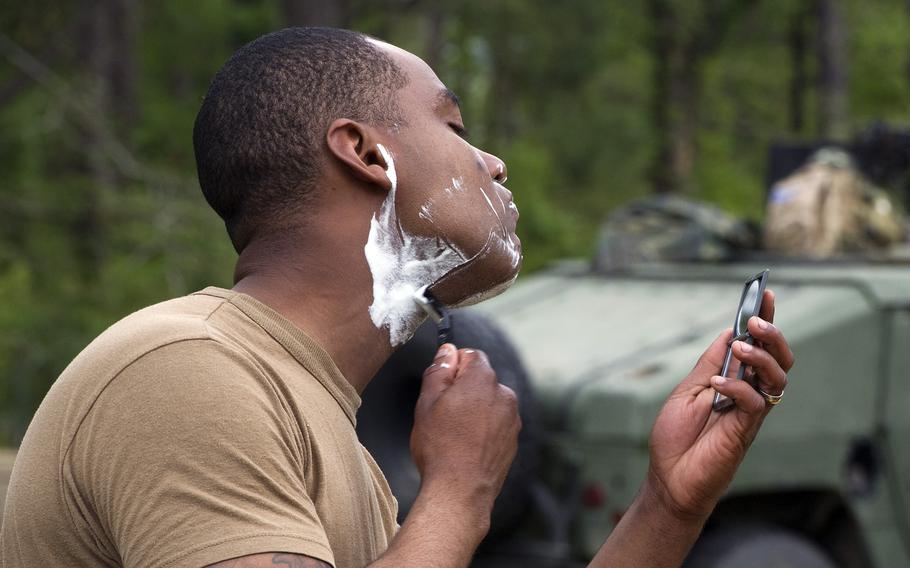 Some sailors diagnosed with a skin condition that causes bumps, infections and other ailments from shaving will no longer potentially face being kicked out of the Navy because they can't meet grooming standards, the Navy announced Wednesday.
Sailors diagnosed with pseudofolliculitis barbae who are allowed to have facial hair also are no longer required to carry a copy of their shaving waiver with them, the Navy said in an administrative memo released by Vice Adm. John B. Nowell, Jr., chief of naval personnel.
The policy decision only applies to each sailor whose condition isn't responding to treatment, the Navy said.
"Sailors found to be willfully non-compliant or that refuse to comply with prescribed PFB medical treatments or commanding officers' shaving requirements may be subject to administrative separation," the memo said.
PFB is an inflammatory disorder of the skin follicles caused by beard hairs, sharpened by shaving or plucking, that curve downward and penetrate the skin. The condition is more commonly found in men of African or Asian descent, according to the Bethesda, Md.-based National Center for Biotechnology Information.
In January, the U.S. Marine Corps announced similar changes related to PFB, including halting reprimands and separations.
Under the new guidelines, sailors diagnosed with PFB who have facial hair may optionally edge or outline their beards.
Laser hair reduction treatment is optional and must be agreed upon by the PFB-diagnosed sailor. Temporary waivers for PFB medical treatment periods have been increased from 60 to 90 days or as prescribed by a military medical care provider, the Navy said.
The time period for evaluations of PFB-diagnosed sailors whose medical or laser treatments are not working has changed from annually to every two years unless more frequent assessments are required by a medical care provider, according to the memo.
The Navy in 2020 began reviewing a policy that did away with permanent shaving waivers for sailors diagnosed with PFB after receiving feedback through diversity and inclusion programs.
---
---
---
---