Navy commissions destroyer named for storied Hawaiian senator, Medal of Honor recipient
by
Wyatt Olson
Stars and Stripes
December 9, 2021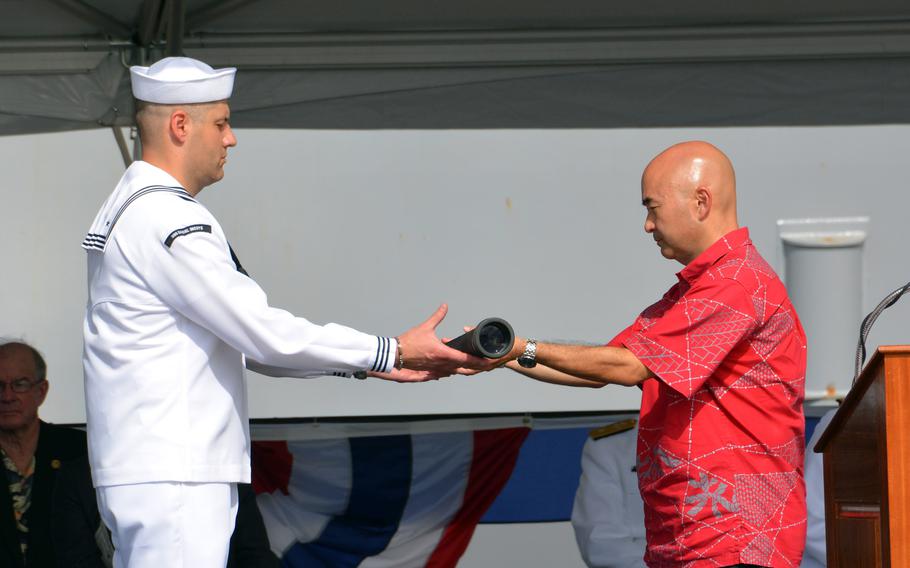 JOINT BASE PEARL HARBOR-HICKAM, Hawaii – Hawaii native Daniel Inouye was many things before he died in 2012: child of Japanese immigrants, wounded warrior, recipient of the Medal of Honor, U.S. senator for a half century.
On Wednesday, he became the namesake of the newest guided-missile destroyer to be commissioned into the U.S. Navy during a ceremony at Joint Base Pearl Harbor-Hickam, Hawaii.
"Arleigh Burke-class destroyers are the backbone of the United States Navy's surface fleet and critical to the future Navy," Adm. Samuel Paparo, commander of U.S. Pacific Command, said during a pier-side ceremony attended by hundreds.
"And I am here to certify that this ship and its crew are ready for its mission: highly capable, multimission, conducting a variety of operations from peacetime presence and crisis management to sea control and power projection, all in support of the United States military strategy."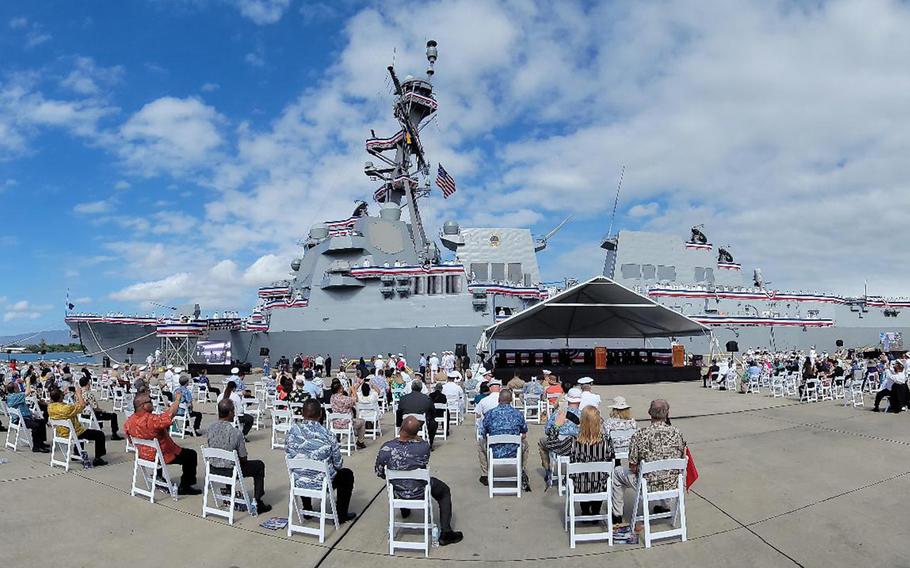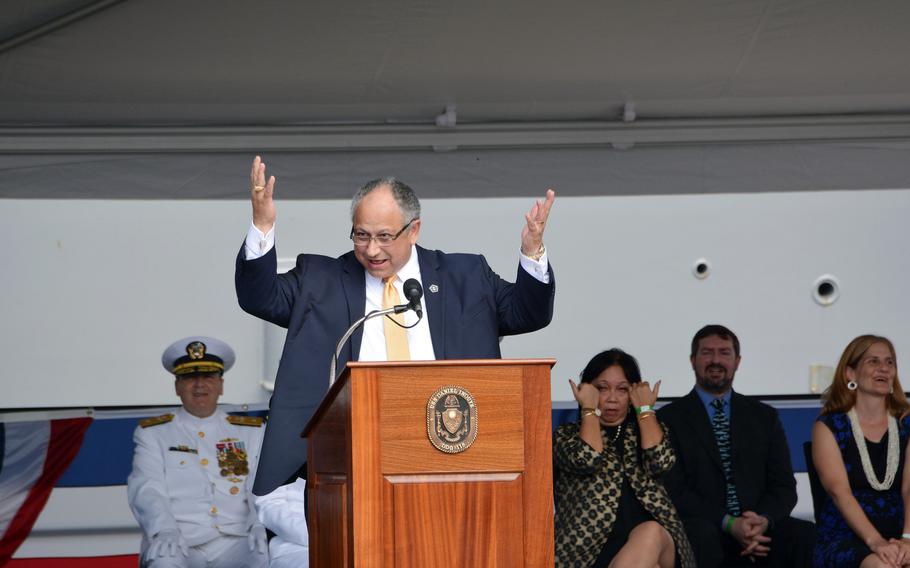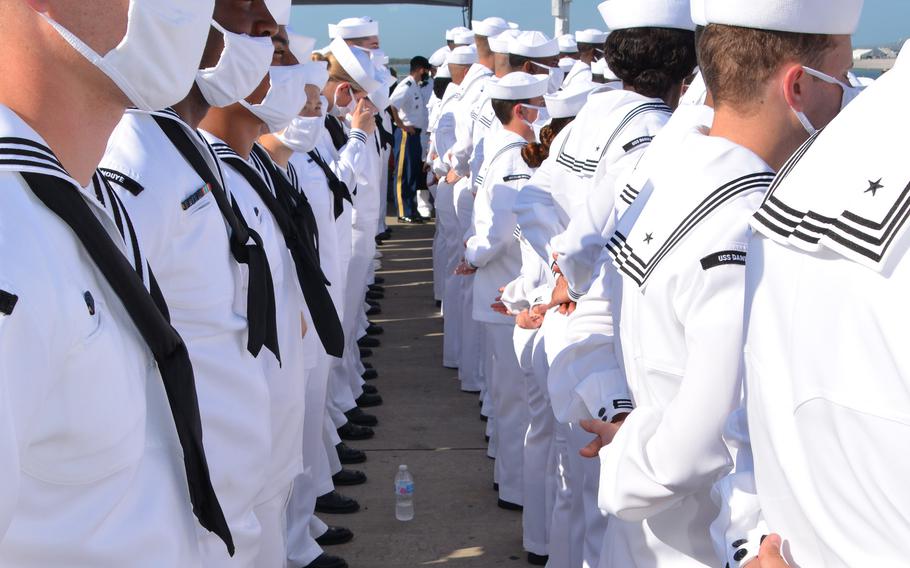 Inouye, who served in the Senate from 1963 until his death in 2012, has had a fair number of things named after him in the state — the international airport in Honolulu, a major highway and lighthouse on the big island of Hawaii, several buildings and also a container ship and F-22 Raptor at the joint base airfield.
But naming this battleship after Inouye "is kind of an unlikely thing to happen, if you really think about it," Ken Inouye, the late senator's son, said during the ceremony.
Daniel Inouye's grandfather and then-infant father arrived in Hawaii in 1897 to work in the sugarcane fields to pay off a huge family debt in their ancestral hometown in Japan.
The pair were not allowed to become naturalized citizens because of anti-immigration laws, Inouye said. After the Japanese surprise attack in 1941, Daniel Inouye and other Japanese-Americans were not allowed to enlist in the armed services because they were classified as 4-C, "enemy aliens."
"But after President Roosevelt's major decision to allow Japanese-Americans to volunteer, he and thousands of others volunteered for that service and to go into harm's way because they believed in America when America did not believe in them," Inouye said.
"Let's think about this for a while: A guy who was considered 4-C is having a ship named after him," he said.
Parts of the ship's interior are museum-like with displays of placards, photos, mementos and awards. Behind glass in the ship's mess is Inouye's Purple Heart.
In April 1945, while he served with the 442nd Infantry Regiment Combat Team in Italy, Inouye's right arm was shattered during an enemy assault. He refused evacuation and continued to lead his platoon until the regiment's position was secured. His badly wounded arm was amputated.
Later in life, he was awarded the Medal of Honor for his actions that day. The medal and citation are in the destroyer's wardroom.
The ship's sponsor was Inouye's wife, Irene Hirano Inouye, who died in 2020. In 2019, she broke a bottle of champagne on the bow in a christening ceremony that bestowed the name on the ship at Bath Iron Works in Maine, where it was built.
The destroyer is just over 500 feet long and carries the official designation of DDG-118. It is equipped with the Aegis air and missile defense system and a radar capable of lightning-fast detection of ballistic missile threats.
The USS Daniel Inouye is the 69th Arleigh Burke-class destroyer commissioned to the Navy. It is now the eighth guided-missile destroyer to be homeported at Joint Base Pearl Harbor-Hickam.
During the ceremony, the late senator's granddaughter Maggie Inouye yelled out the time-honored first order: "Man our ship and bring her to life."
With that, the crew of roughly 300 sailors who had been standing in rows behind the audience began running up the ship's two gangplanks and took their places along the destroyer's rails.
Below on the pier, Cmdr. DonAnn Gilmore, the destroyer's commander, addressed the audience.
"Ladies and gentlemen, I wish I could look each and every one of you in the eye when I say this: I have to look no further than the rails of the ship behind me to renew my faith in humanity and to maintain my confidence in our country's future and the lethality and capabilities of our Navy." Gilmore said.
"Behind those impeccable white uniforms are well trained, resilient, driven and capable warriors ready to execute our nation's taskings."
---
---
---
---