USS Shiloh returns to Japan after wide-ranging six months at sea
by
Alex Wilson  
Stars and Stripes
November 23, 2021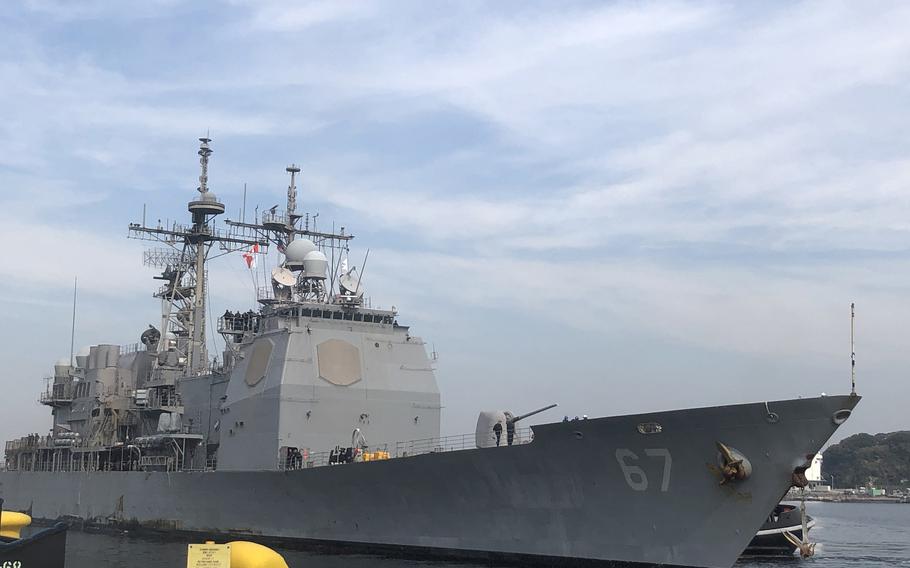 YOKOSUKA NAVAL BASE, Japan – The guided-missile cruiser USS Shiloh steamed into Tokyo Bay recently, ending a six-month deployment that took the ship from Japan to the Middle East and back.
Setting out as one of the primary escorts for the aircraft carrier USS Ronald Reagan, the Shiloh left Yokosuka in late spring, the U.S. Navy's 7th Fleet said in a Friday news release announcing the ship's return.
The Reagan and its strike group were sent in May to support the withdrawal of U.S. troops from Afghanistan. The group teamed with and eventually relieved the aircraft carrier USS Dwight D. Eisenhower.
In July, while still en route to the Middle East, the Shiloh trained alongside the HMS Queen Elizabeth and the Reagan, the first time the two carriers had worked together. The Shiloh also took part in numerous exercises and operations with warships of other nations, including France, Pakistan and Germany.
Once in the Middle East, the Shiloh passed several times through the Strait of Hormuz and stopped at Bahrain for its first port call in over two years, according to 7th Fleet.
The Reagan strike group, including the Shiloh, returned to the 7th Fleet on Sept. 17 following the Afghanistan withdrawal. From there, the cruiser worked alongside the Reagan, Queen Elizabeth, the aircraft carrier USS Carl Vinson and the Japanese helicopter destroyer JS Ise in a variety of exercises in the Philippine Sea.
The Shiloh stopped briefly in Yokosuka on Oct. 18, when Capt. Adam Cheatham assumed command from Capt. Sharif Calfee.
The ship went to sea again Oct. 20 and joined the Carl Vinson in the South China Sea.
"Through a variety of demands and expectations, Shiloh remained a flexible force, exceeding operational expectations where needed, while on carrier escort duties," Cheatham said in the news release.