Yokosuka sailors and locals restart monthly litter patrols of 'Honch' nightlife district
by
Alex Wilson
Stars and Stripes
November 22, 2021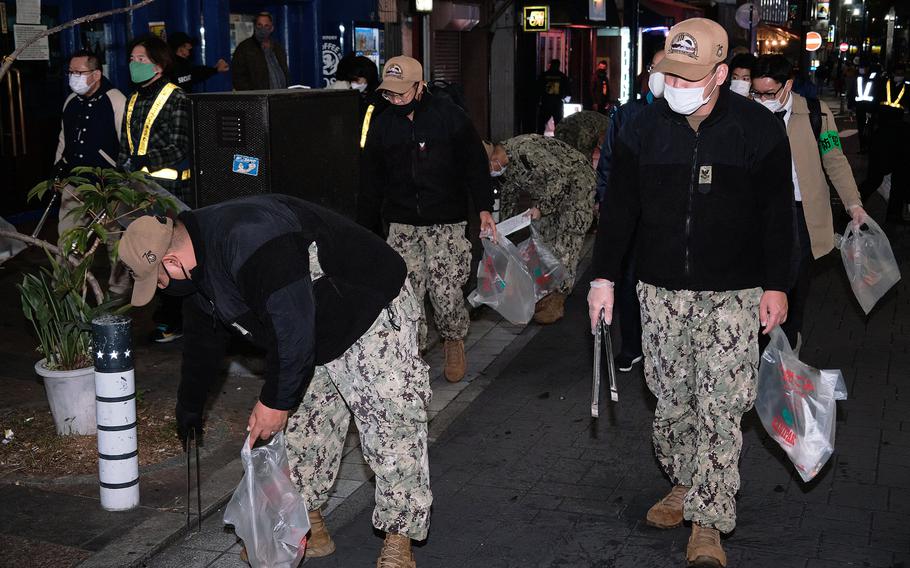 YOKOSUKA, Japan ⁠— A monthly tradition that brings sailors and Yokosuka community members together to clean up a popular nightlife district resumed Friday for the first time since summer.
The city's Honcho district ⁠— "The Honch" to American sailors near Yokosuka Naval Base ⁠— typically draws a bustling weekend crowd thanks to its high density of bars and late-night food options.
On Friday night, however, a different group roamed the streets.
Around 40 people, including representatives from the base, the Japanese Maritime Self-Defense Force, the local government and a plethora of volunteer and neighborhood organizations, gathered for the cleanup.
Over two hours, the group walked about 2 miles from Shiori Station to Yokosuka-Chuo Station, picking up beer cans, cigarette butts and plastic food wrappers as they went.
Aside from cleaning up the neighborhood, the event allows sailors and locals to get to know each other a little better, base commander Capt. Rich Jarrett told Stars and Stripes.
"This is a total community effort," he said during the event. "It's a real opportunity to integrate a lot of different people."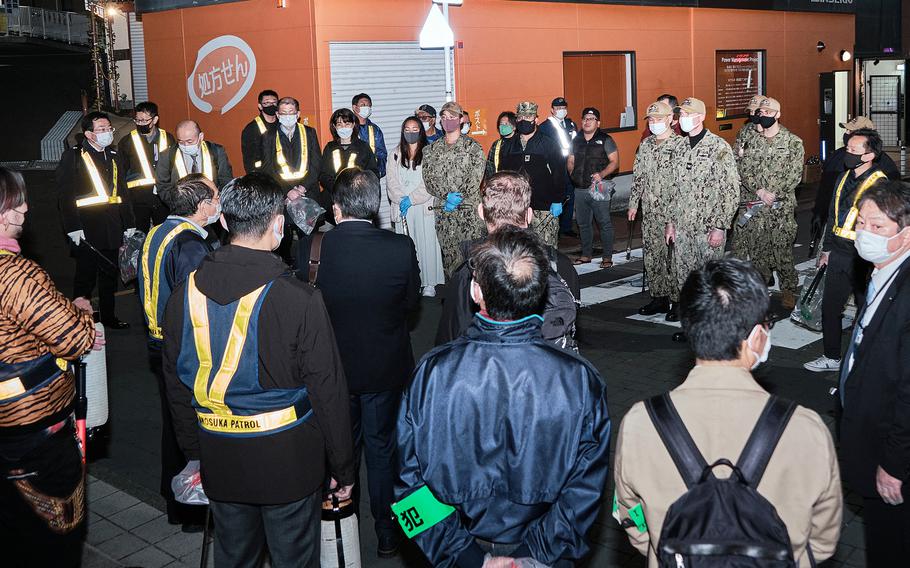 And it gave Jarrett an opportunity to keep an eye on sailors who are out on the town. Over the course of the night, he chided several for not wearing their masks, a requirement when off base.
Typically held at the end of every month, the Honch cleanup has been on hold since July due to local restrictions and concerns related to the coronavirus pandemic. However, with confirmed case numbers on and off the base nearly non-existent, Jarrett said the community is comfortable with it once again.
"This is a tradition in Yokosuka," he said, "and we're just really glad to see old friends."
The cleanup started over 20 years ago as an informal area walk-through, according to the event's founder and coordinator, Isamu Ueda.
"Both Japanese and Americans were getting drunk out in the streets, causing fights. It wasn't a safe environment," Ueda told Stars and Stripes on Friday. "So, the community boards got together and decided to do a once-a-month patrol."
Starting with just a few locals walking the streets, the patrol eventually grew in size and scope. Rather than just patrolling, the group began picking up trash. Prior to the pandemic, the event could draw more than 200 people at times, said Ueda, who also serves as president of the adjacent Odakicho neighborhood association.
Friday's cleanup was the second for Petty Officer 1st Class Freddy Pena, a culinary specialist from Los Angeles, but he said it's already had a big impact on him.
"For me it's a great opportunity to join the community and be a part of their traditions," Pena said. "For us, being here and being a part of this makes us feel like we're one big community instead of being separated by the gate."